The mini lessons within this persuasive writing unit of study will make setting up your writing workshop much easier!  Includes anchor charts, graphic organizers & more.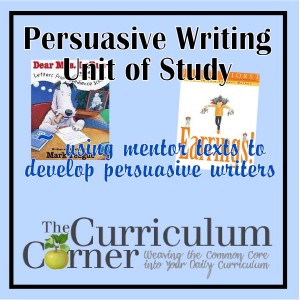 With the new Common Core standards, persuasive writing becomes an important part of the second grade curriculum.  This unit on teaching children to write persuasive and opinion pieces was designed with second grade in mind.  However, you will find many mini-lessons that can be used for other grade levels.  This unit was written with the help of Cathy's student teachers (Joel Larrison, Kellie Wood and Amanda Rush.)
A writing workshop typically begins with a 10 to 15 minutes mini-lesson.  You will find that many of the lessons below could run beyond the 15 minutes.  Because of this, you might choose to spread some of the lessons over a period of two days.  Also, the writing that is being done by students might take more than one writing session.  Adapt these lessons to fit your needs.
Facts and Opinions  Before we began this unit, we did some mini-lessons on fact and opinion.  We felt like this was an important prerequisite.  Here are the lessons we used: http://www.thecurriculumcorner.com/2012/10/30/fact-and-opinion/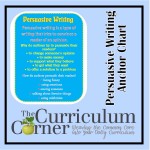 Anchor Chart  We have created our own sample anchor chart.  You can print ours in color and display in your room or use it as a base for creating your own.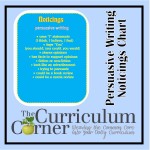 Noticings Chart  We have also created our own sample noticings chart.  In our rooms, we like to do this with our kids.  However, we thought it would be helpful for you to see some ideas of what our students noticed.
Days 1 and 2:  Immersion  The first two days of this unit are designed to expose children to different types of persuasive and opinion writing.  It is important to have a good stack of mentor texts so children can explore the features of persuasive writing.  This stack is different than other stacks because not all of your texts will be books.  You will also need to find book and movie reviews and maybe even other pieces of persuasive writing.  You will find some of the books from our stacks at the bottom of this post.
In our classes we give a group of two or three students two mentor texts.  Students are given post-it notes and asked to "notice" features of the writing.  Use our noticings chart above for ideas of what students find.  After students have time to explore, we get together and share their observations.  As the teacher, we record their noticings on large chart paper.
Day 3:  What is Persuasion?  Read aloud the book I Wanna Iguana by Karen Kaufman Orloff.  After reading, discuss how the main character is trying to persuade someone.  In our rooms we created a story map to show what is happening in the book.  Here is the outline we used…  Persuasive Text Story Map.  After completing the story map, we created a list of topics students might choose to write their own persuasive book.  Here's our list of ideas:  Persuasive Writing Ideas.
Day 4:  Choosing Persuasive Language  Younger students often need help choosing the correct persuasive language.  A lesson where you create an anchor chart with possible word choice can be helpful.  Here is the anchor chart our classes created…  Persuasive Language Anchor Chart.  Your students might find new words to add to it.
Day 5:  Supporting Our Opinions  Students will not know how to support their opinions without practice.  This day is designed to help students practice supporting their opinions.  A perfect read aloud for this day is Don't Let the Pigeon Drive the Bus! (Big Book Edition) (Pigeon Series)
.  It is a simple text with clear supporting details.  This is another opportunity for students to complete the Persuasive Text Story Map as a class, in small groups or individually.  After students determine the supporting details, give the students a chance to create their own supporting details.  We had our clasess work to choose topics that we could work on as a class.  We chose just one per class for this activity.  In one class the topic was:  Why we should have a longer recess.  We put this title at the top of chart paper.  Underneath we listed the ideas the class came up with to support the idea.  Some of their supporting details were more exercise, building friendships, less talking in class, and learning to work together by playing games.
Day 6:  Writing a Persuasive Paragraph  Model how to write a persuasive paragraph using the chart the class created on day 5.  Then, have each student choose their own topic from the list of ideas or think of a new one.  Students begin by writing their topic at the top of our Persuasive Writing Planner.  Students then think of three supporting details to add below.  Once students have completed their planner, students write their own persuasive paragraph.  Some students might need guidance with correct paragraph format.
Day 7:  Introduction to Persuasive Letters Read aloud a book that has persuasive letters within it.  Some that we like are Dear Mrs. La Rue: Letters From Obedience School
  or Click, Clack, Moo: Cows That Type.  Discuss with students what the animals want in the book you choose and what their supporting arguments are.  Brainstorm to add ideas to the persuasive writing topic chart.  As a class, pick a topic that students could use to write a letter to the principal, cafe manager or other important adult in the building.  Write a class letter trying to persuade the adult.  Students might try to argue that they should be allowed to watch a movie because of their hard work and good behavior or that the cafe should serve a new food that is healthy.  As you write the letter the students create, point out the punctuation used throughout a letter.
Days 8 and 9:  Writing a Persuasive Letter  On the first day we had each student choose their own topic.  Students also had to choose who they were trying to persuade.  We had students fill out a Persuasive Writing Planner.   On the next day, we had students write their letter.  We have letter paper available here:  http://www.thecurriculumcorner.com/2012/05/17/blank-books-papers/.
Day 9:  Introduction to Commercials  Students loved this day!  We shared some of our favorite commercials with our classes on the smartboard.  After each commercial, we discussed what was being advertised, one fact and one opinion from the commercial.  We created a recording page to accompany this lesson for our fact and opinions activities.  You will find the recording page here:  http://www.thecurriculumcorner.com/2012/10/30/fact-and-opinion/ (Click on Commercial Review half way down the page.)
Day 10:  Writing a Class Commercial  As a class, choose one item to advertise.   Create an example commercial planner on a large piece of chart paper.  Write the item at the top.  Below students make a list of facts and opinions to go with the class item.  The teacher records these facts and opinions.  This will be the visual you refer to the next day.
Day 11:  Writing Individual Commercials or Ads  Students can choose to make a magazine ad or write their own commercial.  We use our Commerical Planner page to help students write their fact and opinion first.  You might choose to have students act these out or create a hallway display of the ads.
Day 12:  Introduction to Writing a Book Review  You will find mentor texts for book reviews here:   http://spaghettibookclub.org/title.php.  On this first day we spent time reading book reviews as a class.  We read some to our children and gave our children the chance to read some with partners.  We talked about the purpose of a book review (trying to get someone to read or not to read a book.)  We discussed what was important to include (the title, the author, a quick summary and our opinion.)
Day 13:  Writing a Class Book Review  On this day we chose a book we had read in class.  We used Dear Mrs. La Rue: Letters From Obedience School
 because we knew our classes enjoyed the book.  We began by filling in a large version of our Book Review Planner (we have a poster maker at our schools but you could also copy it onto chart paper.)  Once we completed the planner, we wrote a book review together using our ideas.  We paid close attention to what needed to be indented, punctuated and capitalized as we wrote the model.
Days 14 and 15:  Writing Individual Book Reviews  We began by choosing a favorite book.  Students worked to read their book on the first day.  They then completed our Book Review Planner.  On the second day  students turned their planner into a paragraph.
Usually our writing units conclude with a day or two of editing and revising.  However, because of the nature of the type of writing in this unit, the editing and revising was done throughout the unit.
Day 16:  Celebration  We didn't need a day of editing and revising but we did still want to celebrate all we had learned.  On this final day we had snacks and listened to The True Story of the Three Little Pigs
 as a unit conclusion.  We wrapped it up by talking about what we had learned during our unit of study.
You might also be interested in our Opinion Writing Unit of Study.