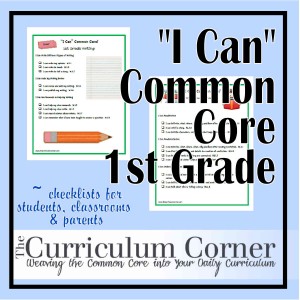 Reproduction of these posters or statements with the intent to sell is prohibited.  These were created to help busy teachers and are meant to be free.  Thank you for understanding!  
THESE POSTERS HAVE BEEN RECENTLY UPDATED TO INCLUDE THE MOST RECENT COMMON CORE STANDARDS.  YOU WILL FIND THE NEWEST VERSION OF THE FIRST GRADE I CAN STATEMENTS HERE:  First Grade I Can Statements
Our very own "I Can" standards for Common Core.  "I Can" standards are the common core standards presented in a kid friendly format.  Use these to help students and parents understand the new common core first grade standards.  (Great to help teachers understand too!)  They are presented as a checklist to help students self-assess their progress.  Also makes it clear to parents what skills may need extra home support.
****We have currently pulled the Spanish I Can standards until we can get some errors corrected.  So sorry for the inconvenience!  We will post them again as soon as we can make sure they are fixed!
Find the full checklists for all grades here…  (THESE WILL BE UPDATED DURING THE SUMMER OF 2014)
http://www.thecurriculumcorner.com/2012/08/18/common-core-checklists/