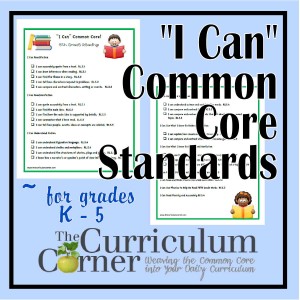 Reproduction of these posters or statements with the intent to sell is prohibited.  These were created to help busy teachers and are meant to be free.  Thank you for understanding!  
We are working on updating all of our "I Can" statements to fit the newest version of the Common Core Standards.  This task will be complete by the end of the summer 2014, hopefully sooner!  As they are updated, we will add the new links below.
Here we have connected all of the links for our "I Can" standards.  We hope this makes it easier to find what you need!
UPDATED Kindergarten I Can Statements
UPDATED First Grade I Can Statements
UPDATED Second Grade I Can Statements
You will find the "I Can" Standards for grades 4 through 6 here:  "I Can" Standards