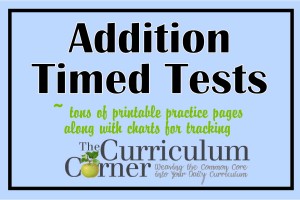 These timed tests were redesigned in February of 2016. The new version includes 12s facts and is available in one download.  You will find the new resources here:  Updated Addition Timed Tests.
CCSS.Math.Content.2.OA.B.2  Fluently add and subtract within 20 using mental strategies. By end of Grade 2, know from memory all sums of two one-digit numbers.
This collection of tests is designed for home and classroom use.  We have included three vertical and three horizontal printables for each fact set.  Each page contains 25 problems.
__________________________________________________________________________________________