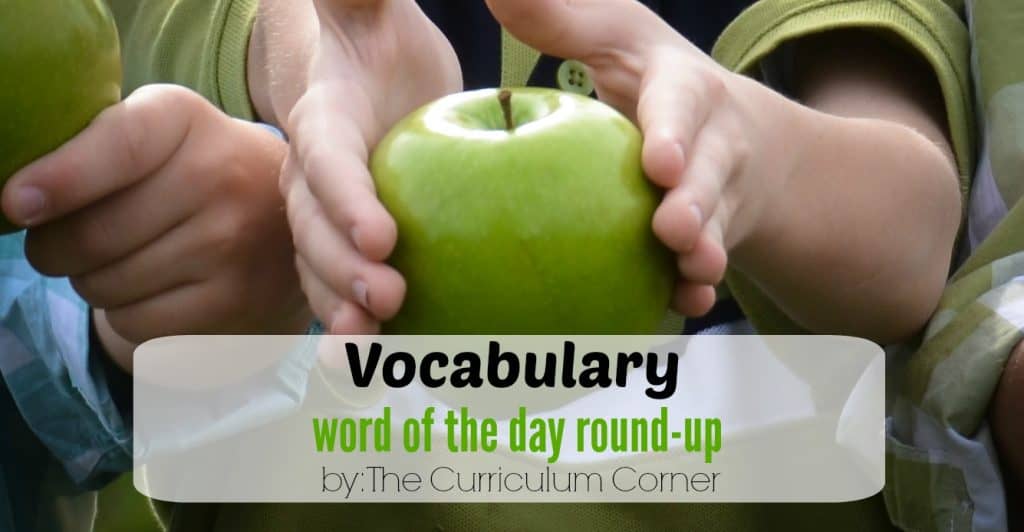 Last spring we presented a series of posts that contained vocabulary words and resources.  There were 9 in the series we called Word of the Day (45 words total).
You could use these each day for a grading period/quarter, display them in your room and then have students share with the class when they find them in the context of real reading throughout the year. Or you could spread them out and focus on only a few words each week.
Another option would be to display the entire list and let students organically find them in their reading to bring up for class discussion and learning.  Either way, these are meant simply to be used as a way to expand students' vocabulary.
Here we have combined links to all of those posts so that you have a collection of 45 words to use in your room for Word of the Day activities or other ideas.
Word of the Day: Set 1 – (obstacle, bland, duration, jubilation, thwart)
Word of the Day: Set 2 – (ferocious, budge, aroma, rouse, voyage)
Word of the Day: Set 3 – (depart, crevice, feeble, soar, proclaim)
Word of the Day: Set 4 – (notable, spectator, reluctant, protrude, minor)
Word of the Day: Set 5 – (mimic, accurate, compensate, seldom, lurch)
Word of the Day: Set 6 – (accommodate, boisterous, hoist, meager, somber)
Word of the Day: Set 7 – (evident, expand, flimsy, frigid and optimist)
Word of the Day: Set 8 – (dense, prohibit, proceed, exasperate and conceal)
Word of the Day: Set 9 – (bungle, convince, encounter, negotiate and transform)