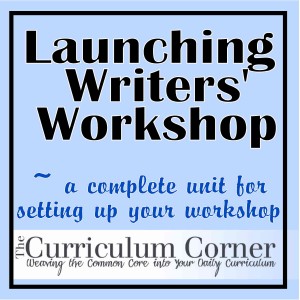 This unit is not yet complete!  Hopefully we have enough here to get your year started.  Bold, black lessons are coming soon!  Highlighted lessons are completed. 
An amazing launch unit is the key to a successful writing workshop in your classroom!  Use the lessons we've laid out below to help guide you through setting up a great workshop.  Because this unit is designed to build the foundation of your writing workshop, not all lessons cover common core standards.
Many of our lesson are based on the work done by Katie Wood Ray in About the Authors.   The writing workshop created by following our lessons will lead to a workshop where students are writing books everyday.  Journals are not used, children instantly become writers and always work in blank books.  There are templates for creating your own blank books here:  https://www.thecurriculumcorner.com/2012/05/17/blank-books-papers/.  We have also found that some students work well on books made of blank papers.  Children usually know what works best for them – create a writing center with many choices!

Another component of this writing workshop is using real books by real, published authors to teach children what authors do.  These books used as tools for teaching are called mentor texts.  Once you begin teaching writing in this manner, you will always be thinking about how a children's book might help you teach a writing skill in the future.  Keep track of these mentor texts by using the forms we've created.  You will find these forms here:  https://www.thecurriculumcorner.com/2012/08/01/keeping-track-of-great-mentor-texts/.
Like all writing workshops, ours begins with a mini-lesson, gives children time to write while the teachers conferences with individuals or small groups and ends with sharing.
Writers Have a Process for Writing a Book  This beginning lesson encourages students to look at the first steps to writing a book.  Students discuss the importance of including a title and author. 
Writers Have Procedures for Using and Organizing Materials  This one is up to you!  Before beginning, plan out the supplies you will have available for students during writing and where they will be stored.  The mini-lesson for this day doesn't involve a mentor text or modeling writing.  Instead, model for students how they should get supplies and find a location to write.  If you decide that you would like to have assigned writing seats for your students, this is the time to explain this to the class.  We like to let students choose where they would like to sit.  The conversations that occur during writing often spark amazing writing!  (Supplies you may choose include crayons, colored pencils, markers, different book styles, rulers, stencils, and anything else your growing authors may need!)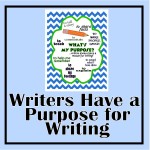 Writers Have a Purpose for Writing  An important part of the writing workshop is teaching students that there is a purpose for writing.  A good conference should always include the question "What is the purpose of your story?"  This lesson helps you students find the purpose for their writing.   Find our sign to give students reminders here… What's My Purpose?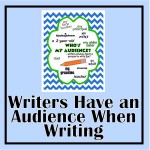 Writers Have an Audience   The second requirement for writers is to think about their audience.  As you conference with students, ask them "Who are you writing this story for?"  This will be an idea you revisit throughout the school year.  Find our sign to give students reminders here… Who's My Audience?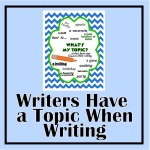 Writers Have a Topic  The final question for students to ask themselves is "What is my topic?"  Introducing this idea helps students focus on one idea instead of many when writing.  Find our sign to give students reminders here… What's My Topic?
Writing Check Use this as a planner before students begin writing to help them have a clear purpose, topic and audience.  Or, use this after students begin as a way to check if they are on track.  This form allows you to see if students understand the concepts of purpose, audience and topic. 
**** PAT Conference Form Teacher conference form for tracking Purpose, Audience, Topic – this is a great beginning of the year conference form!  It helps you with a simple conference format for first conferences.  You can clearly track if writers are meeting expectations. 
Writers Have Strategies for Spelling Tricky Words  Help children use strategies when they are stuck on the spelling of a new word.   
Writers Use a Word Wall or Dictionary We have a printable word wall here:  https://www.thecurriculumcorner.com/2012/07/12/portable-word-walls/.  Teach students how to use the word wall in a mini-lesson.  Have students keep this word wall in their writing folder at all times.
Writers Plan Their Writing  Authors plan out their writing before they begin.  Model for students how they may choose to do this with our graphic organizers below.   Model one three days in a row or choose one that you think will be best for your students and introduce the others later in the year.  For struggling writers, a good idea is to use post-it notes to help them plan.  Start with a blank book and a stack of post-its.  Have the students tell you their story while you write a few words on each post-it about their story.  Stick a post-it on each page.  Students use this as their organizer.  It is more concrete than the organizers below for students who might need a little extra help.
Simple Story Plan    Story Plan Box   Story Board
Writers Build Stamina for Writing by Adding to Their Work  Model adding details to a teacher-created piece of writing. 
Writers Plan an Informational book  This lesson needs to begin with exposure to nonfiction books that contain a table of contents.  Pull 5 or 6 examples from your classroom library and have students share what they notice about the table of contents and the headings throughout the book.  (Make sure you have chosen books that fit the lesson!)  One way to plan an informational text is by beginning with the table of contents.  Model how to begin a nonfiction text by using our organizer below.  Choose a nonfiction topic that will be of interest to your students and practice coming up with the table of contents.  Explain to students that each item listed on the table of contents will become a heading in your nonfiction book.
Writers Use Words and Illustrations to Teach Their Reader in Nonfiction  We used the National Geographic book Sharks by Anne Schreiber for our lesson but you can choose any nonfiction book.

Writers Edit Their Work  In a mini-lesson model using this checklist as a way for students to check their writing.
Editing Checklist for Students
Writers Proofread Their Work Before They Publish Model proofreading a piece of writing for students.
Writers Publish Their Work  For young children, rewriting a piece of work they have spent time creating is a task full of labor and often children just copy what they have done the first time.  When teaching writing in the primary grades, we feel that publishing is different than simply making another copy.  When young children publish a book have them go back and add details to their drawings and words to their writing on their original copy.  This is more meaningful than making a copy.
Publishing Checklist Teach students to go through this checklist before a book is considered published.  We suggest you use a book you have written and model how you would use this checklist for your own work.
Writers Celebrate Their Work   End your launching unit with a celebration of all the students have learned!  This is a great way to keep the exciting for writing building.  Later in the year you might choose a more ellaborate celebration with treats, parents and principals.  For this first one, we like to keep it small.  As a class write a list of all the great things you've learned about being a writing on chart paper.  Make it colorful and display it proudly in the room.
New Author Certificates Print these in color and hand out to students as part of your celebration.
Launching Unit Rubric  Coming soon!