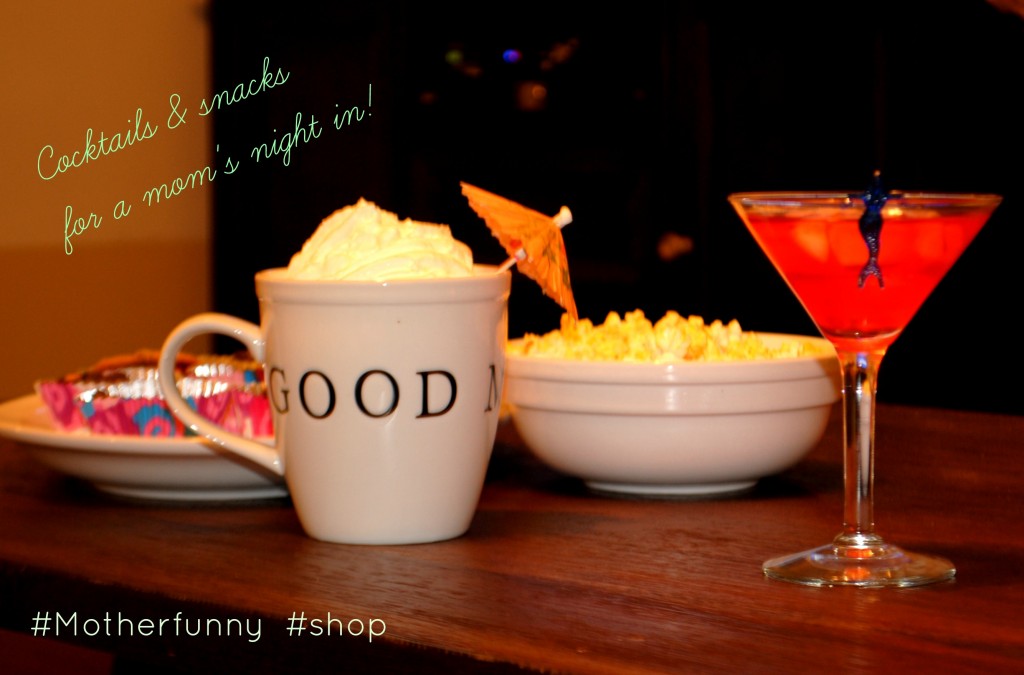 As part of a sponsored post by Collective Bias© Cathy and I got the opportunity to spend some quality time with a few of our close neighborhood girlfriends last Sunday night, hanging out and watching a new "mom" show.   Our task was a tough one: hang out with friends, enjoy some fun cocktails (or in Cathy's case…mocktails), decompress after a busy week and talk about the humorous, irritating or downright unbelievable things our children have done and said recently.  So….wait…just another ordinary gathering for this group of ladies!!  (Except that normally we also throw in the humorous, irritating or downright unbelievable things our HUSBANDS have said and done recently.)  The only other difference from our typical girlfriend night was that we also watched a new show from Nickelodeon.  Now before you think we've lost our minds, we didn't watch anything that our kids typically watch on Nickelodeon.  We actually watched a new show called Instant Mom on the NickMom channel.  It stars Michael Boatman (Spin City & Michael J. Fox anyone?) and Tia Mowry-Hardrict (Sister, Sister?) for those of you that will watch and rack your brain trying to figure out where you've seen these two actors before. Funny show, but we'll get to that part in just a few minutes…
…let's start with the cocktails (of course).  Here are some of the inspirations we had…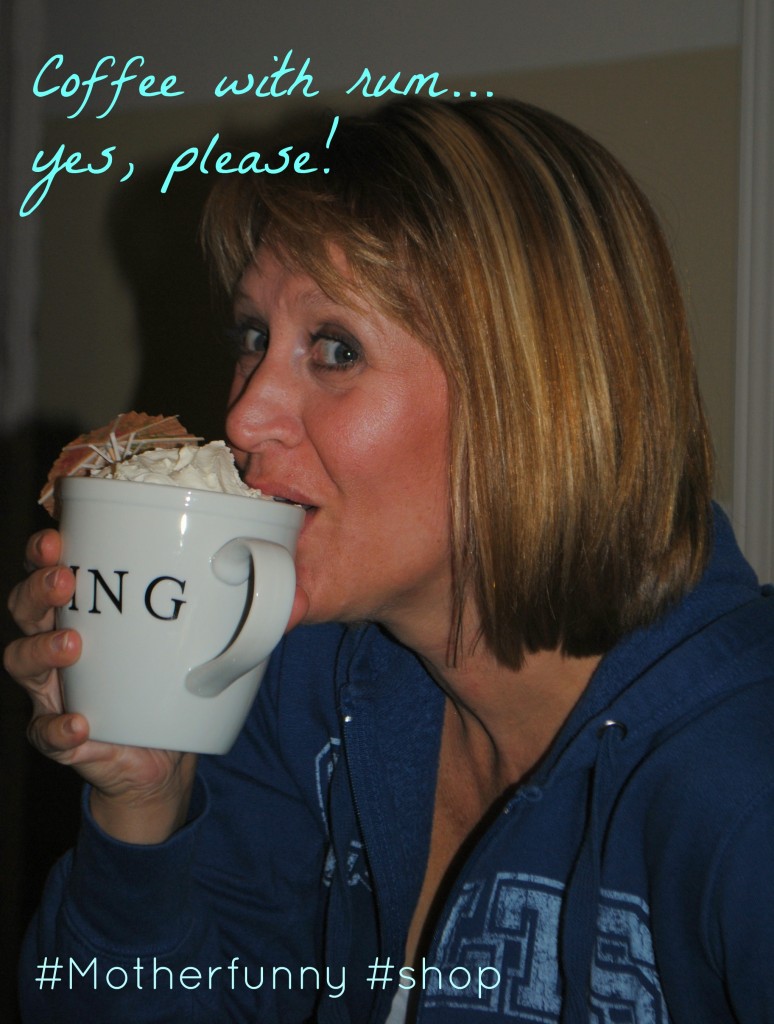 THE MOM MOTIVATOR
Mornings (& late nights with friends) just got a little bit better.
For each drink, you will need:
1 oz coconut rum  5 to 8 oz coffee .5 to 1 oz of whipped cream (we may have gone overboard here!)
To make:  Pour run into coffee mug and fill with hot coffee.  Top with whipped cream. It's that simple.  What better way to beat the stress from a chaotic morning?  …or, in our case – What better way to keep yourself awake for some much needed mom time after the kids are in bed?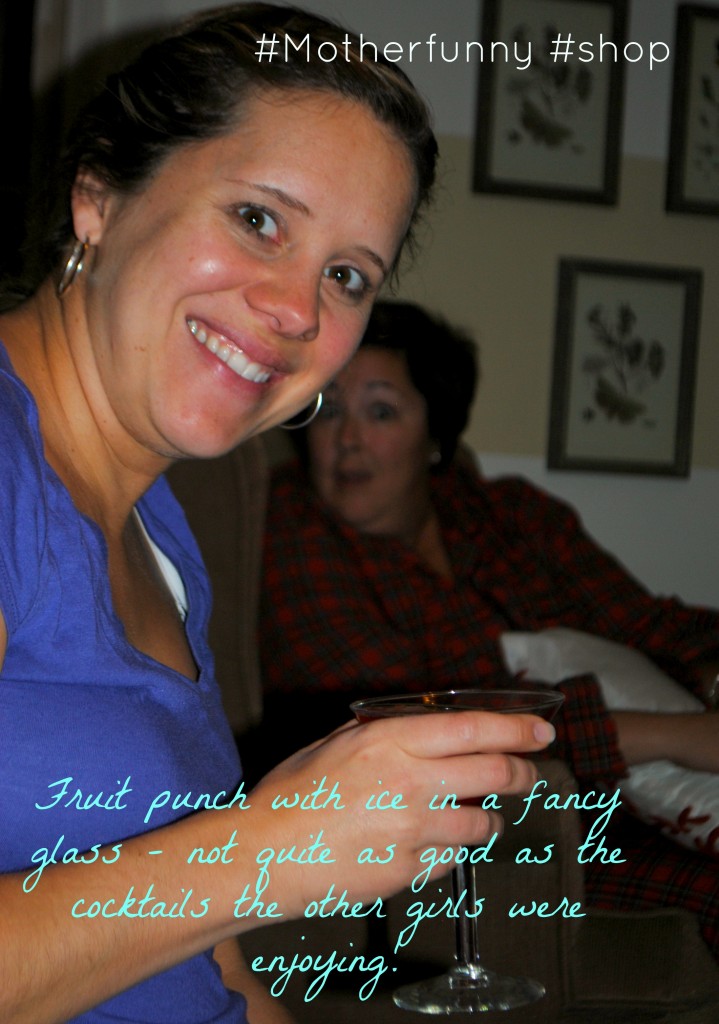 THE MARKER-ON-THE-WALL ERASER
Erasing it from your mind is easier.
For each drink, you will need:
1 oz pomegranate vodka  2 oz vodka 1 oz pink grapefruit juice lemon wedge coarse sugar for rimming
To make:  Rub the lemon wedge around the rim of your glass.  Dip the glass into a plate of coarse sugar (or really, whatever kind of  sugar is left that your kid hasn't eaten).  Pour remaining ingredients into a cocktail shaker with ice.  Shake and strain into the glass.
_____________________________________________________________
One more cocktail that Cathy REALLY wishes she could have tried!  The recipe is being saved for January.
PLAYDATE PUNCH
Who says moms can't have fun at playdates too?
6 oz pineapple rum 6 oz coconut rum 1 cup fruit punch 1 cup crushed ice 6 oz orange rum
Crush ice with the kids' toy hammer.  Add the ice, pineapple, orange and coconut rum to the blender.  Next add the leftover fruit punch that your kids didn't finish at lunch.  Blend at medium speed and enjoy "Mommy's Fruit Snack".
What is particularly funny about that last drink is that the group of ladies in the picture below just so happened to become close friends ONLY after a snow day and an impromptu neighbor playdate at Cathy's house ended up in booking a girls' cruise for the following summer by the end of the afternoon.   No joke.  Our husbands' heads were spinning it happened so fast.  (And now I affectionately like to refer to Cathy as "Julie McCoy – Cruise Director".  For all you 80's ladies out there, that will make perfect sense.)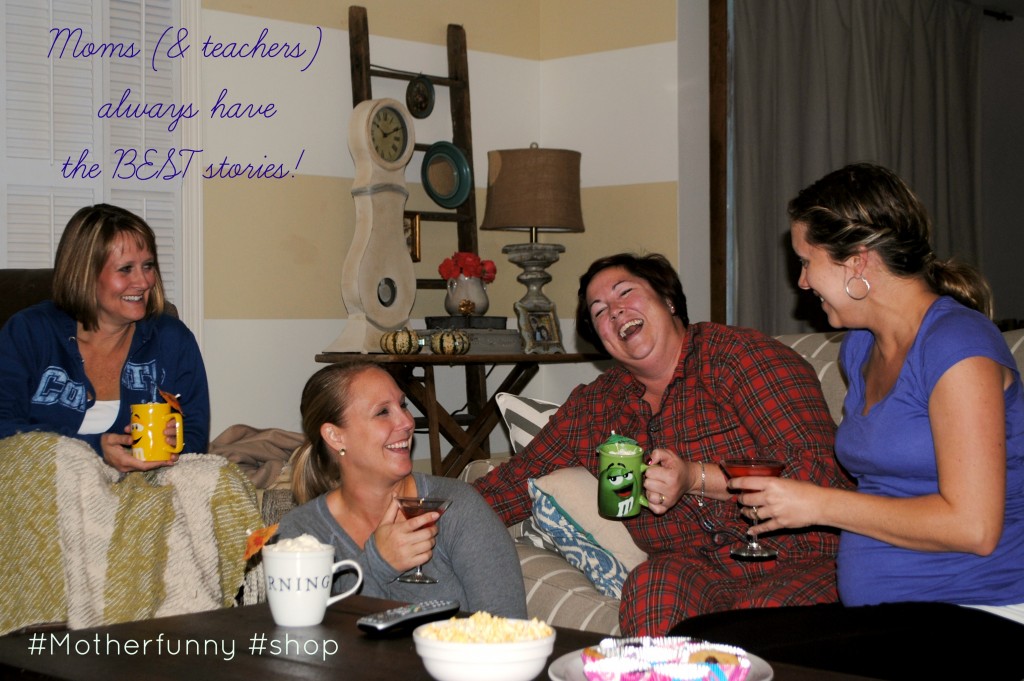 _____________________________________________________________
We really enjoyed our time together (as always) and watching NickMom's newest show Instant Mom sparked not only some of our most recent funny "mom" stories, but also really struck a chord with Cathy and I because this particular episode had a teacher character who was clearly burnt out on her job and just didn't care anymore.  It was written in a very humorous way, but Cathy and I got to talking about how our pajama-wearing, laughter-filled girlfriend get-togethers are just what we need as teachers and moms to recharge.  (We also recounted a few of our teacher stories…like the time one of my students put an ice cream sandwich in his pocket to save for after school and the time that one of Cathy's students did something similar with a mouse.  VERY different endings to those stories!!!)  Any of you teachers out there have a funny story you want to share?  We would love to hear them in the comments below! But please leave out names to protect the innocent! 🙂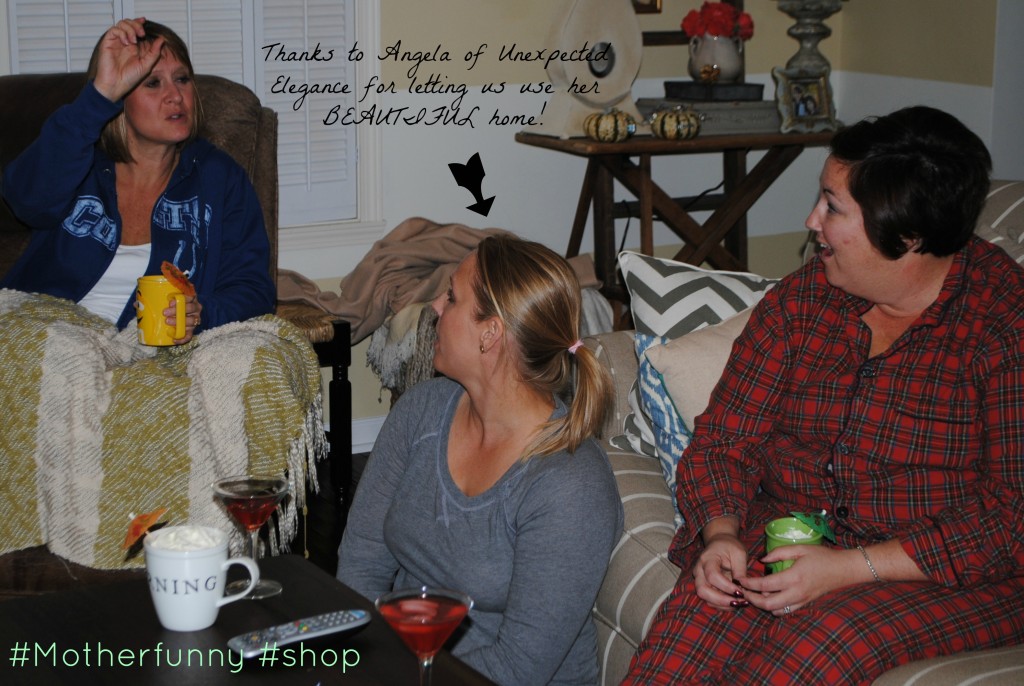 Need a reason to hang out with your girlfriends and recharge?  Grab some fun drinks or a bottle of wine ("Don't judge!"  For anyone who watched this particular Instant Mom episode, Tia's character, Stephanie, takes a glass and then snatches an entire bottle after a particularly challenging "mom" day and delivers that line to her TV husband), call a few close pals and tell your significant other or your kids that you are headed out to watch Nickelodeon with your girlfriends! NickMom just might be the energizing "go to" channel we all could use to get through our crazy busy lives.
Special thanks to our friends Angela (anyone recognize her from her blog Unexpected Elegance?) and Tiff (from our family site…Tastefully Yours with Tiffany?) for agreeing to pose in their jammies for this post!  Love you gals!
New Instant Mom episodes air every Sunday night, in addition to nightly episodes during regular NickMom programming.
Keep up to date with NickMom shows on Facebook: https://www.facebook.com/nickmom