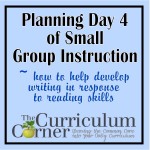 This is the fourth of five posts.  If you've missed the others, you will find them here…
https://www.thecurriculumcorner.com/2012/09/24/planning-day-1-of-small-group-instruction/
https://www.thecurriculumcorner.com/2012/09/30/planning-day-2-of-small-group-instruction/
https://www.thecurriculumcorner.com/2012/10/03/planning-day-3-of-small-group-instruction/
Your kids have explored new words, read the book and worked on comprehension skills.  Now it is time to practice writing in response to reading skills.  We have created a collection of possible activities to help students develop their understanding.
Cut Up Sentences  Students tell you a sentence about their book.  You might post a question they answer or they may share their favorite part.  You write the sentence on sentence strips and cut it up for them.  Students then work to unscramble the sentence.  Once students have unscrambled their own, they can trade.
Reading Response w/ Handwriting Lines      Reading Response w/ Single Lines  These simple forms can be used for many purposes.  You can pose a question students answer or they can tell about what they have learned.  There is also a spot for students to draw a picture to show their learning.
There are many printable writing in response to reading activities in this post:  https://www.thecurriculumcorner.com/2012/06/19/reading-response-activities/
Have other ideas you find helpful in your classroom?  Please share them below!