This collection of Close Reading resources is free from The Curriculum Corner. You will find that it includes mini lessons, graphic organizers & much more!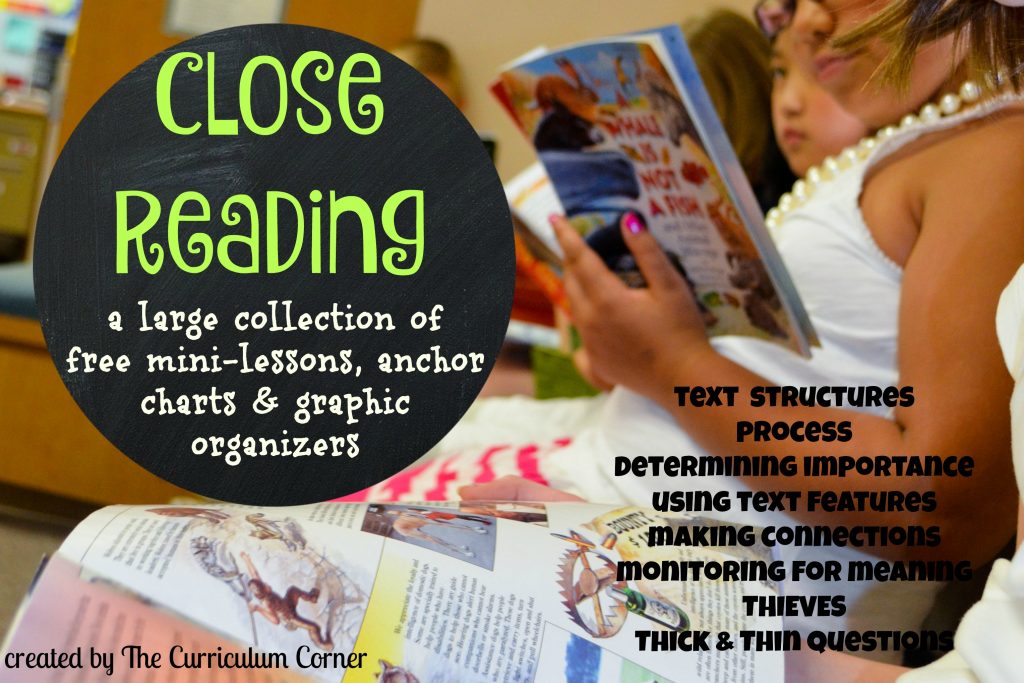 We are excited to share a round-up of our popular Close Reading resources. We have created these resources to include what you need to get started with Close Reading in the classroom.  Just click on the bold titles at the bottom of this post to be directed to the free resources.  Each link contains a post explaining the contents and downloads for the PDFs we have created – all resources are free.
If you feel like we are missing an important focus within our close reading collection, please share in the comment section below. We would love to make this your favorite spot to find resources for close reading.
As always, these resources are designed to be free for teachers. They may not be sold or duplicated and republished on other web sites. Please feel free to share this post with your colleagues. Schools and bloggers are welcome to link directly to this post, please do not link directly to the PDF as this violates our sharing policy. If you have any questions, just send us a message!

Follow the links below to find the free resources for each focus for Close Reading
Determining Importance in Text
If you have other areas of Close Reading you would like to see included in our collection, please share your ideas below or send us a message.