We have created new resources for teaching volume in your classroom using unit c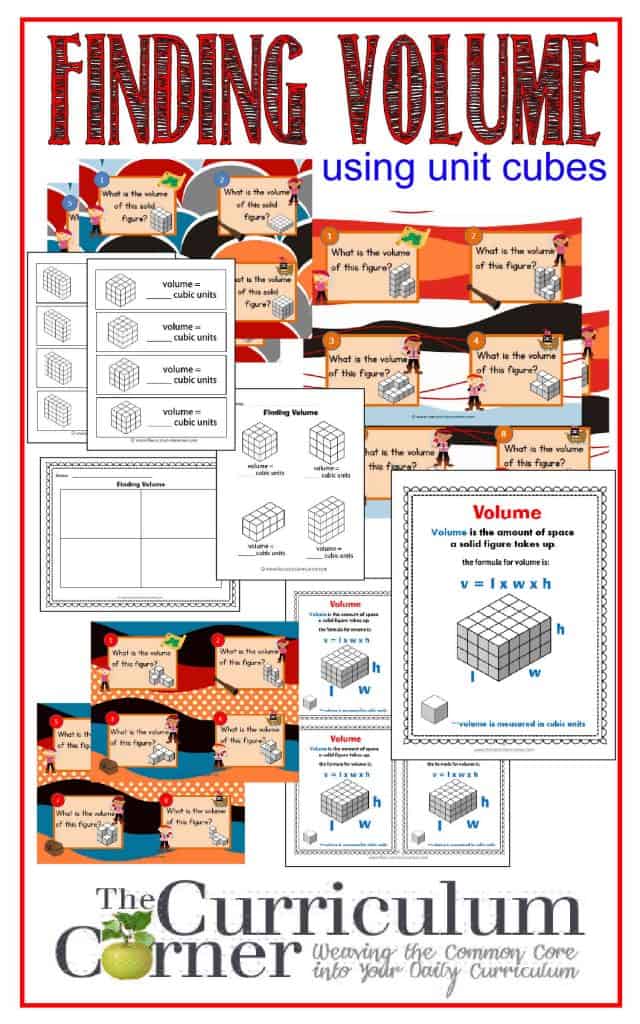 ubes.
Volume Anchor Chart and Notebook Inserts  This file includes two pages – one is designed to be printed as a full page for a classroom anchor chart.  The other will print four on a page (in color or black and white.)  These are ideal for inserting into student notebooks as a resource.  You might also laminate these as a tool to be placed at centers.
Practice Page & Exit Tickets  4 pages total – use the smaller forms for students to add to their math notebooks or to use as exit tickets
Volume Task Cards Set 1 – Blue Finding the Volume of Solid Figures This set of task cards are ideal for center work.  Place the cards and recording sheet at a center.  Assign students a number of tasks to complete.
Volume Task Cards Set 2 – Red  These task cards are for finding the volume using unit cubes with portions removed.
Volume Task Cards Set 3 – Orange  Similar to set 2 but with more complex shapes.
Math Volume Video  Catchy song to help kids remember the formula for volume.  Also includes a step by step description to find the volume of the cube.  This comes after the song.
Volume is addressed in 6th Grade CCSS: CCSS.MATH.CONTENT.6.G.A.2 Find the volume of a right rectangular prism with fractional edge lengths by packing it with unit cubes of the appropriate unit fraction edge lengths, and show that the volume is the same as would be found by multiplying the edge lengths of the prism. Apply the formulas V = l w h and V = b h to find volumes of right rectangular prisms with fractional edge lengths in the context of solving real-world and mathematical problems.