This collection of informational text graphic organizers can be used to meet 4th & 5th grade standards in your classroom.This collection has been created in the hopes that you will have an easy to access graphic organizer to fit the standards you are focusing on.

You will find the link to download the entire free collection towards the bottom of this post.
This collection of 32 informational text graphic organizers is designed to meet standards addressing key ideas in informational text. The organizers match fourth and fifth grade standards.  We have created organizers that fit each of the standards.
As is usually the case with graphic organizers, most of these organizers are designed to be modeled by teachers before independent use.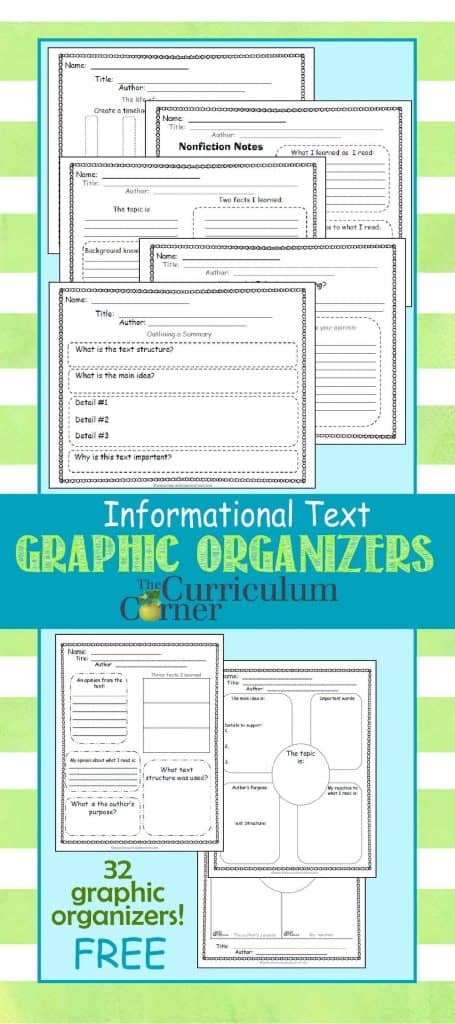 Often, the graphic organizer can help guide your mini-lesson if it fits a skill you are teaching.  Model completing the organizer with the help of your students. Showing students how you think through the process of completing an organizer can help them be successful in the future when completing their own. It is a valuable lesson because as you complete the organizer, you are sharing your thinking. This then helps them
Once taught, these organizers can be used during independent reading time to check comprehension and understanding. You might also consider giving students a choice when appropriate.
Print the entire collection and add to your reading management binder – you will always have quality graphic organizers at your fingertips!
You can download the collection geared towards 4th and 5th grade students here:
_____________________________________
If you are looking for additional organizers, we also have a similar collection geared towards 1st – 3rd grades:  Graphic Organizers for Informational Text for 1st – 3rd Grades.
You can find our collection of organizers for literature here:  4th & 5th Grade Literature Graphic Organizers.