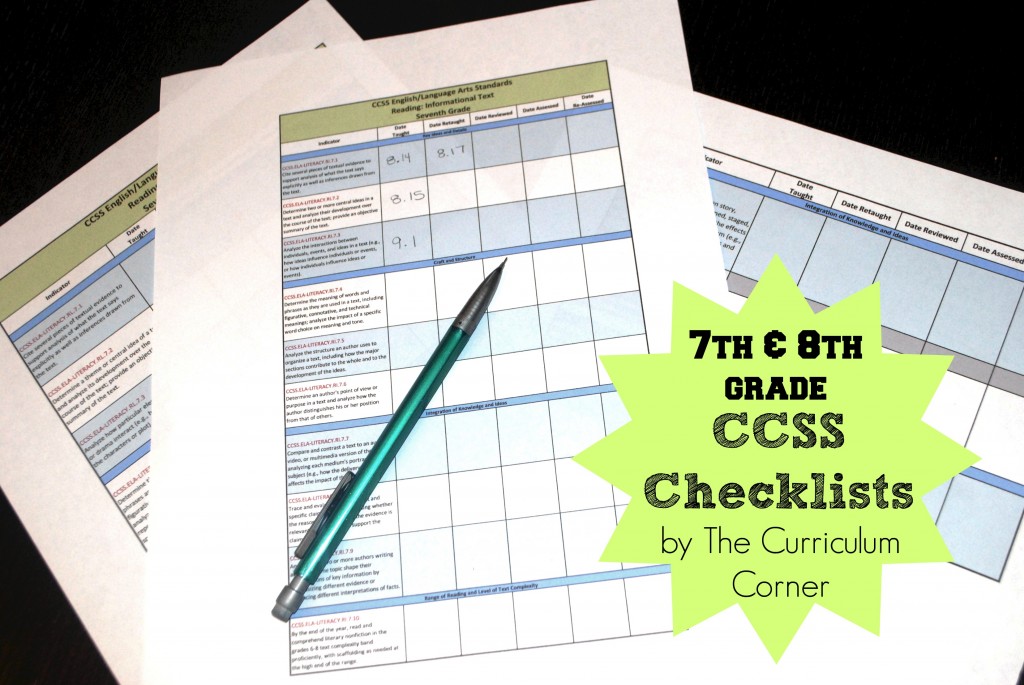 For those who have been asking, we finally have the updated CCSS checklists available for grades 7 and 8.
Just as an FYI – we have no plans at this point of going beyond 7th and 8th grades.  We have had some inquiries, but want to leave that to the experts who teach those grade levels.
Our common core standards checklists are just what you need to help you keep track of the standards taught in your classroom.  Use these to make sure you are addressing all that you need to teach throughout the course of the school year.   Keep track of when you have introduced, retaught and assessed each indicator.  The most important parts of the common core are the anchor standards that carry through from kindergarten to high school.  These have been included with each language arts checklist so that you don't lose sight of your essential goals for teaching and learning.
***Please keep in mind that these checklists are more to be used as a system of checks and balances in your teaching for the year and not so much a "check off" sheet for these indicators to be checked and thought of as "done".  You will be teaching so many of these concepts during your small groups and one-on-one conferencing each and every day.
We have provided these checklists in an editable Excel spreadsheet format where you can type your dates and notes into the columns and also as a PDF for you to print.  The first two resources contain the more in-depth explanation of the standards found at corestandards.org.
*NOTE – The titles and standards boxes in the Excel document have been locked.  The only editable portions are the boxes to track the standards taught.
CCSS Standards for Mathematical Practice
CCSS Standards for Mathematical Practice
7th Grade CCSS Checklist for ELA                Excel           PDF
7th Grade CCSS Checklist for Math              Excel           PDF
8th Grade CCSS Checklist for ELA               Excel           PDF