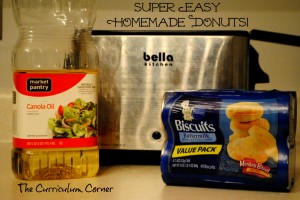 When I was little, my Grandma Gill used to make my cousin Cindy and I THE BEST homemade donuts!  They were always one of our favorite breakfasts after a sleepover.  Today I make these same donuts for my boys.  I know there is no nutritional value, but they are delicious!  Grant has started saying, "Why is it the things that taste so good are so bad for us?"  He's caught on early!
Because the boys had school today and I am already on Thanksgiving break, I thought I would wake them up with a special breakfast treat.  The boys were so excited, they posed for pictures with absolutely no arguments – everyone who knows my boys, knows this is a BIG deal!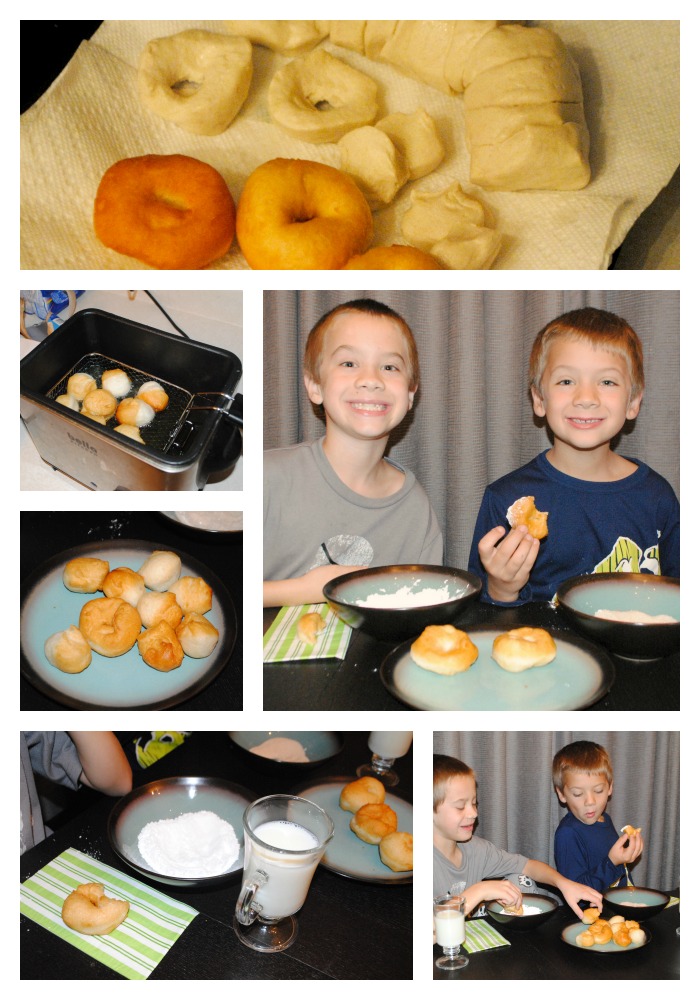 These are so simple to make, I can barely call what I'm sharing a recipe.  All you need is oil, canned biscuit dough and a fryer.  That's it!  We use the smaller biscuits but these can also be made with the larger ones.  All you have to do is open the biscuits, stick your finger through the middle of each biscuit to create a donut shape and fry.  (Sometimes I mix it up a little by creating donut holes, just split each biscuit in half for these.)   I heat my oil to about 350 degrees before putting the donuts in.  It will take about 2 – 3 minutes per side.  I am careful to watch so they don't become too brown.  When they look just right, simply take them out and place them on some paper towels.  They will be a little too hot for your little ones to touch right away.  Once they are warm, hand over a plate of donuts along with powdered sugar or cinnamon and sugar for dipping.   It won't take long for these to disappear!