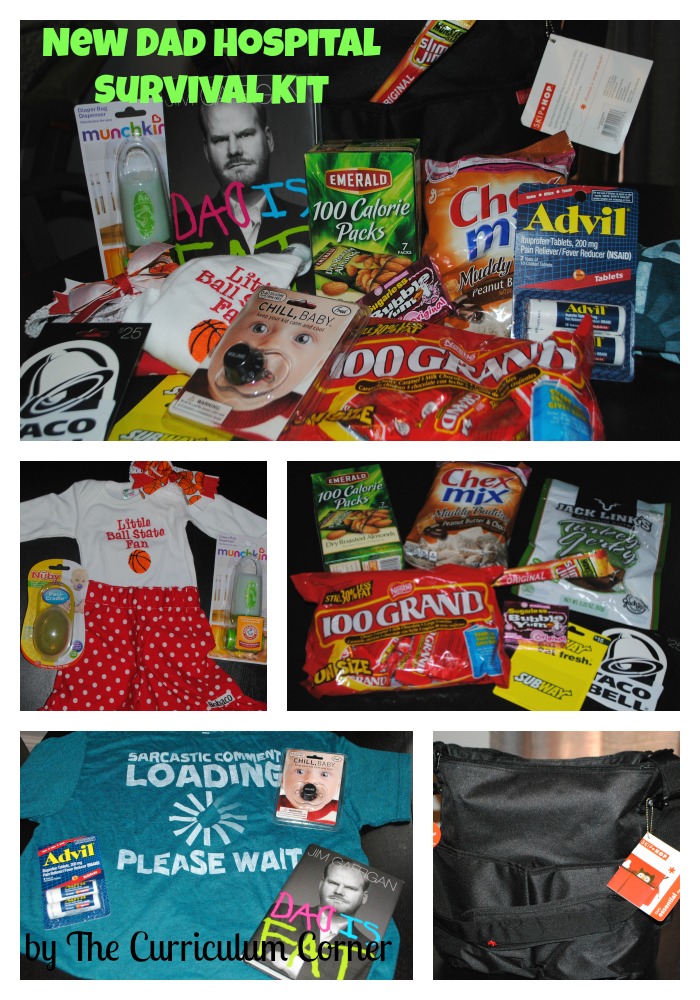 In the rush to make everything just right for the mom-to-be and the new little arrival, the dad is often forgotten.  Along with packing the hospital necessities for baby #3, I've also taken the time to put together a special gift for my husband.  I've spent some time thinking about what he would enjoy.  We've been lucky to receive many gifts from friends and family but he isn't quite as excited as I am when it comes to receiving pink bows and pretty, frilly outfits.   My goal when putting together a bag for him was to make sure it had things that are truly for him and not for me.
I started by searching for the perfect daddy diaper bag.  My diaper bag is very cute with black and white polka dots and a big, hot pink flower.  Not exactly what he wants to carry around when he's out on his own with the baby.  I found a black bag with just the right amount of space of Amazon.   It is the Skip Hop Duo Deluxe Diaper Bag, I bought it in black but it does come in other colors.   It's not too big and appears to be durable.  (You'll find the link at the bottom of this post.)
Next, I had to decide what I wanted to fill it with.  I began by making a list of Doug's favorite snacks – including the ones he avoids because they are not too healthy.  After purchasing the snacks I decided to buy a couple of gift cards for fast food restaurants by our hospital.  I think he will be most excited by the 100 Grand bars.   In case I am in labor for a long time, he should be all set with snacks!
After having two boys and being sure I would never have a chance to buy ruffles and pink for a little girl, I might be going a little overboard with the girly clothes!  My boys just look at what I buy and shake their heads.  I thought Doug should have at least one outfit that was purchased for him.  Of course, it is still girly, but it is definitely not something I would choose on my own.  I searched Etsy and found a shop that makes sports onesies with matching headbands.  I had Little Ball State Fan (where my husband graduated from) embroidered on the onesie and the bow is red and white with basketballs.   I then purchased red and white polka dotted pants to complete the outfit. The onesie and bow were purchased from A Growing Family.  The pants were purchased from Bohemian Baby Couture.
I then filled the bag with other odds and ends I found that seemed perfect for Doug.  These included a Sarcastic Comment Loading t-shirt (this must have been made just for my husband!), a pacifier that says volume, the book Dad is Fat and, of course, some Advil for when baby will not stop crying…although I have promised him this baby will be perfect 🙂