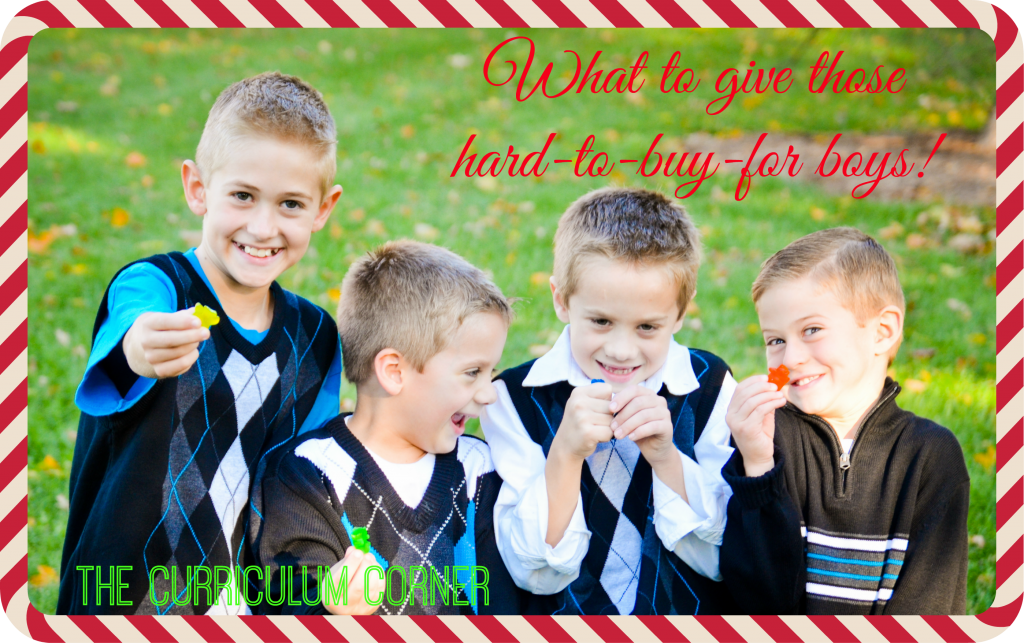 Shopping for boys can be SO difficult!  They reach an age (much too quickly in our opinion) when they only thing on their lists are video games.  If you're like us, you would LOVE to buy your children something more interactive than a video game.  It's taken some work on our part, but we've managed to get them to add some real toys to their list…of course, video games are still there but now we have some balance!
Legos & Other Building Sets
Legos are still a big hit in our houses.  Our oldest two don't play with them after they are built, but they will spend some time putting them together.  We have just discovered the Technic sets which are enticing for older boys because they have motors and you can even add a remote control.  We have found that the price of these sets on Amazon has increased as it gets closer to Christmas.  As all of our boys are big fans of Minecraft, another item on their lists is a Mincecraft Lego set.  These have much smaller pieces than the standard legos.   Also, our 7 and 8 year-olds have been playing with Zoob pieces.  Their current favorite is a remote control bug.  They have also had fun making cars to race across the floor.  There are many different Zoob sets available, even a set that builds a pull-back racer.
Unique Toys for the Curious
Our boys all like to explore.  They need toys that encourage their curiosity and allow them to be scientists.  These toys fit that need perfectly!  If your children haven't played with the Snap Circuits sets, we highly recommend them.  We have a couple different sets and they offer hours of entertainment.  There are many different sets in a large range of prices.

Games
While Monopoly and Battleship are still played in our houses, our oldest two are ready for some new games.  Ticket to Ride is a favorite in the Henry house but we have found some others that offer something different than what you will find at the store.
For the Artist
Spencer and Evan tend to be very creative when they're playing.  They are younger than the other two and still love some art time mixed in with their play.  We just found a Spirograph on Amazon and are sure they will have lots of fun playing with it – did you have a Spirograph when you were little?  It was one of our favorites!  Unfortunately, the price has increased a great deal since our childhood.  We also found a set from Cra-Z-art which is not as nice, but 1/4 of the price.