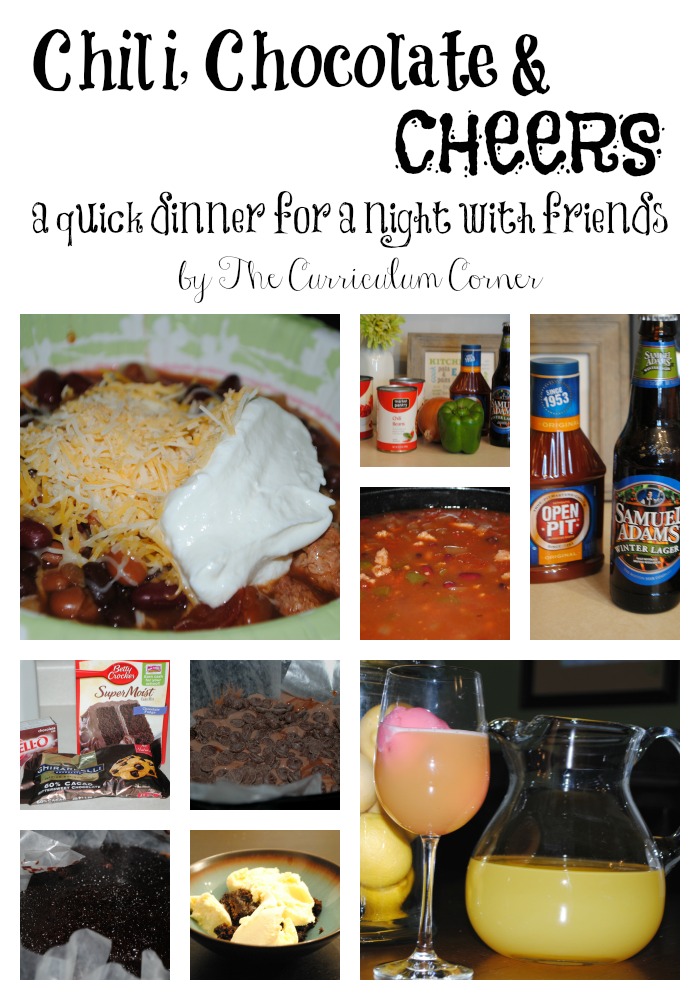 Once a week, Jill and I try to plan a dinner with our families.  It is fun to cook together and our boys are such good friends, it makes for an easy evening.  We have had so many cold and snowy days, chili seemed like the perfect fit for this week's dinner!  We then added a delicious, warm dessert and a fun cocktail to complete our meal.
Cathy's Chili
1 pound lean ground turkey (you can use ground beef if you prefer)
2 cans chili beans
2 cans kidney beans
2 cans black beans
1 large can diced tomatoes
1 can chili tomatoes
1 green pepper, diced
1 onion, diced
1 bottle beer (any kind)
1 bottle barbecue sauce (any kind)
1 tablespoon chili powder
This is such an easy meal to make.  Brown your ground turkey and put in the bottom of the crockpot.  Then, add your other ingredients.  I usually put it on low in the morning before I leave for school and it is ready when I get home  (cook at least 6 hours on low.)  In my family, we serve our chili over macaroni and then add shredded cheese and sour cream.
For dessert, we found an amazing recipe on Jamie Cooks It Up.  It is a chocolate lava cake that is made in a crockpot.  It is SO easy and just as delicious!  You will find the recipe here:  Chocolate Lava Cake.  We followed the recipe except for one small change.  Instead of adding a bag of milk chocolate chips, we used a bag of Ghirardelli dark chocolate chips.  YUM!   You have to serve it with ice cream when it is warm.  This will be one of your new favorite desserts!
Our original plans were for the chili and cake.  Then we started thinking that maybe we needed to add a cocktail.  We both searched our cabinets and came up with some ingredients to make our own sangria recipe.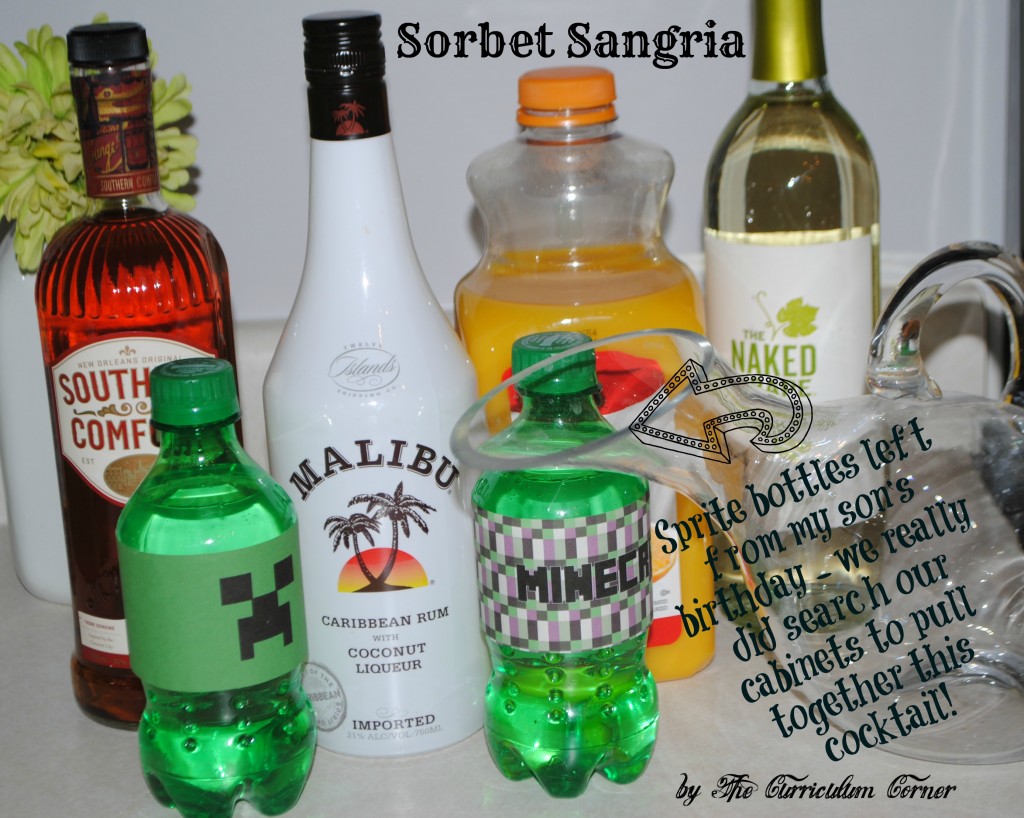 Here's what we added:
1 bottle pinot grigio
1/2 cup orange juice
1/2 cup Malibu rum
 24 ozs Sprite
1/2 cup Southern Comfort
We poured the ingredients into a fancy glass pitcher and stirred.  We didn't have enough fresh fruit but we did have a container of raspberry sorbet.  So, we put a couple scoops in a wine glass and poured the cocktail on top.  This is definitely a cocktail that will be made again!