Help your students working on reading the Dolch nouns with the help of these free Dolch noun worksheets.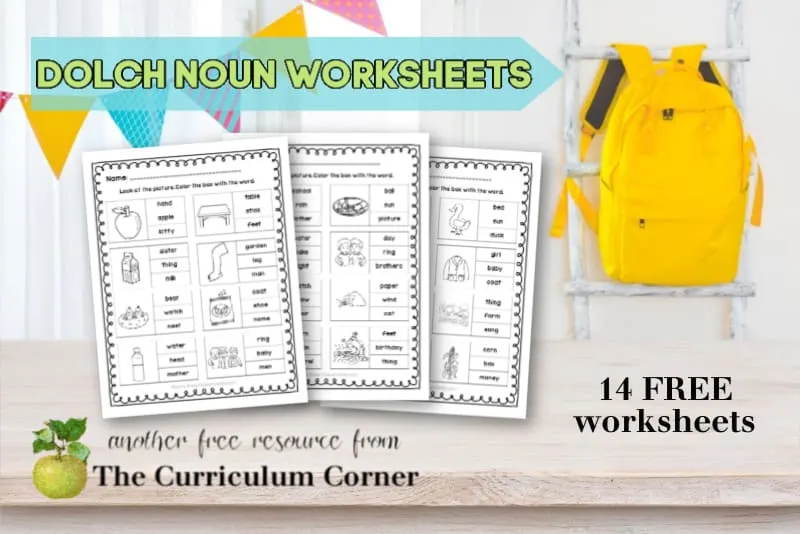 This is another free resource for teachers from The Curriculum Corner.
Our Dolch noun worksheets can be used with your students working on sight words.
What are Dolch words?
Dolch words are a set of sight words first developed by Edward William Dolch in 1936.
Dolch created the list by scanning books for children and finding the most common words.

You will see the age of this list specifically in the list of nouns where words such as kitty and Santa Claus are found.
Even though the list is older, we know many classrooms still rely on the Dolch nouns for sight words.
We like the list of Dolch nouns simply because it gives you a set of words that students can match with pictures.
Dolch Noun Worksheets
These worksheets can be used to create practice for your students learning to read.
They will allow students to match words with meaning. This can be especially helpful for your students learning English.
To complete the worksheets, students color in the box to match the word with the picture.
You can download this free set of Dolch noun worksheets here:
You might also be interested in our free Dolch Noun Puzzles.
---
As with all of our resources, The Curriculum Corner creates these for free classroom use. Our products may not be sold. You may print and copy for your personal classroom use. These are also great for home school families!
You may not modify and resell in any form. Please let us know if you have any questions.
Thank you to RamonaM Graphics for the Dolch noun clip art!