This free gingerbread colors PowerPoint game is designed to give your students practice with reading color words.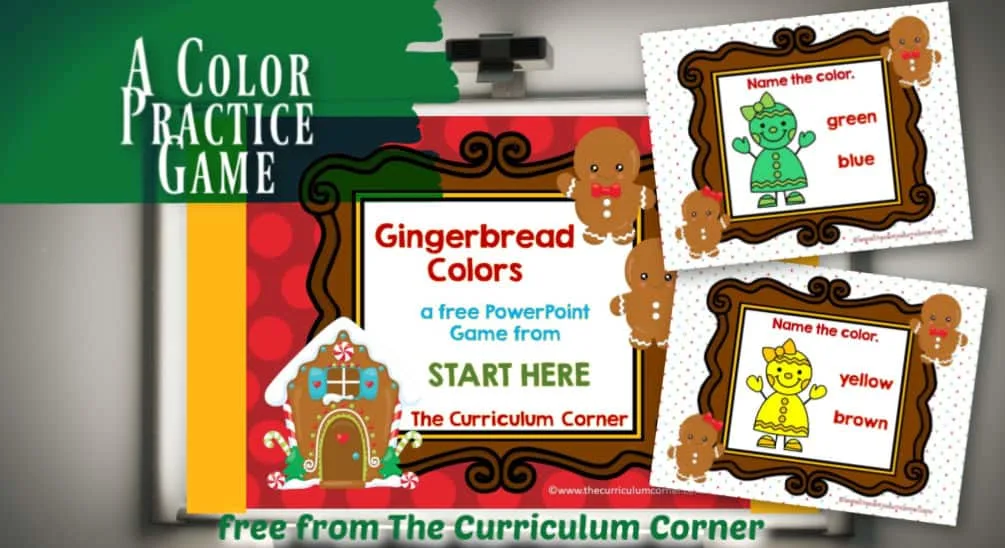 This is another free resource for teachers from The Curriculum Corner.
You can download this free gingerbread colors PowerPoint game by clicking on the bold, green link at the bottom of this post.
We created this PowerPoint game to give your students practice with reading color words.
This game will fit well into your winter classroom practice. The gingerbread girls and boys will be a fun touch to your December or January gingerbread focus.
As many teachers are moving towards classrooms with less paper, these types of resources for computer math centers or even whole class participation is a great alternative.
Students love practicing basic skills on the classroom SmartBoard and having free, ready to go games makes this easier for you to accomplish.
Or, set this up on your student computers or tablets for morning practice or during math centers.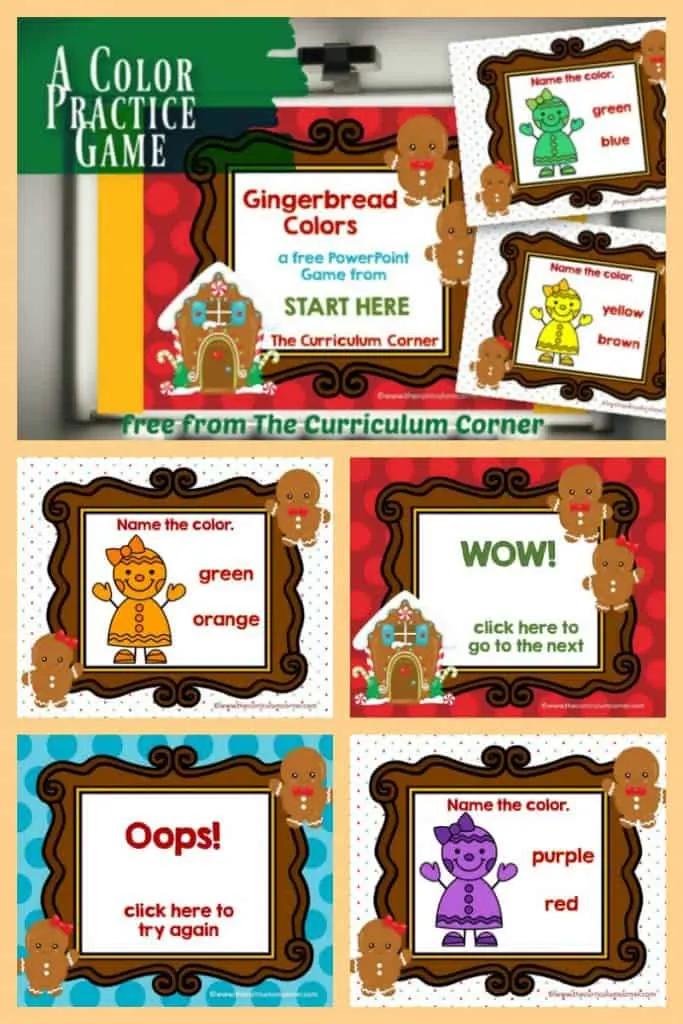 How to Play this Gingerbread Counting PowerPoint Game
This is a self checking game which is great for independent work.
To play, students need to click on the "Click Here to Start" link and they will be taken to the first problem.
When a student responds correctly, they will receive slide giving them some praise. Students click on the wording and will then go to the next problem.
When students answer a problem incorrectly, they will reach an "Oops!" slide and will need to click on the words to return to the original problem to try again.
The game is created so that the final slide is linked to return to the first slide.
**To make this game easier for your non readers, the text on the Oops! slides is in red to symbolize stop. The praise slides will have green text to symbolize go.
You can download this reading color words game here:
**Once you have downloaded your game, simply click on the view tab at the top and then select reading view. This will start your game. **
You will need the following KG Font for your game to display correctly: KG Second Chances Solid (We have a commercial use license for ourselves, you will just need to download the free version!)
Other free gingerbread resources you might like:
Thank you to Teaching Happy Hearts for the cute gingerbread clip art!