Download these kindergarten Arctic animals learning print and go pages for themed worksheet practice in your early learning classroom.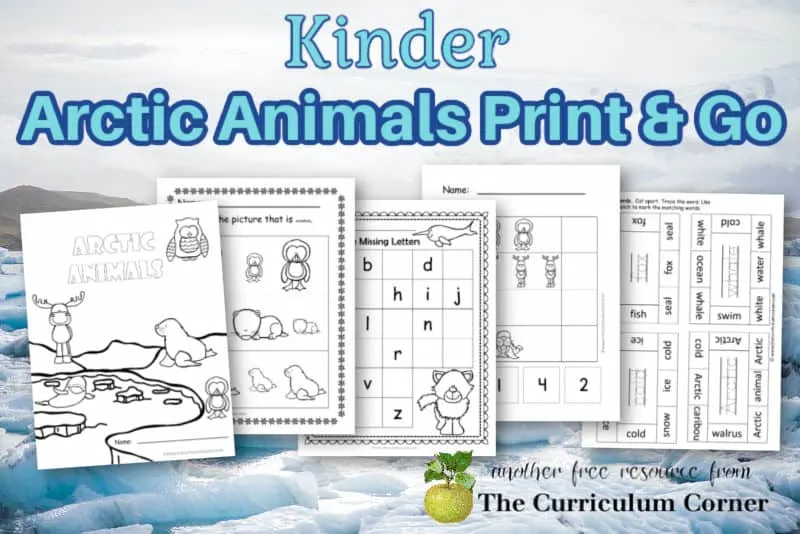 This is another free resource for teachers and families from The Curriculum Corner.
This new set of free kindergarten Arctic animals learning worksheets will be a fun addition to your preschool or kindergarten classroom.
If you are looking for some engaging themes for winter, a study on Arctic animals will be a great one to add.
Children can explore new places and maybe even begin learning about adaptations.
These worksheets focus on simple writing, reading and math skills.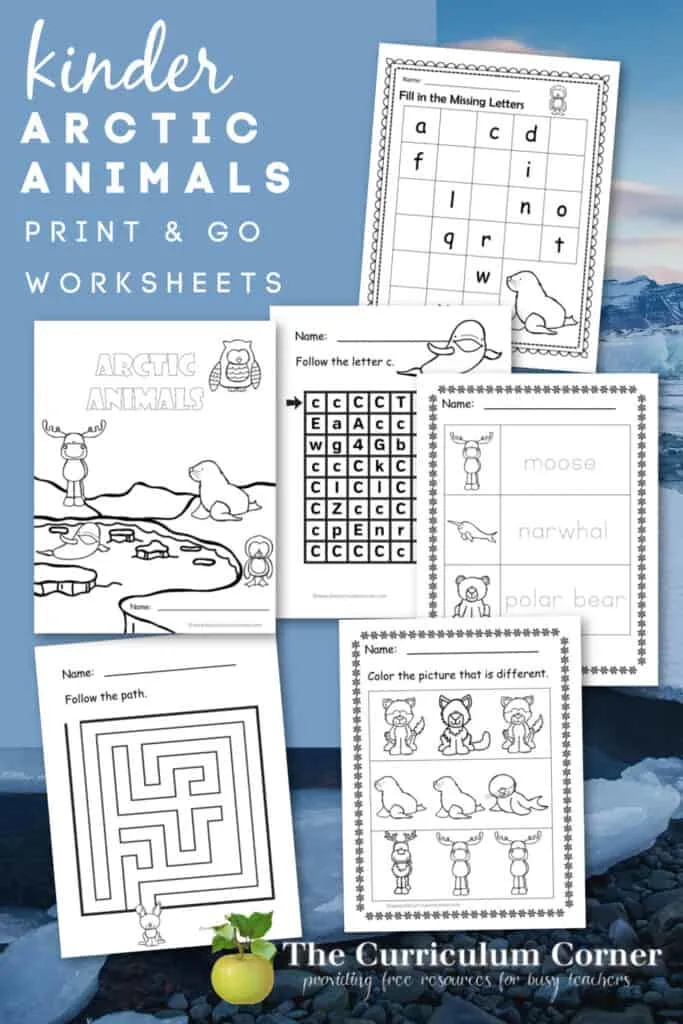 About these Arctic animals learning pages
You will find the following practice pages in this set:
Cover page – use this if you want to create a workbook.
Tracing lines, mazes and cutting – practice tracing different lines and shapes on these pages.
Counting, ten frames and before and after – give children practice with beginning number sense with these worksheets.
Tracing animal words – introduce students to animals found in the Arctic and give them practice with tracing the words.
More counting – the next series of pages asks children to cut and paste and count and write the total.
Sorting – children will cut and paste to sort the boxes into the correct categories.
Fill in the missing letters – ask children to complete the alphabet charts.
About the Arctic – students will complete the graphic organizer as you learn about the Arctic.
Count and tally – children count and write tally marks to show the total.
Draw the Arctic – ask students to show what they might see in the Arctic.
Punch cards – cut apart the four rectangles. Students will use a hole punch to mark the matching words.
You can download this free set of worksheets here:
Looking for other Arctic animals resources? Try these freebies we have created:
As with all of our resources, The Curriculum Corner creates these for free classroom use. Our products may not be sold. You may print and copy for your personal classroom use. These are also great for home school families!
You may not modify and resell in any form. Please let us know if you have any questions.