If you are ready to work on non standard measurement with your students, start with this simple booklet for practice.
This non standard measurement booklet provides your children with the opportunity to explore measurement using snap cubes or Unifix cubes.
You can use this as an early practice for students working on measurement skills.
This is another free resource for teachers and homeschool families from The Curriculum Corner.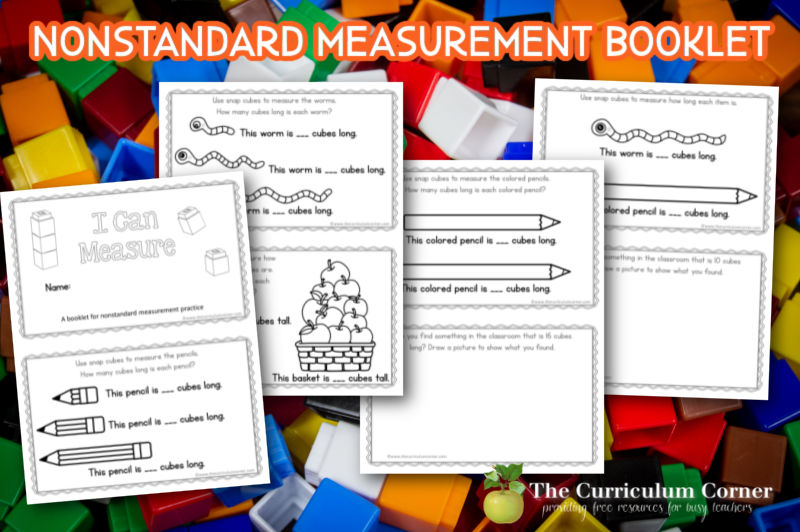 Working on Measuring
As you introduce students to the concept of measuring, many teachers begin with nonstandard measurement.
What is nonstandard measurement? It is the act of measuring with everyday objects.
Students might use Unifix cubes, paper clips, or other items for measuring. You might even have students use their shoes or feet!
Have students explore the concept by comparing the lengths of objects when you use different measuring tools.
You can begin by teaching your students how to line up a measuring tool with an object. They will need practice placing items next to each other and marking objects as they move their tools.
Once students have practiced this skill, they can complete the booklet shared below at a center.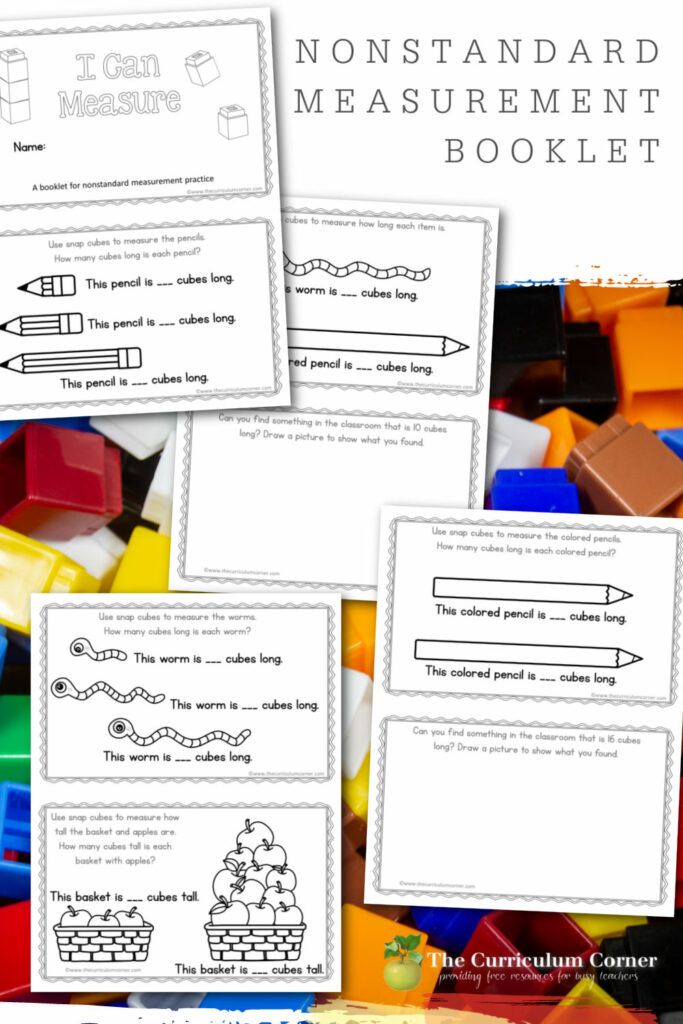 This Nonstandard Measurement Booklet
This non standard measurement booklet contains 8 different pages for student practice.
It is designed to be printed front to back. You can then cut the pages in half.
Stack the pages and staple the booklets on the right side.
To complete the measuring work, students will need (contains affiliate link) snap cubes and a pencil.
Children can work together at a center. This will allow them to help each other and check their work as they go.
You can download this free work here:
As with all of our resources, The Curriculum Corner creates these for free classroom use. Our products may not be sold. You may print and copy for your personal classroom use. These are also great for home school families!
You may not modify and resell in any form. Please let us know if you have any questions.
Thanks to Little Bunnies Designs for the clip art used in creating this booklet.