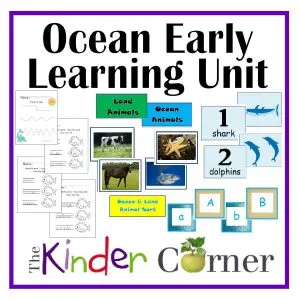 Many preschools have weekly themes that help students learn about and make connections with their world. Here we have put together some academic resources for an ocean-themed unit and suggested some additional activities teachers can think about doing during the unit. Do you have other ideas for an ocean theme? Be sure to comment below to let everyone know!
Ocean & Land Animal Sort – Help students distinguish between ocean and land animals. Print, cut and laminate the cards for a guided or independent activity.
ABC Cards – These cards have an ocean background and can be used for all kinds of activities throughout your unit. Simply print, cut and laminate. One idea is for students to match upper to lower case letters.
Number Matching Cards – These cards have students matching a specific number of ocean animals with a number/word card.
Tracing Lines – This is a simple page to help students practice tracing on dotted lines.
The following three pages help students begin to recognize and write their color words. Students are asked to trace a color word and color a fish to match the word.
Red/Blue/Green Orange/Yellow/Purple Pink/Black/Brown
Some additional ideas for your Ocean theme:
Tasty Ocean Scene – Use blue Jello and gummy fish to create a yummy ocean scene in a bowl! You can make this at home and bring it in to share or involve your students by letting see the steps in the process of creating it. To make your own fishbowl Jello, you need a small fishbowl (we have one that is only used for this Jello and has never been a home to fish!) You will also need to purchase 4 to 6 boxes of blue Jello (depending on the size of your bowl and the number of servings you need) about a pound of green grapes and gummy fish. After washing the grapes, put them in the bottom of the bowl. Follow the Jello directions to make one box of Jello and pour over the grapes. Refrigerate to let the Jello set. Once it has set, make another box of Jello and put some gummies on top. Let this layer set and repeat until you have used all of the Jello. Doing one box at a time allows the gummies to be throughout the Jello instead of just on the top or bottom. Kids love this treat!
Ocean Impressions Center – This fun tactile activity is one students love. Collect a variety of shells (or other solid ocean items, such as a starfish.) Be sure to have a variety of types with various surfaces and designs. You might even ask families to bring in items they may have at home. Students use the ocean items to press into Play-doh to create impressions.
Shell Tracing & Sorting – Bring in a variety of shells with different shapes, sizes and colors. Students can sort them into groups based on their characteristics and describe how they have categorized them. They can also use paper and pencils/crayons to trace the outlines of the shells on paper.
fishing bowl?
Go Fish Card Game – Don't forget this old favorite this week! It's a great way to review number recognition! Take a deck of cards and remove the face cards. Teach the students how to play in groups.
Sensory Table – Place sand in your sensory table and add an assortment of ocean-themed items for the students to find.
Snack Ideas – Be sure to stick with your ocean theme during snack-time with Goldfish crackers or ocean related gummy snacks (we have seen fish and sharks).