Pete the Cat is a classroom favorite. Use these resources to focus on math and literacy skills while reading the books.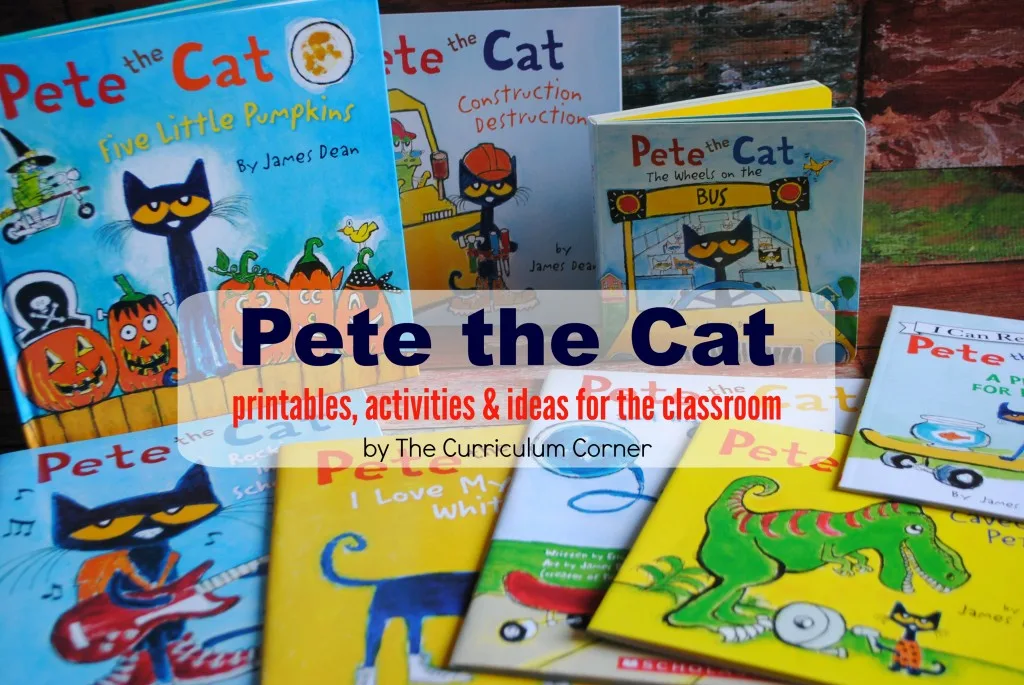 Here is a collection of resources that we created to go along with some of our favorite Pete the Cat books. This set of resources includes skills like color identification, rhyming words, onomatopoeia and even subtraction. It also includes some thematic resources including construction/tools, dinosaurs and Halloween, as well as some beloved Pete the Cat quotes for your classroom walls. If you enjoy Pete the Cat books as much as we do, then surely you will find something in this collection you can use in your classroom to go along with some of the books you read.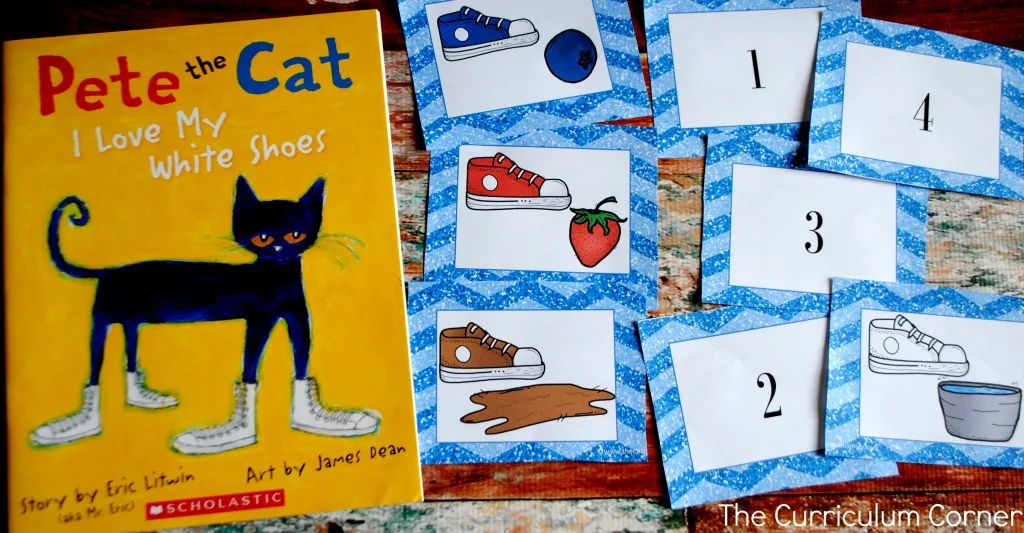 Pete the Cat: I Love My White Shoes
Sequencing These sorting cards give you two options. You can use time-sequence words (first, next, then or last) or you can use the number cards. Students work to put the cards in the order they happened in the book.
Color Sorting These cards include the items from the book along with a card containing the color word (one set in color, one in black font) for students to match.
You might also like our Colors Post to go with this book. It includes color booklets, a color card sort, anchor chart & more.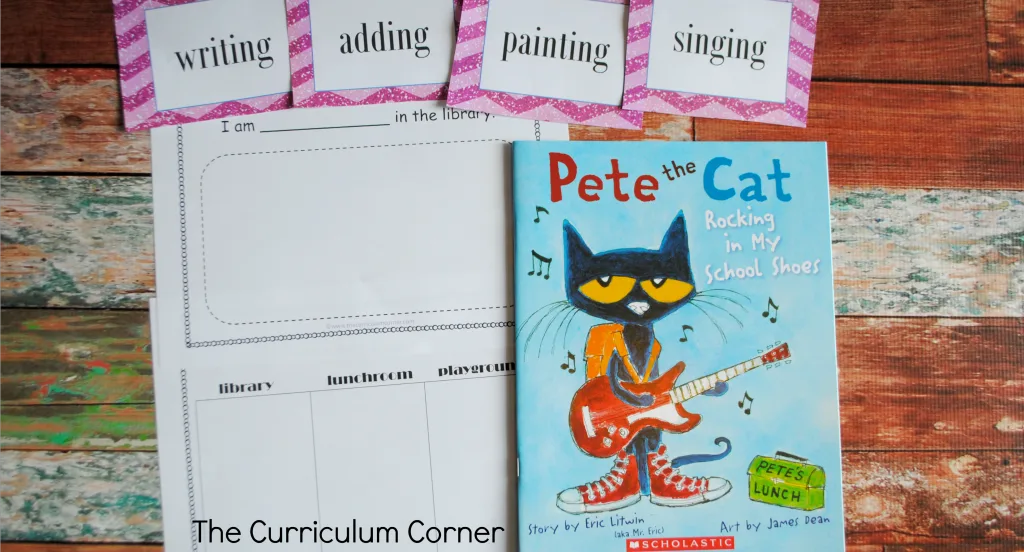 Pete the Cat: Rocking in My School Shoes
Action Fill In Students complete the sentence with a verb describing what they will do in their given school location (library, lunchroom, playground.) Students will then illustrate their writing. We have included the eight action verbs listed in the story on red chevron cards. These can be used to assist students when writing. Or, use to have students practice action verbs by acting out each word. (We have also included a fill in where students can list their own room in the school along with the action.)
Action Graphic Organizer You can have students work on this individually, in small groups or as a whole group activity (just enlarge on your school's VariQuest Poster Maker.) Includes the three locations mentioned in the book. Students write a list of actions that occur in each location or can draw a picture to show what they might do in each location.
My Favorite Part Is… Students draw a picture to show their favorite part of the book.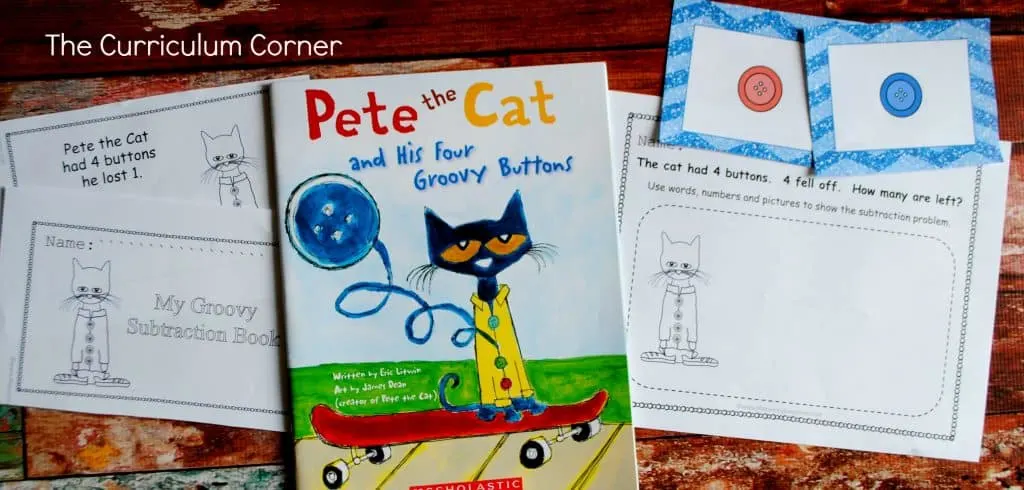 Pete the Cat and His Four Groovy Buttons
Button Problem Solving These four pages include a statement that tells how many buttons Pete started with and how many he lost. Students use pictures, numbers, words and symbols to show the math and solve the problem. These are designed to be entry level problem solving pages.
Subtraction Center We have included collared button cards but you could also use real buttons for this center. Students choose a subtraction problem card and then use the manipulatives to help them solve the problem.
Subtraction Booklet This Pete the Cat booklet asks students to write a subtraction sentence to fit the sentence on each page.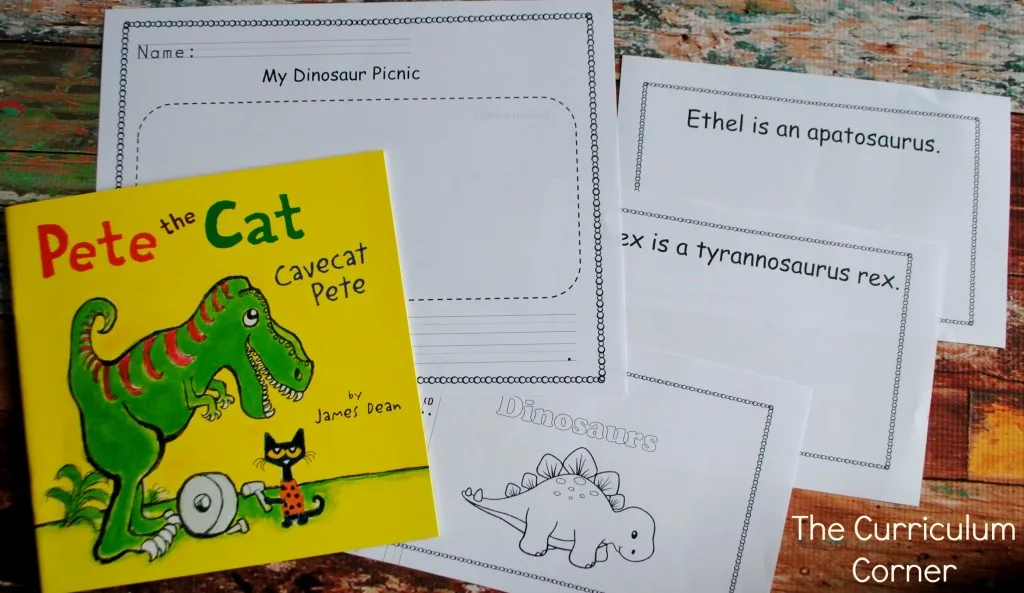 Pete the Cat: Cavecat Pete
My Dinosaur Picnic Students will draw a picture of their dinosaur picnic. They will then use words to tell about their picnic.
Picnic Packing Students use words and pictures to tell about four things they will bring on a picnic.
Dinosaur Booklet Children love dinosaurs! Use this as a hook to get them writing about the dinosaurs mentioned in the book. Students can use words and pictures to complete this booklet.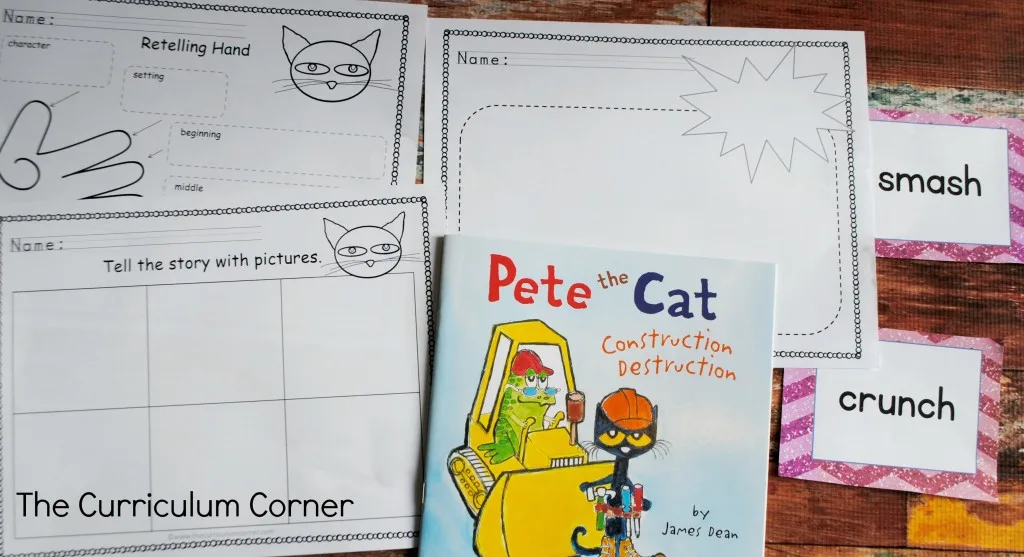 Pete the Cat: Construction Destruction
Onomatopoeia Construction Destruction gives you the perfect opportunity to introduce the term onomatopoeia to your students. Kindergarteners may have difficulty pronouncing the word, but they will be able to understand the meaning behind it as you share the words from the book. We've included cards with the onomatopoeia words from the book along with a recording page. Students choose a card, write the word in the bubble and then draw a picture to show the meaning of the word.
Retelling We have included two different organizers for students to use in retelling the story.
Making Connections Students use words and pictures to make a personal connection between what they have read and something in their lives.
Pete the Cat: The Wheels on the Bus
This book will make a great movement break in your classroom! Follow along with this YouTube video: The Wheels on the Bus. Students will be dancing and singing along all as they practice their reading with the words at the bottom of the screen.
Bus Booklet We have also created a mini-booklet for students to practice a few prepositions. This booklet contains four pages with pictures and a repetitive text.
Preposition Cards This center contains a set of cards with prepositions along with a colorful bus and Pete the Cat. Students draw a card and then place Pete in the correct location.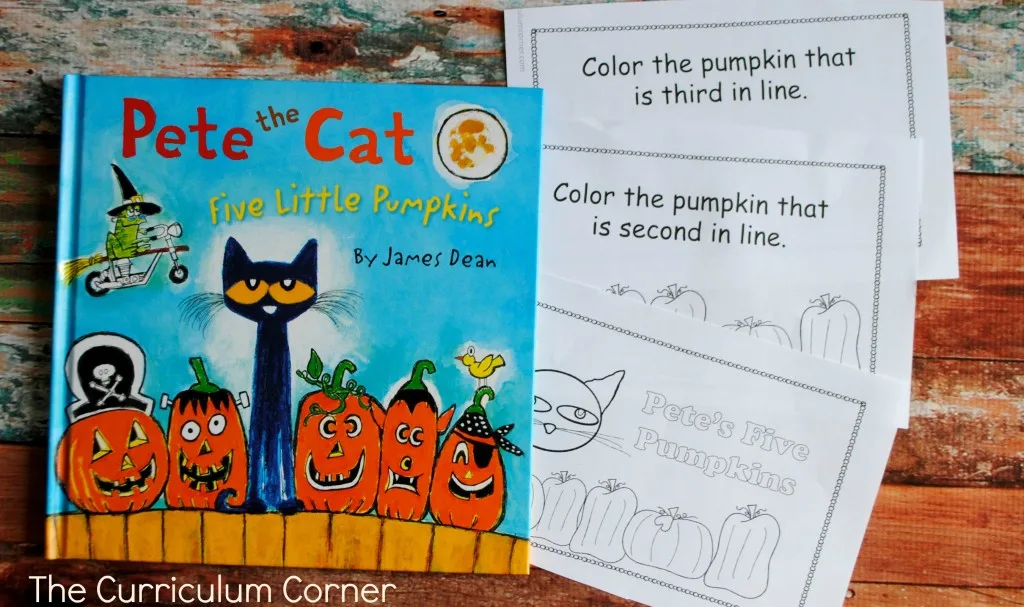 Pete the Cat: Five Little Pumpkins
Ordinal Numbers Booklet This simple, repetitive booklet asked students to color the given pumpkin using ordinal number words.
Rhyming Words This set of eight cards includes the rhyming words given in the book. Students match the pairs for practice. We also have included a recording page where students writ e a rhyming pair and then illustrate the meaning of each word.
Text to Text Connections Students choose two Pete the Cat books to show a connection between.
Want more resources for these fun books? Check out this Harper Collins Publishers site: Pete the Cat