Use these Thanksgiving no prep pages for math and literacy review and practice in your classroom this fall (Thanksgiving worksheets).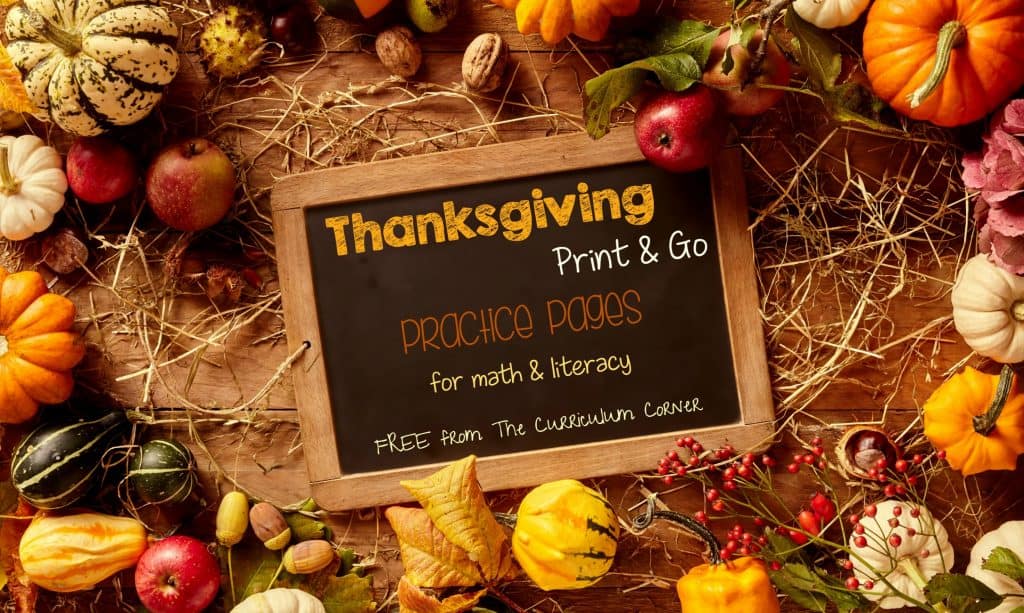 This is another free resource for teachers from The Curriculum Corner.
This collection of Thanksgiving worksheets or practice pages will give your students practice reviewing basic skills.
They are designed to be something quick with a seasonal Thanksgiving theme.
These can be great for morning review or for paper and pencil practice when you need an activity to add to your sub plans.
While we prefer hands on activities for this age group, we also know that there are times when you need to check student understanding or when you have a student who needs a little extra practice.
Hits standards from kindergarten through second grade.
You can download the complete, free collection of Thanksgiving Worksheets by clicking on the bold, green words at the bottom of the post.
Along with the practice pages, we have included a cover page in case you want to put together morning work booklets for your students. Because not all pages will be appropriate for every student in your class, we suggest differentiating booklets for students so they are receiving just-right practice.
Within this set of Thanksgiving practice pages collection, you will find the following printables: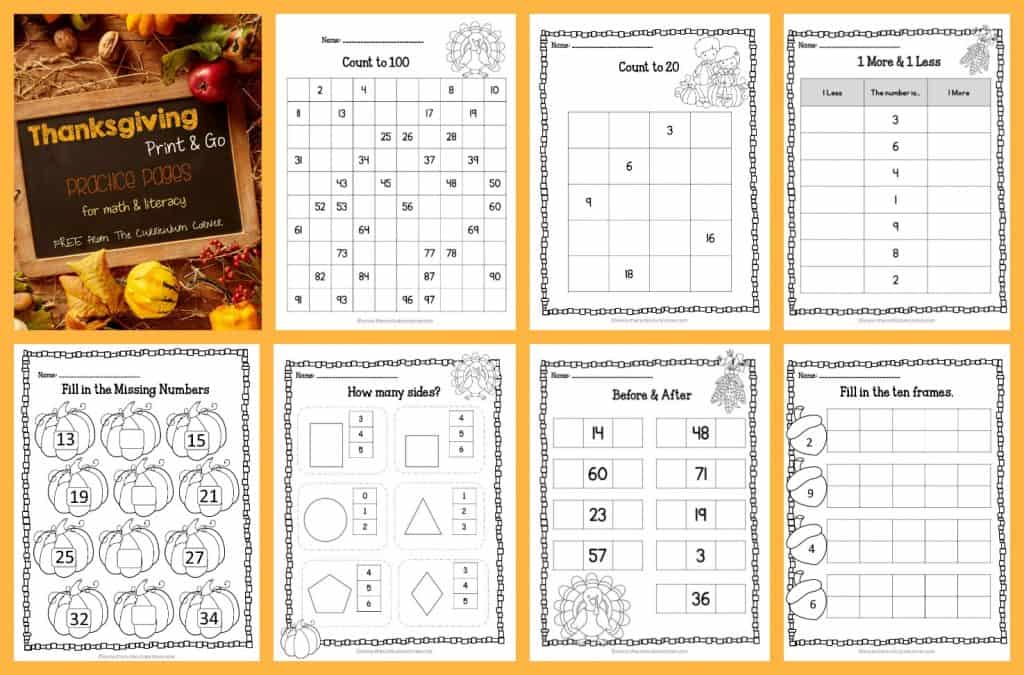 Math Practice Pages
Count to 100 – 2 different pages
Count to 20 – 2 different pages
Fill in the 10 Frames – 2 different pages
Reading Number Words
Fill in the Missing Numbers (counting 1 – 10 and counting 1-100)
Practice Counting by 2s (counting 2 – 32)
Practice Counting by 5s (counting 5 – 120)
Write the Number Before & After (3 versions, up to 999)
Read, Write & Tally
1 More & 1 Less
10 More & 10 Less
100 More & 100 Less
How Many Sides? – Geometry practice page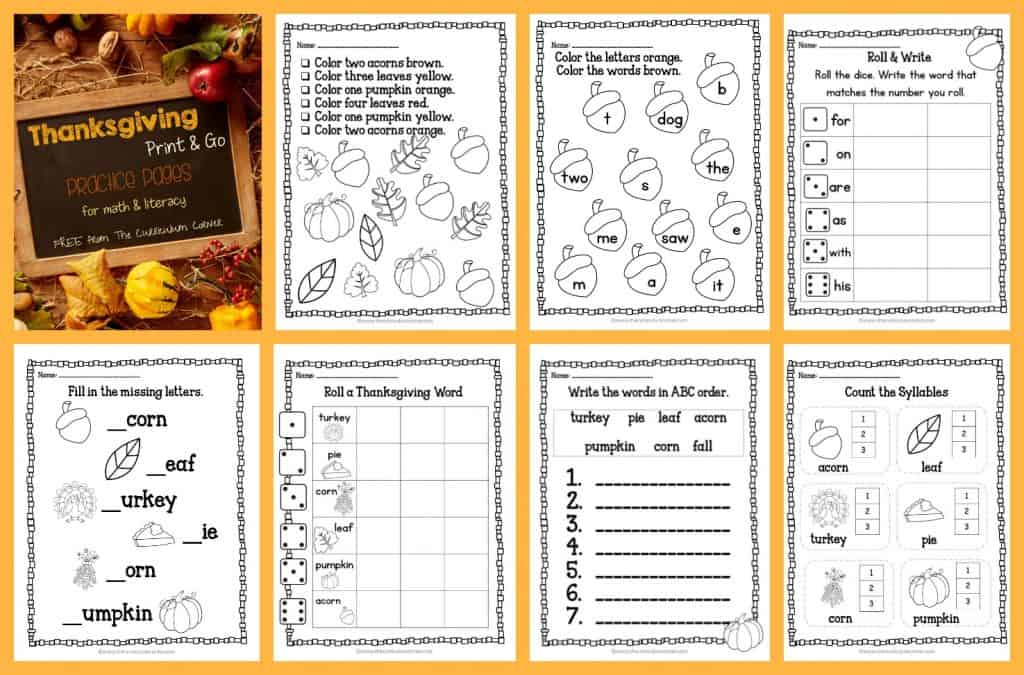 Literacy
Write the Missing Letters
Roll a Thanksgiving Word – Students roll a die, read the Thanksgiving related word and color in the box. You can choose to have students work until they have filled all of the boxes or ask them to roll a die a given number of times.
Reading Color Words – 2 different pages
Following Directions
Differentiating Words from Letters
Find and Graph the Thanksgiving Words
Fill in the Missing Beginning Letters
Color the Letters in Your Name
Write the Thanksgiving Words in ABC Order
Roll & Write the Fry Words – 5 pages include the first 30 Fry words
Count the Syllables
And a few more just for fun:
What are you thankful for?
At Thanksgiving I see…
I like Thanksgiving because…
Thanksgiving is, looks like, etc. page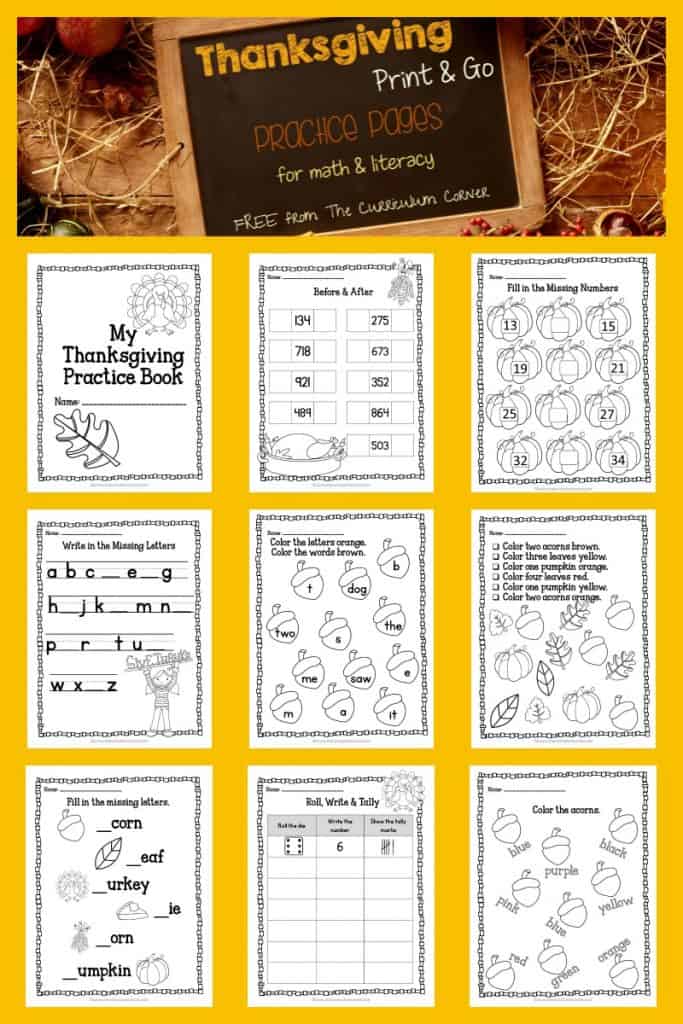 You can download the complete set here:
You will find a coordinating set of Thanksgiving centers for math and literacy here: Thanksgiving Math & Literacy Practice
For Christmas resources check out our colorful Christmas Math & Literacy Centers.
If you are looking ahead to December, take a look at our Gingerbread Math & Literacy Centers & Gingerbread Print & Go Pages you might like.
If you're still wanting seasonal fall resources for your classroom, try our Fall Math & Literacy Centers or our Fall Print & Go Pages.