Download this free June digital calendar to use for in-person or distance learning as we head into summer.
This June digital calendar is being provided as a PowerPoint as well as a Google Slides file.
The file has been updated for 2022.
You might use this calendar during your in-person teaching on your SmartBoard. Or, use this as a resource during virtual learning.
This is another free resource for teachers and homeschool families from The Curriculum Corner.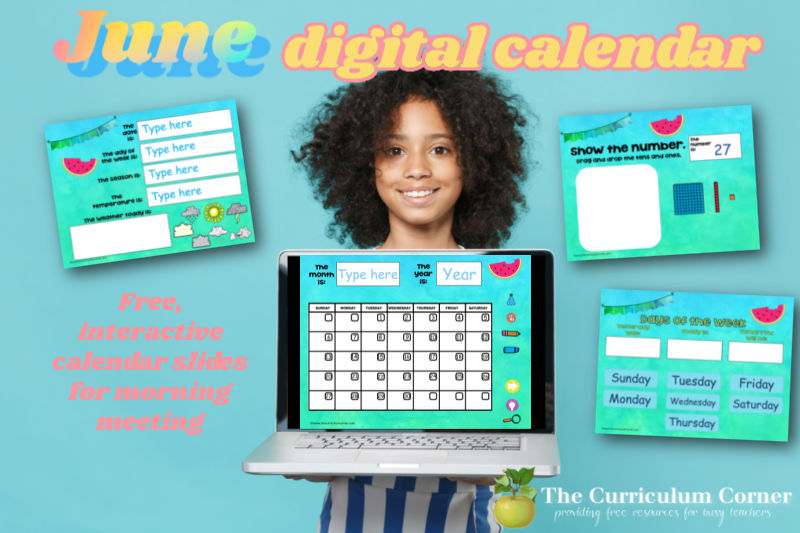 A monthly digital calendar for your SmartBoard!
You can use this download as a digital morning calendar option. It's also great for distance learning.
If you are looking for other months of these calendars, they are also available as a free download from our site. The collection is almost complete!
We are sharing a PowerPoint file along with a Google Slides option.
If you will be using the Google Slides version, you DO NOT need to request permission from us. You will simply save a copy to your Google Drive.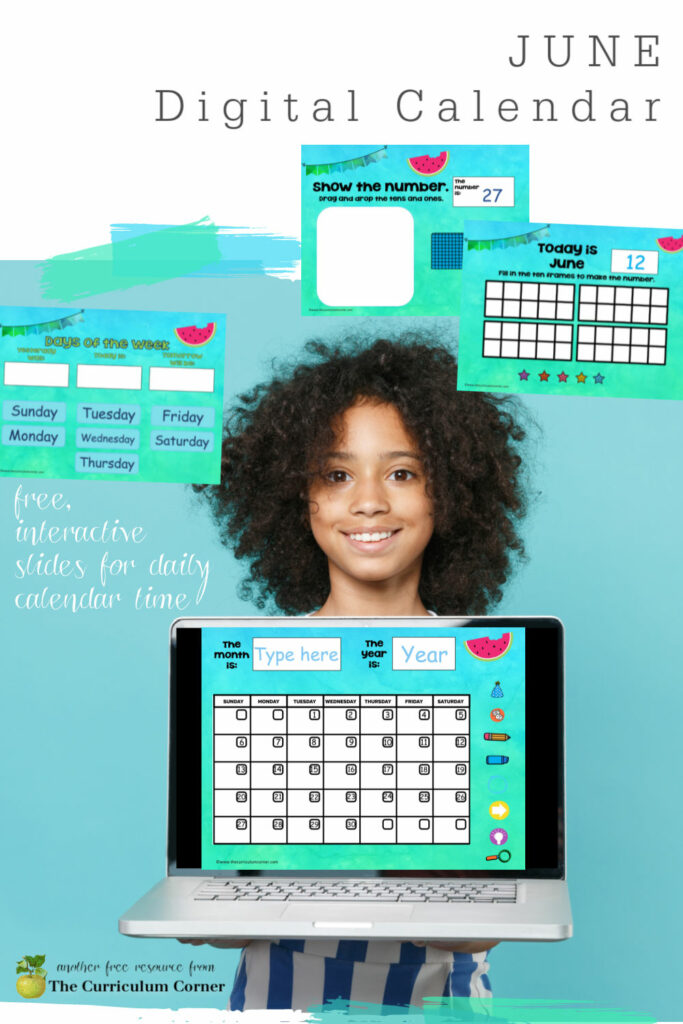 June Digital Calendar
This resource is being shared to provide you with a new material for your June planning.
You will also find additional June morning entry tasks on our site – be sure to take a look at our complete June collection. We hope these resources help make your mornings engaging and meaningful for your students.
Some teachers prefer to use these slides at a math center that children visit once a week. This is a good option for your classroom if your students need a small review but do not need to devote the time to daily calendar practice.
This June digital calendar set contains all of the following slides:
Build a calendar – children will drag and drop the number tiles to create a complete May calendar
Add the symbols – students can drag and drop the symbols to add birthdays, game days and other activities
Days of the week
About today – children can identify the season, temperature and weather
Fill the ten frames – add the date to the top, students can fill the ten frames with the stars to create the number
Show the number – add the number of the day to the box. students can create the number using the tens and ones
Hundreds chart – children can add the number to show the count of school days
120 chart – just like the hundreds chart but for those who celebrate 120 day instead of hundreds day
2 Hundreds charts – this slide contains two hundreds charts so students can continue counting the days after you celebrate hundreds day
Within this digital set you will find editable text and moveable pieces. As a result of the clipart licensing, not all slides are completely unlocks. We are not able to further unlock these materials.
Be sure to save a copy of the original download. This will make it easy for you to reset the resource each day.
It can be helpful to save the hundreds chart pages so that students don't have to start new each day. You can choose to copy and paste this slide each day.
If you would like to use the PowerPoint version, you must have PowerPoint installed on your computer.
Click on the apple button below to download the free PowerPoint file here:

You can access the Google Slides resource here:
As with all of our resources, The Curriculum Corner creates these for free classroom use. Our products may not be sold. You may print and copy for your personal classroom use. These are also great for home school families!
You may not modify and resell in any form. Please let us know if you have any questions.