Coffee filters (coffee filter crafts) are an inexpensive material that can be turned into so many fun crafts!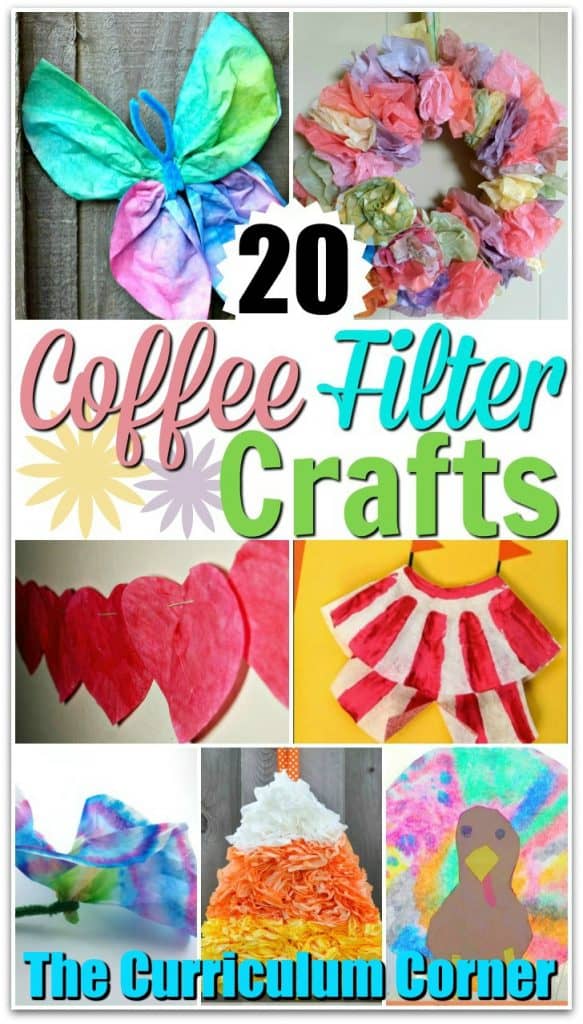 We have pulled together 20 of our favorite coffee filter crafts from around the internet. These cover many different seasons and holidays so you will find ideas that are perfect throughout the year.
You will find some that might make perfect Mother's Day Gifts for a low cost such as the flowers or butterflies. Others can be used at a guided center for a little added holiday or seasonal fun.
The autumn tree branches could be made as a nice fall decoration for your home that involves your children – or add it to your classroom! Have students work together to create the branches.
You might use the turkey at Thanksgiving at have students add something they are thankful for to the body.

One of our favorites is the rainbow fish craft you will find in spot #20. So cute and they would make a great classroom decoration!
1. Coffee Filter Flowers
2. Coffee Filter Sun Art
3. Coffee Filter Hearts
4. Coffee Filter Watercolor Butterflies
5. Coffee Filter Candy Corn
6. Coffee Filter Butterfly
7. Coffee Filter Spring Butterfly
8. Coffee Filter Butterfly For Preschoolers
9. Coffee Filter Flowers
10. Coffee Filter Turkey
11. Coffee Filter Summer Wreath
12. Coffee Filter Roses
13. Coffee Filter Carrot For Easter Craft
14. Coffee Filter XO Decoration Craft
15. Coffee Filter Chinese Fan Craft
16. Coffee Filter Easter Eggs
17. Coffee Filter Autumn Tree Branches
18. Coffee Filter Parachute
19. Circus Tent Craft
20. Coffee Filter Rainbow Fish
Do you have another favorite coffee filter craft? We would love for you to share your ideas or links below!
If you are looking for supplies, we have found some that are available on Amazon (contains affiliate links)