We've pulled together 20 of our favorite Father's Day Crafts to share with you.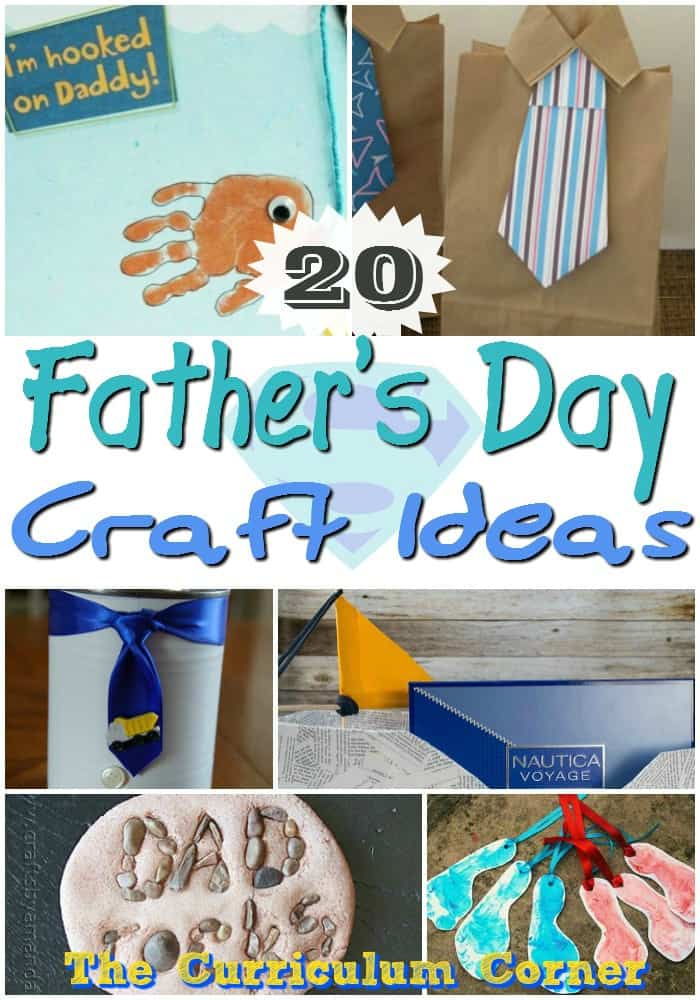 It feels like dads always get skipped. Children often come home with a cute and personalized gift for mom in May. By the time June rolls around, kids are out of school or teachers are busy wrapping up the year with assessments and can't squeeze in a craft.
Our hope is that this collection can make it easy to plan a last minute craft.
Moms who are looking to create a craft with their children might also find a favorite within the collection of ideas below. Have another great idea we haven't included? Share it in the comments below!
We're helping you out with these 20 crafts. Take a look – we hope you will find some you love!

If you are looking for a simple, quick and inexpensive idea, one of our favorites to meet these needs is number 2.
1. Father's Day Tie Pencil Holder
2. Father's Day Poem Craft
3. Father's Day Walk In Your Shoes Printable Craft
4. DIY Father's Day Bookmark Gift From Kids
5. Hooked On Daddy Father's Day Card Craft
6. Daddy's Zombie Survival Kit For Father's Day This is definitely a collection to be put together at home and not in the classroom but if your family loves zombies, take a look – this is a fun idea!
7. Father's Day Footprint Bookmark
8. Fun Facts About Dad This is simple but makes a great piece to add to the memory box!
9. DIY Mini Zen Garden For Father's Day If you are looking for a crafty and unique idea, be sure to take a peek at this one!
10. Father's Day Tie
11. Lego Cufflinks for Father's Day
12. Dad Rocks Paperweight For Father's Day
13. Father's Day Framed Gift For Star Wars Dad
14. Snake Tie Bookmark For Father's Day If you have a closet of old ties to use and want to get crafty, this one is fun.
15. Decorative Tin Can Craft for Father's Day
16. DIY No Sew Dress Shirt Pillow Gift
17. Father's Day Candy Ties
18. DIY Necktie Gift Bag
19. DIY Memory Jar For Father's Day
20. Father's Day DIY Gift Boat
We hope this collection of Father's Day Crafts can be a good starting point for your classroom Father's Day gifts!