Download these diversity activities for kindergarten to help explore the concept of differences in your early learning classroom.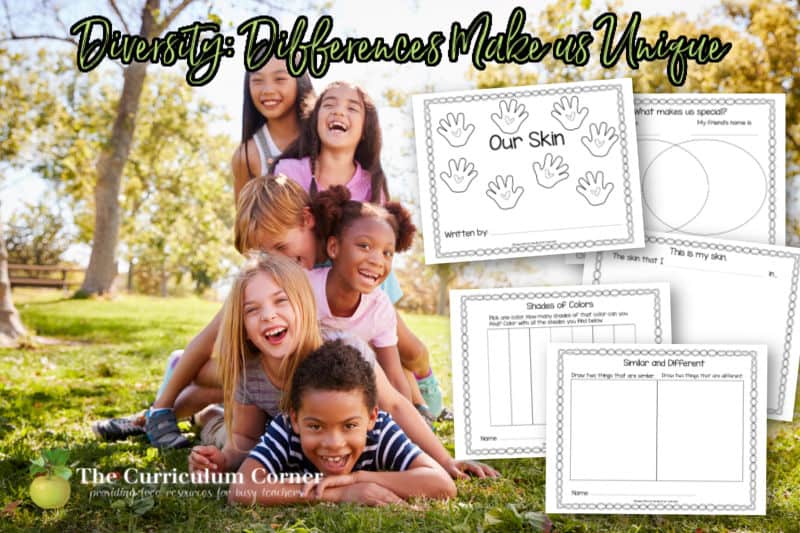 This is another free collection of resources from The Curriculum Corner.
These diversity activities for kindergarten and other young learners will be an engaging addition to your classroom.
The purpose of these diversity lesson plans is to help children explore and embrace differences among the class.
This collection is newly updated.
The ideas in this diversity unit were developed with the help of April Chadwick. Thanks so much for helping us get this put together!
We hope your children enjoy these lessons to help promote an understanding of diversity in the classroom.
These ideas might fit into your preschool, kindergarten, first grade and even second grade classrooms.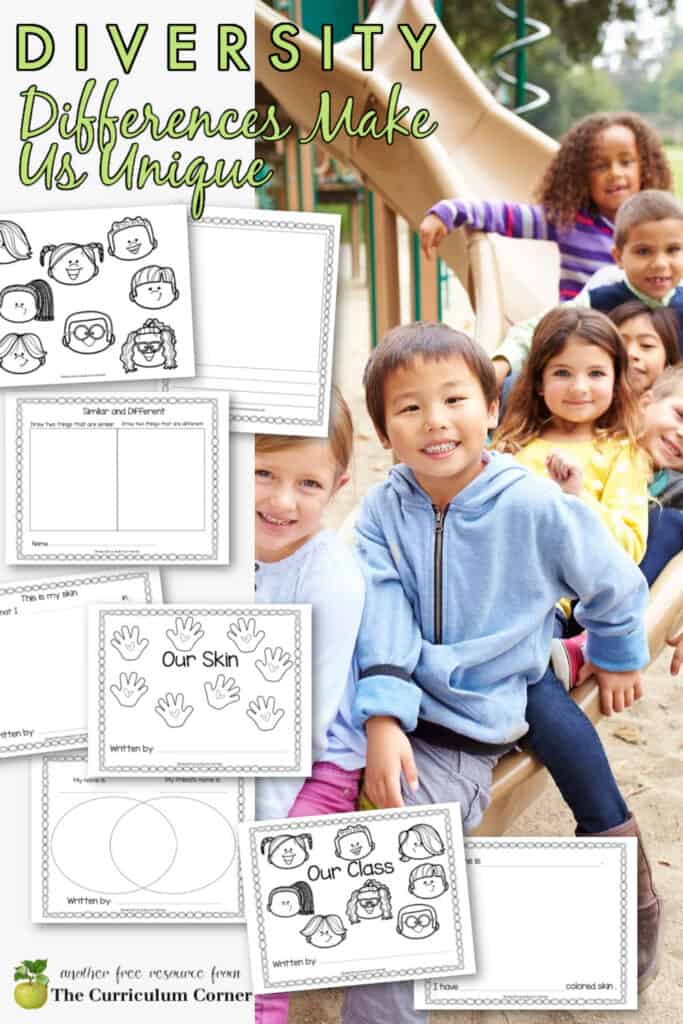 Books to Share on Diversity
This diversity unit is comprised of three books. These books can be shared as read alouds.
They would also be good books to place at a listening center.
If a recording is not available, record yourself or a student in an older grade reading the book aloud. Below we have included ideas for diversity to accompany the reading of each book along with printables when needed. If you have additional ideas for diversity for these read alouds, please share your them below!
Shades of People by Shelley Rotner and Sheila M Kelly
The Colors of Us by Karen Katz
The Skin You Live In by Michael Tyler
As you read each book, spend time locating the title and author. Also find the front and back covers along with the title pages.
Introduction to Diversity in the Classroom
Discussion Starter: What colors of skin can different people have?
Our first page contains an assortment of faces.
Discuss with your class different skin colors. You might even provide students with multicultural crayons or markers that have a range of skin colors.
As you talk about different skin colors, students can color their paper using different crayons.
These pages can serve as a visual representation for students throughout your diversity study.
These can be helpful for young children because they provide concrete evidence for understanding.
Shades of People
Introduce vocabulary: Shades – a range of colors between dark and light (for example navy, blue and sky blue)
To help students better understand the concept of shades, place a large bucket of assorted crayons in the center of your class discussion.
Have each student find a red crayon (make sure there are not enough true red crayons for every student.)
When each student has found a crayon, compare the different colors they see and explain that each is a shade of red.
Students can follow up by coloring the Shades of Colors page. This can be done with different shades of any color.
Diversity Egg Lesson
This is an older lesson that is often used with younger students.
One page in the book Shades of People says "Our skin is just our covering, like wrapping paper. And, you can't tell what someone is like from the color of their skin."
Use the Eggs: Alike or Different recording page. Show the students different eggs (such as white and brown).
Have them show what they see on the outside. Then, they will predict what the inside of the egg will look like based on their observations.
Once the eggs are open, students will record what they see. Compare what we learned from the eggs and relate it to the passage in the book.
This book may also be used as a mentor text for writing workshop. Create a text for the class called "Shades of our School". Take pictures of adults and children around the school. Walk around the school as a class and look for shades of people in other places throughout the school (cafeteria, office, library etc.)
Use the pictures in a class book.
Put a picture on each page and then do a group writing activity using two sentences. One will tell what the person looks like on the outside. The next will tell something about the person on the inside.
The Colors of Us
Introduce Vocabulary: Similar – When things are alike. Different – When things are not alike.
To reinforce the vocabulary words, we suggest using concrete items.
Gather familiar items, possibly an apple, orange, chocolate and lollipop.
Have students identify which items are similar and explain how they are similar (an apple and orange are fruits, shaped like spheres, juicy.)
Then students will find objects that are different (an orange and chocolate.)
They will explain how the items are different. Continue to review these vocabulary words throughout the week.
The book Colors of Us can be used to get children thinking while they listen to the story. While reading ask questions:
After looking at the cover of the book and hearing the title of the story what do you think this book will be about?
After reading the first page asks, "How old is Lena?" After soliciting answers ask "Why does Lena say she is the color of cinnamon?"
After reading about Isabella ask, "Does Isabella's skin color look like the color of chocolate cake?"
After reading the story ask, "Do you think it is okay that Lena and her friends are different colors?"
Lead a class discussion on foods that each child's skin can be compared to.
Create a class book using our This is my skin page.
Students will share their name and the food they can compare their skin color to.
Have students draw a picture of themselves or take a photo to add that emphasizes the color.
We have created an anchor chart that might help children get started. I am the color of… Anchor Chart
Hand Print Art
You can use the lined pages with a box that we included in our diversity download or blank white paper.
Provide students with yellow, white, brown and red paints. They can then mix until they get the perfect shade for their skin. In my classroom, I gave students small paper plates to mix the paints on.
They can then do a handprint using their paint.
Then have student work together to mix paints till they get the shade of their skin.
Hang hands on bulletin board under the title "The Colors of Us".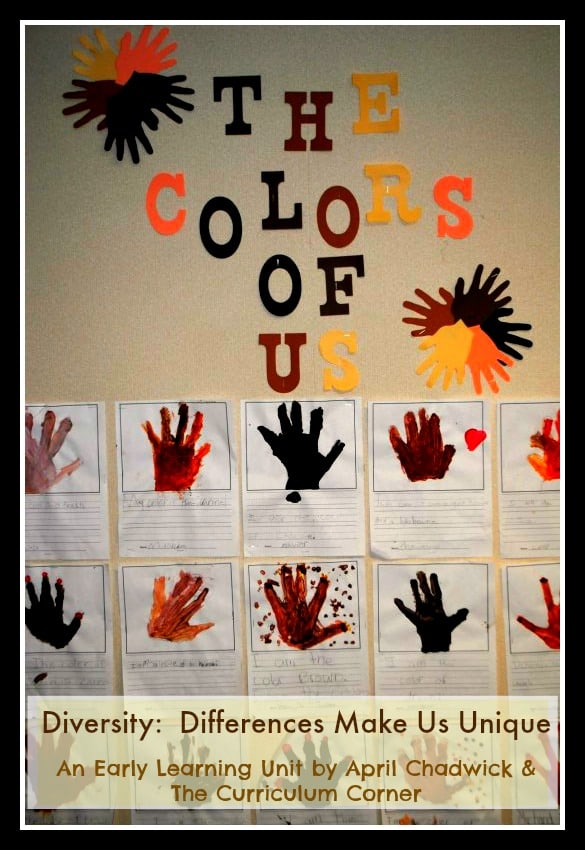 The Skin You Live In
While reading ask questions:
After reading the page "It's baby born new skin and your family too skin, and glows when it shows that it knows we love you skin!" Ask students if the people pictured on the page is a family. Why or why not?
After reading the book discuss how in our class we are the same or different. What makes each of us special in our classroom?
Writing Activity:
Give each student a copy of the "This is my skin" page.
Students what they do in their skin and illustrate their page.
When all students have completed the task, you can put the pages together to create a class book
We have provided a cover or you can take a class cover to create a page.
What Makes Us Special?
Use this Venn Diagram to conclude your study.
Have students work with a partner to list ways they are alike and different.
For younger students, you might pick two characters from a book and complete this task together.
Adding Music to Your Learning
Songs can be a great way to get students moving and to help them remember what is being studied. Here are two songs we like that fit this study on diversity:
Sesame Street : Color of me Song
Everyone is Different by Lanny Sherwin
You can download this diversity for early learning classrooms set here:
Looking for the books and supplies mentioned above? You can find them using our Amazon links (contains affiliate links.)
CCSS Literacy Standards Met In This Unit:
CCSS.ELA-Literacy.RL.K.4: Ask and answer questions about unknown words in a text.
CCSS.ELA-Literacy.RL.K.5: Recognize common types of text
CCSS.ELA-Literacy.RL.K.6: With prompting and support, name the author and illustrator of a story and define the role of each in telling the story.
CCSS.ELA-Literacy.RI.K.5: Identify the front cover, back cover, and title page of a book.
CCSS.ELA-Literacy.RI.K.10: Actively engage in group reading activities with purpose and understanding.
Thank you to EduClips for the kid faces clip art.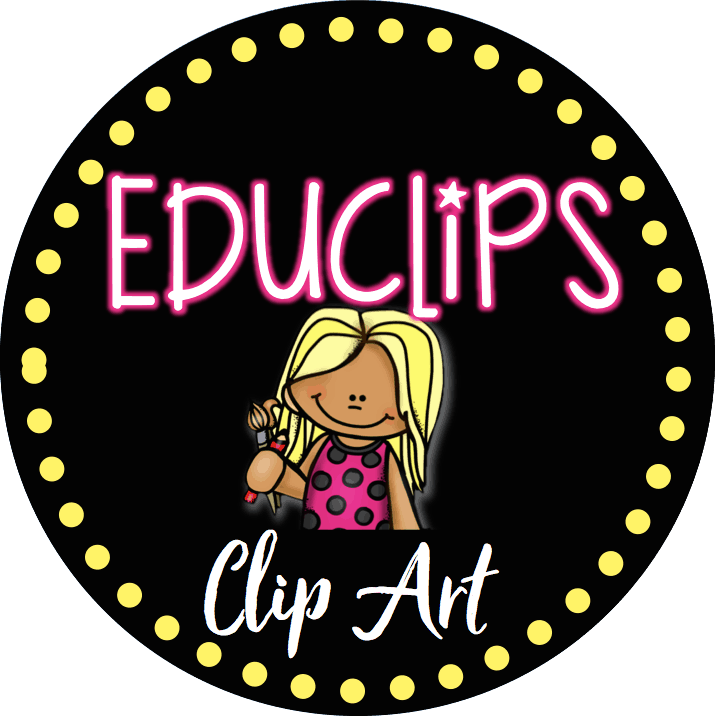 As with all of our resources, The Curriculum Corner creates these for free classroom use. Our products may not be sold. You may print and copy for your personal classroom use. These are also great for home school families!
You may not modify and resell in any form. Please let us know if you have any questions.