Add these resources to your Donald Crews author study during writing workshop.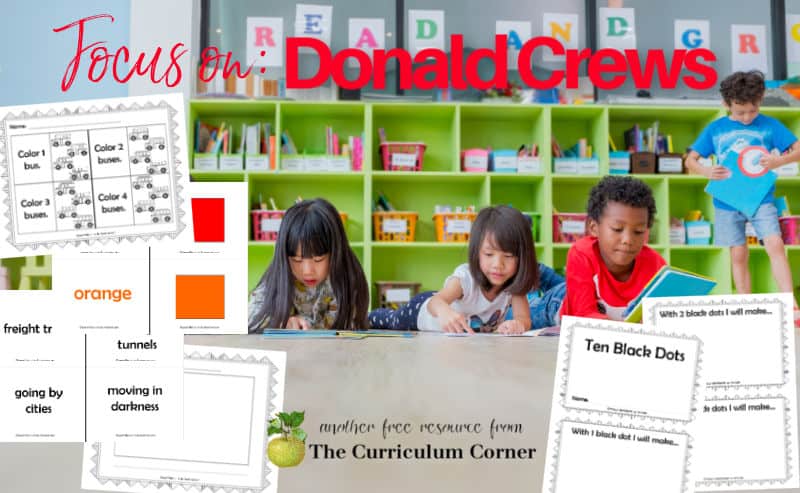 This is another free resource for teachers and homeschool families from The Curriculum Corner.
Include these activities in your Donald Crews author study.
I love using Donald Crews as a focus of an author study.
His books are a student favorite. They are great because they can be a mentor text in many different grade levels,
Many of his books are great models for younger children but even second graders can benefit from looking closely at his books.
Topics of his books tend to be high interest in kindergarten classrooms. Freight Train was a favorite of my children when they were younger.
Skills such as colors and names of train cars can be reviewed while reading this one.
This collection we have created will help you assemble literacy and math centers during your author study.
This set focuses on the books School Bus, Ten Black Dots and Freight Train. Add other books to your mentor text stack for students to explore more.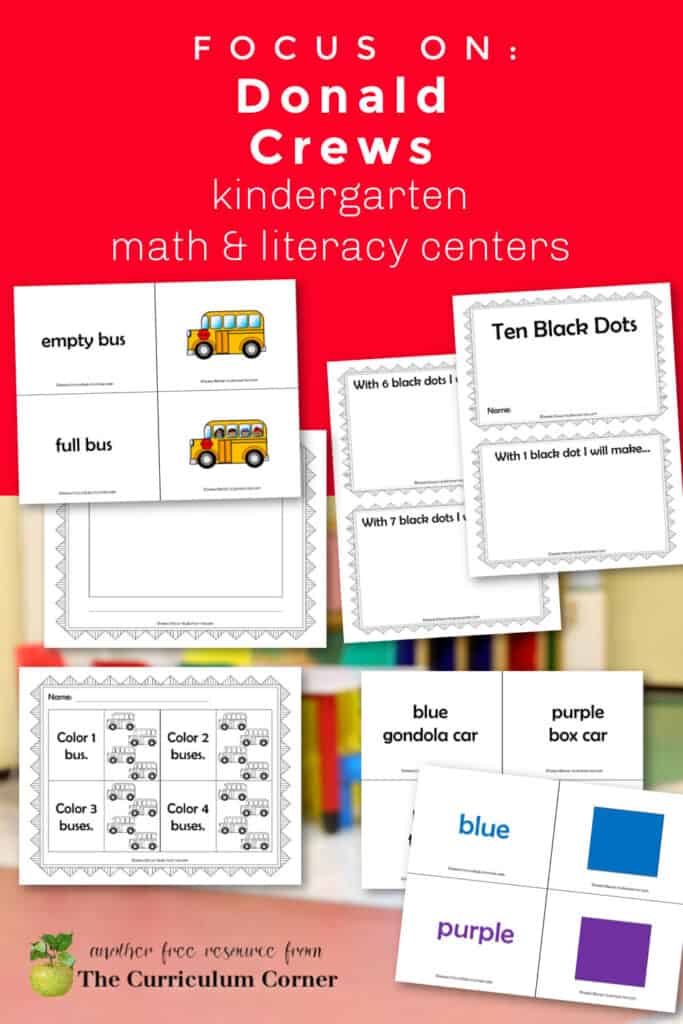 Donald Crews Activities
School Bus
Opposites The book gives examples of opposites. These word cards can be matched with a picture to offer practice of the meanings.
I will ride the bus to… Students finish this simple sentence and then illustrate their writing. You could then collect the pages and create a class book.
Bus Counting Practice Children read the directions and color the buses.
Freight Train
Color Cards These cards contain the color word and a matching color box. Place at a center and allow students to match the word and color.
Freight Train Cards Students choose a card, copy the phrase and then illustrate their words.
Ten Black Dots
Students will create their own Ten Black Dots Booklet!
Use a 2″ circle punch to punch 10 black dots for each student. Supply each student with 10 black dots and a piece of white paper. Have students use their 10 dots and markers or crayons to create a picture. Students should glue their dots in place.
This booklet has simple, repetitive sentences. Students read the sentence and then create a picture with the given number of black dots. You might choose to supply students with black dots that have been hole punched with a large punch or with black stickers.
You can download this Donald Crews collection here:
Looking for other math and literacy resources for your classroom? Try these freebies:
As with all of our resources, The Curriculum Corner creates these for free classroom use. Our products may not be sold. You may print and copy for your personal classroom use. These are also great for home school families!
You may not modify and resell in any form. Please let us know if you have any questions.