This free fall roll and cover set will help your students practice recognizing the numbers one through ten in various formats.

This is another free resource for teachers from The Curriculum Corner.
Add this free fall roll and cover set to your autumn math resources.
Give your students practice with the identification of the numbers one through ten with these fall themed roll and cover games.
**Note: The first six boards help students with recognition of numbers 1 through 6. The final two boards sets help with recognition of numbers 1 through 10.
This set of games includes 8 different boards. Each set has three boards for you to choose from and focuses on numbers represented in different formats. In this collection you will find game boards for practice with the identification of:
numerals
number words
dot (dominoes) representations of numbers
We like using colorful buttons for the markers but anything like beans or pennies will do as well.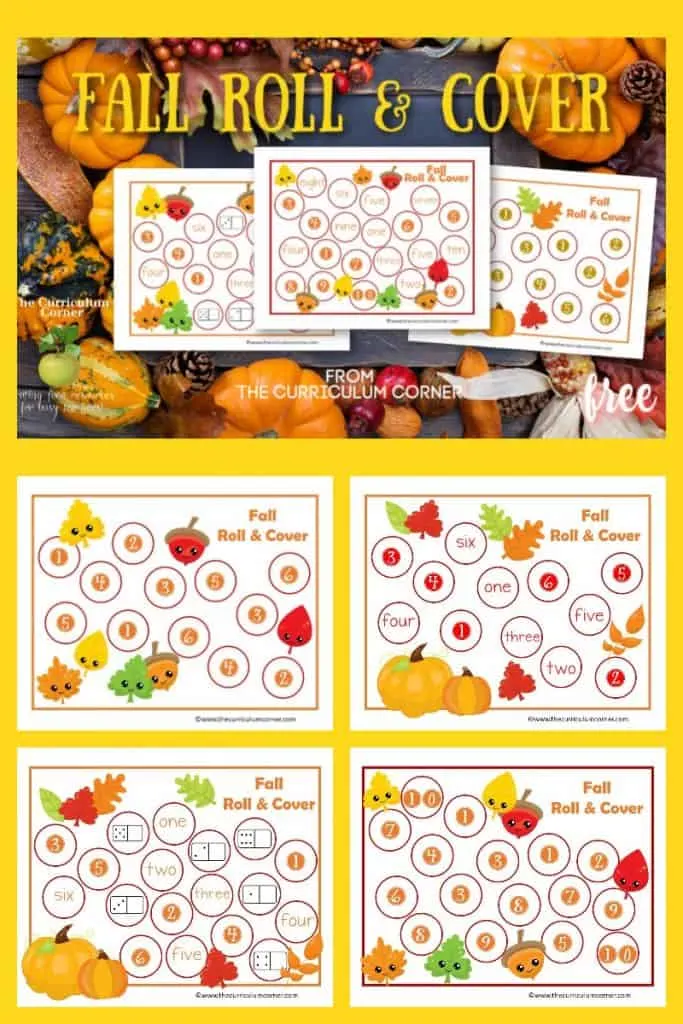 Preparing Your Fall Roll and Cover Boards
Print the games you choose on card stock.
Laminate the games for durability.
Place the boards at your math or morning center with fun buttons/pennies and dice (one or two depending on the game).
You will need polyhedral dice for the final two boards.
*For students not ready for dots on dice, you could also use a numeral cube so they simply match the numbers.
How to Play Fall Roll and Cover
Students can play individually or with a partner.
When playing independently, the student rolls the die and uses button to cover a matching number on the board. They continue until time is up or the entire board is filled with buttons.
When playing with a partner, there is no "winner", but rather students work cooperatively to cover all the numbers on the board.
As always, this is meant to be a free game for your classroom. You may print and copy for your own use, but may not sell or modify & sell these boards in any way.
If you are looking for additional fall resources, try these:
Looking for dice to add to your collection? Try these (contains affiliate links):