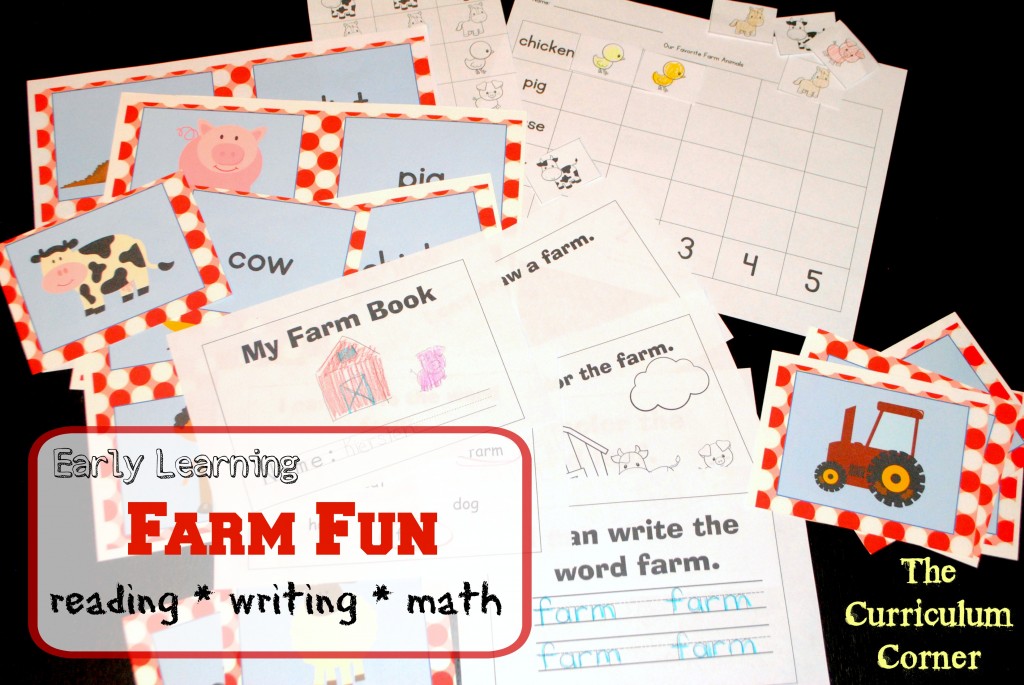 Kids love learning about farms! We have created some books to encourage your farmers to write and read along with some simple activity cards for farm words and numbers.
Farm word & picture cards – place these at a center for students to practice matching words with pictures. Or, use as a memory game.
My Farm Book Practice reading and writing the word farm with simple, repetitive sentences.
I See a Farm Simple, repetitive text with pictures for coloring.
Counting Cards students match the numbers with the items on the cards
What a Farmer Does Class Book Have the class work together to make a book telling about what a farmer does. Students will each create their own page and illustrate their writing. When finished, bind the pages for a class book.
Our Favorite Farm Animals Class Graph This printable can be a part of a class lesson on graphing. We have included a page for students to create a graph and animal cut outs for students to use to record their answers. If you have a poster maker at your school, this could be turned into a great poster! A farm study can be a fun time to bring foods into the classroom.
Maybe have your students make homemade butter in a jar or sample different fruits and vegetables. What about comparing and contrasting different milks? These can be great activities for beginning scientists!
Get your students up and moving with a fun game of charades! Have students act of different actions they might see on the farm. Here are some ideas: animals, planting, driving a tractor, feeding chickens, milking cows, riding a horse.

Here are some suggestions for more hands-on activities:
Have students plant vegetable seeds.
Plant a class garden outside
Cut apart a watermelon or pumpkin and count the seeds
Create a sensory table with beans, hay, plastic garden tools and seeds
Stage a dress up center complete with overalls, straw hats, boots, plastic gardening tools, gardening gloves and a watering can.
Do you have other ideas for a study of the farm? Please share below so others can see your ideas.