This download will help you with introducing kindergarten opinion writing to your young writers.
If you are introducing kindergarten opinion writing to your students, this set is a great place to start.
You will be able to help children understand what are opinions are with this download.
This is another free resource for teachers and homeschool families from The Curriculum Corner.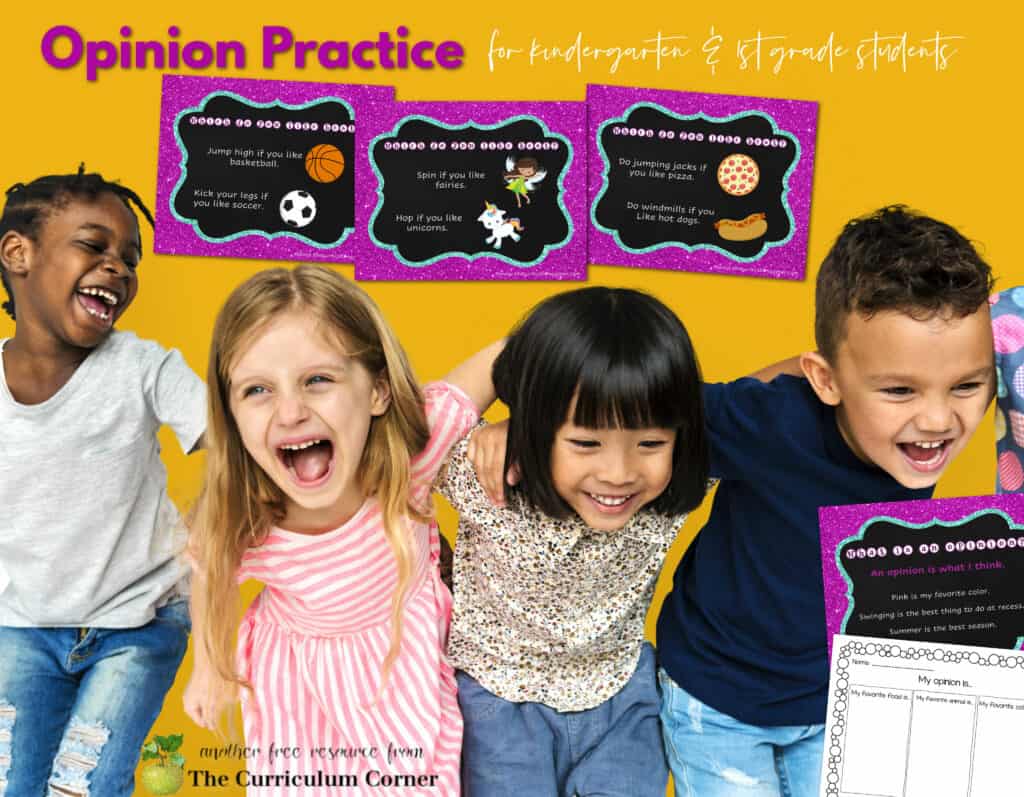 Are you introducing kindergarten opinion writing in your classroom? Start here!
This set is designed to help you teacher your kindergarten and first grade students what opinions are.
Within this set you will find the following:
What is an opinion?
Find the opinion
What is your opinion
Opinion writing worksheets or graphic organizers
Beyond the materials we are sharing, think about a daily bell ringer focused on opinions.
You can write a topic on the board or at the entrance of your room.
Maybe you will ask students to share their favorite animal, snack food or sport. Students will respond using a post-it note each morning.
Not only will this give students practice with sharing an opinion, it will also help you and your students get to know more about each other.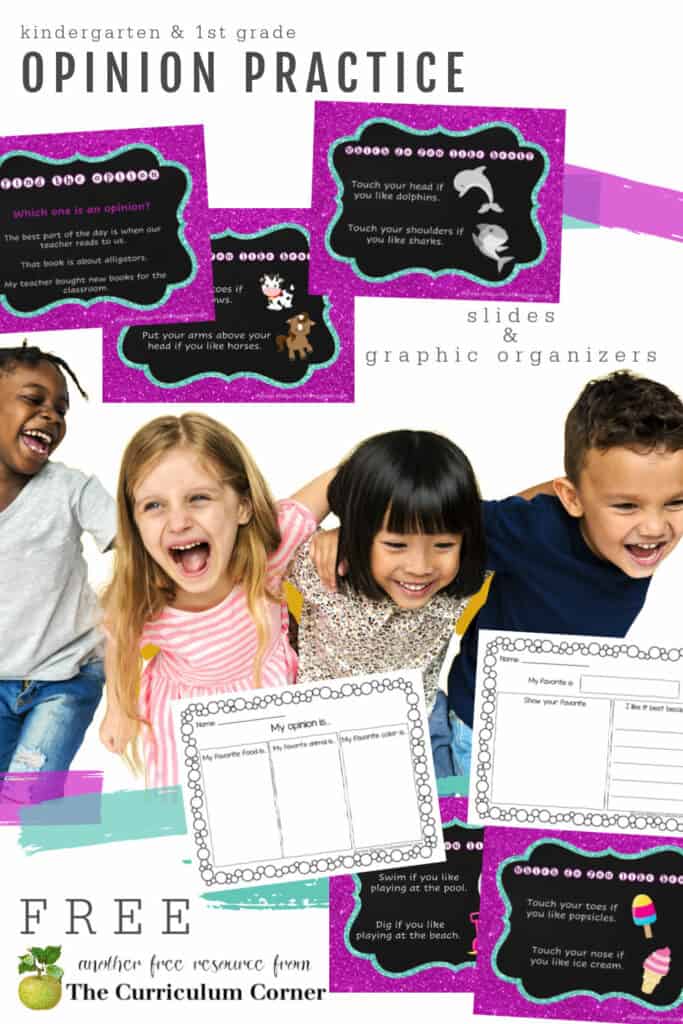 Using this introduction to opinions collection
This set is created to let your students have a little fun while building an understanding of opinions.
You can display this on your SmartBoard or share during virtual learning.
After the title slide, you will find a simple slide that explains what an opinion is.
Along with a definition, there are three opinions for you to talk about with your class. Next, you might ask your students to each share an opinion of their own.
The next two slides each have three statements. After reading these with your class, have students identify the opinion.
Slides five through fifteen will help children share their opinions. Each has two objects and an action for each. Students will identify which of the two pictures is their favorite by completing the action.
This is a great way to add a little movement to your day.
The final three pages are worksheets to help students share their opinions.
These opinion worksheets are simple and designed for kindergarten and first grade students.
You can download this getting ready for opinion writing collection here:
Looking for other free resources to help you plan your teaching? Try these freebies we have also created:
As with all of our resources, The Curriculum Corner creates these for free classroom use. Our products may not be sold. You may print and copy for your personal classroom use. These are also great for home school families!
You may not modify and resell in any form. Please let us know if you have any questions.