Download these free kindergarten graphic organizers for focusing on main idea and details in literature.
This set of free kindergarten graphic organizers is designed to help your students focus on identifying the main idea and details in literature.
This PDF download with 22 free graphic organizers is designed to fit into your kinder classroom.
Students will find just-right practice with this download.
This is another free resource for teachers and homeschool families from The Curriculum Corner.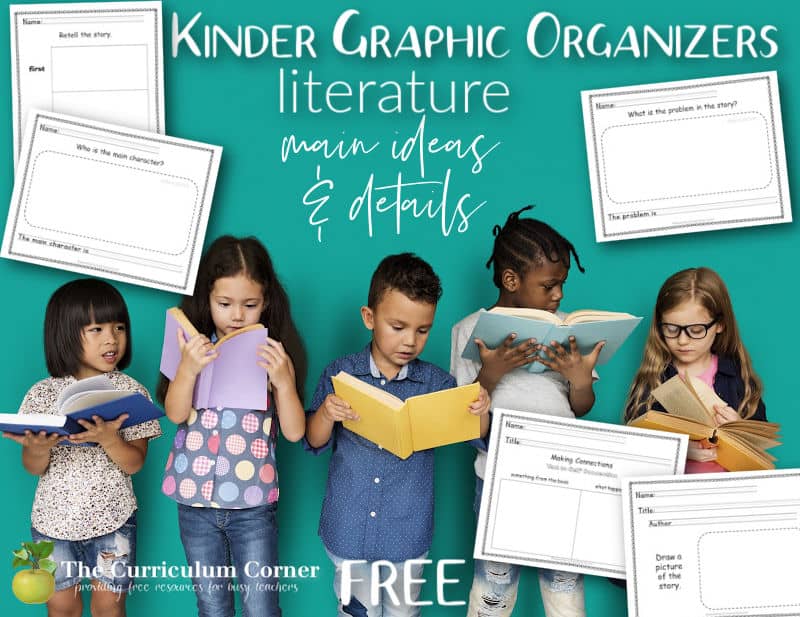 Use these free kindergarten graphic organizers for literature during your reading workshop.
You will find organizers that cover standards for kindergarten classrooms. These worksheets will help your students as they are developing reading comprehension skills in an early learning room.
This collection of 22 graphic organizers will address the kindergarten standards addressing key ideas and details.
Students will work on using these graphic organizers when identifying characters in a story along with the setting.
Some students will be ready to identify the problem and solution after hearing a story.
Children can also practice retelling a story they have heard or read with the use of these organizers.
Another skill that can be taught is making connections. There are organizers for text to self connections, text to text connections and text to world connections.
How to Use These Graphic Organizers
To begin, make sure you model the graphic organizers. You will want students to see a completed organizer before they work on their own. This will help them see what is expected.
In a kindergarten setting, you might enlarge as posters and complete as a class.
Another idea is to laminate and use during small group instruction with teacher support.
Remember, if you are asking your students to write on the organizers, provide support.
For example, you might give students a word bank with words they could need for the task.
In kindergarten, you will have many students not yet ready to complete these without help.
These 22 graphic organizers will help with these standards:
Literature Standards for Key Ideas and Details
With prompting and support, ask and answer questions about key details in a text.
With prompting and support, retell familiar stories, including key details.
With prompting and support, identify characters, settings, and major events in a story.
You can download this collection of 22 free graphic organizers here:
---
Looking for other free resources to add to your kindergarten reading workshop? Try these freebies we have created:
As with all of our resources, The Curriculum Corner creates these for free classroom use. Our products may not be sold. You may print and copy for your personal classroom use. These are also great for home school families!
You may not modify and resell in any form. Please let us know if you have any questions.