This new trick-or-treat hunt is a great idea for an alternative Halloween celebration this year.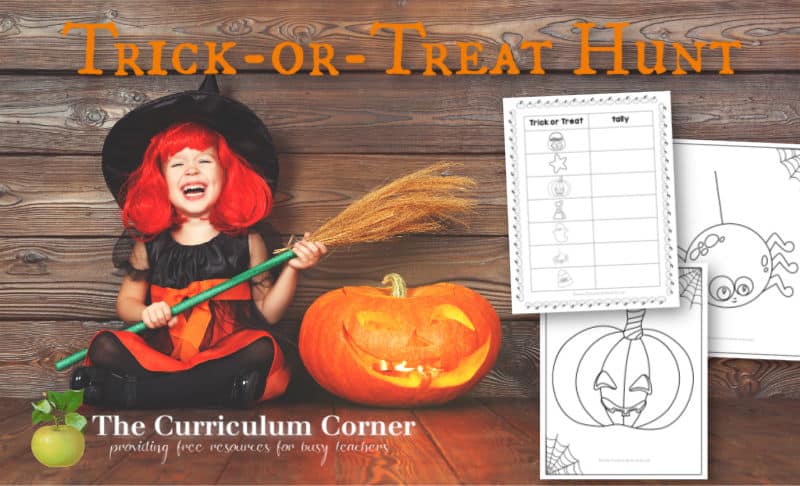 This is another free resource for families from The Curriculum Corner.
Download your copy of our trick-or-treat hunt at the bottom of this page.
As Halloween approaches with so much uncertainty this year, many families are looking for safe alternatives to trick-or-treating.
We can't predict what the end of October will look like so we decided to put together an activity that can be used regardless of what happens.
This activity is simple to put together and can even give your children a chance to go around the neighborhood in costume.
It is a socially-distanced alternative to traditional trick-or-treating.
In the spring we created a couple of different printable activities for neighborhood fun outside – while keeping children apart.
These were shared in the form of a scavenger hunt.
We thought an activity similar to our spring options might be fun for October, specifically as a Halloween activity.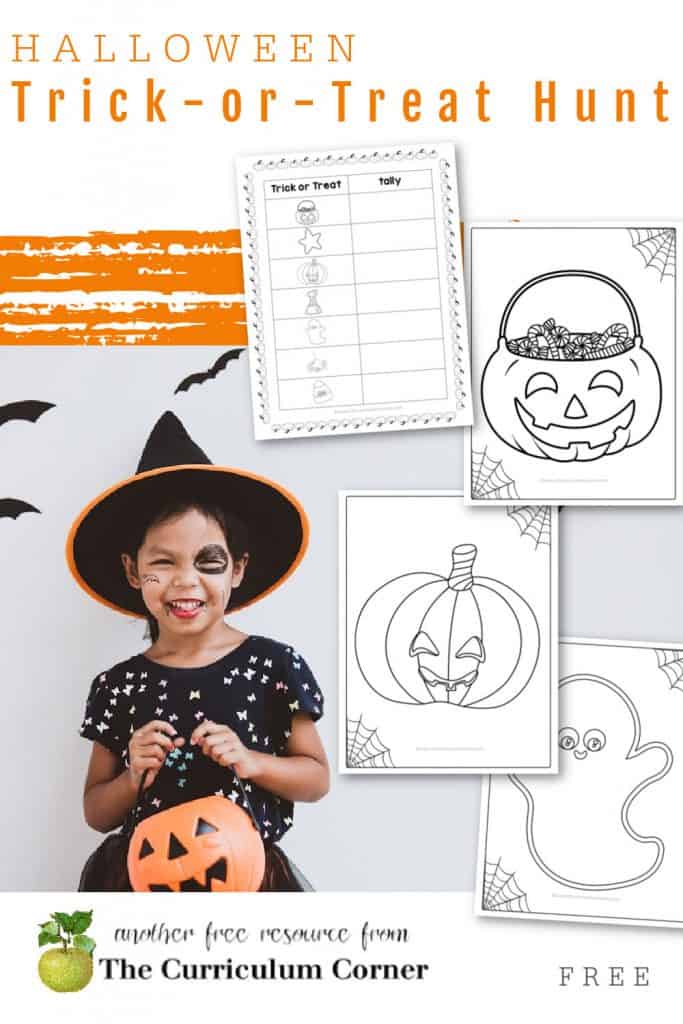 Our Trick-or-Treat Hunt
Setting Up Your Trick-or-Treat Hunt
To participate, ask your neighbors to print off their favorite pages from the PDF we are providing.
Their children can color their designs and then hang in their window.
In the spring, I made this a little easier for families without a printer in my neighborhood. I made multiple copies and placed a folder in my mailbox. Families could grab the pages they needed.
Set a date for the pages to be displayed in the house. Once this date arrives, children can go on a walk and create a tally of the pictures in the window.
To add some Halloween fun, you can encourage children to dress in costume while on their search.
If you feel like it is a safe addition in your neighborhood, you might even sit out a bucket of candy so that each child can take a piece. Parents can wipe off the candy when they return home or let it sit for a couple of days.
You can download this free Halloween Trick-or-Treat set here:
Looking for other fun ideas for Halloween? Try these:
Thank you to PrettyGrafik for the fun Halloween clip art!
As with all of our resources, The Curriculum Corner creates these for free classroom use. Our products may not be sold. You may print and copy for your personal classroom use. These are also great for home school families!
You may not modify and resell in any form. Please let us know if you have any questions.