Use these superlative award ideas and certificates to help recognize your students as the school year ends.
Browse these superlative award ideas and download these free award certificates to recognize your students' accomplishments this year.
We hope these ideas will help you celebrate your students!
This is another free resource for teachers and homeschool families from The Curriculum Corner.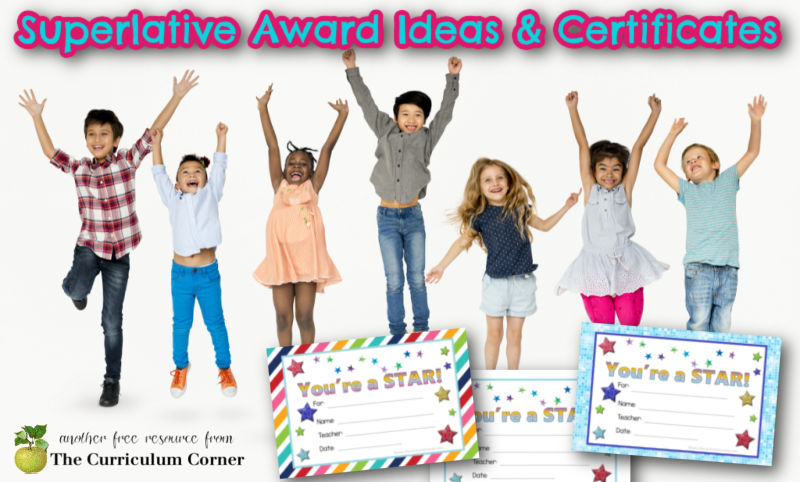 How will you celebrate the end of the school year?
As the end of the school year is approaching, do you have plans to recognize your students and their growth?
You might celebrate with a popsicle or popcorn party and a slide show of classroom memories.
Have students complete end of the year memory books to add to their mementos of the school year.
We are sharing certificates you can print for your students below. You can add a special recognition for each student to the certificates. Think about what makes each students special and what traits their are most proud of.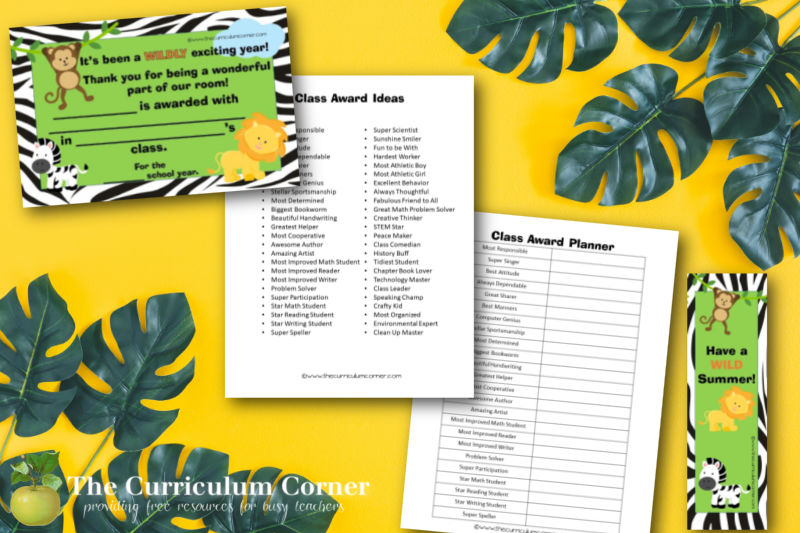 Along with the certificates, you will also find a planner. This will allow you to write down the awards each student will received, making it easier for you to track.
Not only will you find the star-themed certificates, you will also find a jungle-themed set.
These specific certificates come with a wild end of the year theme.
All of the printables are being shared in a single donwload.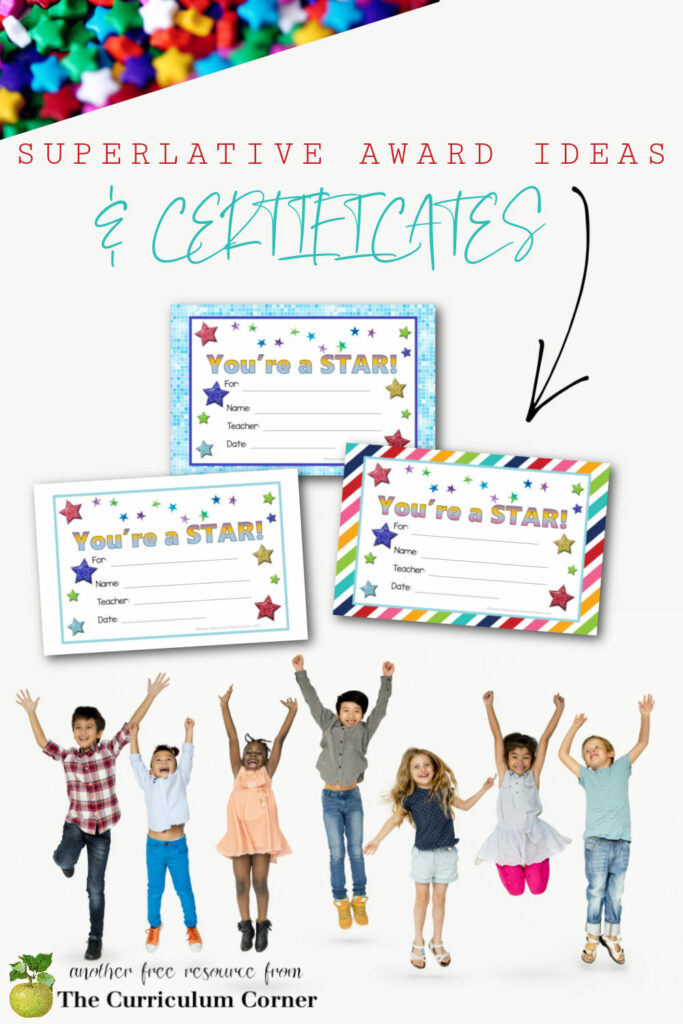 Superlative Award Ideas for Students
Here are some award ideas to get you started:
Most Responsible
Super Singer
Best Attitude
Always Dependable
Great Sharer
Best Manners
Computer Genius
Stellar Sportsmanship
Most Determined
Biggest Bookworm
Beautiful Handwriting
Greatest Helper
Most Cooperative
Awesome Author
Amazing Artist
Most Improved Math Student
Most Improved Reader
Most Improved Writer
Problem Solver
Super Participation
Star Math Student
Star Reading Student
Star Writing Student
Super Speller
Super Scientist
Sunshine Smiler
Fun to be With
Hardest Worker
Most Athletic Boy
Most Athletic Girl
Excellent Behavior
Always Thoughtful
Fabulous Friend to All
Great Math Problem Solver
Creative Thinker
STEM Star
Peace Maker
Class Comedian
History Buff
Tidiest Student
Chapter Book Lover
Technology Master
Class Leader
Speaking Champ
Crafty Kid
Most Organized
Environmental Expert
Clean Up Master
You can download our certificates here:
Looking for the old version of this certificate? You will find it here: You're a Star Certificate
As with all of our resources, The Curriculum Corner creates these for free classroom use. Our products may not be sold. You may print and copy for your personal classroom use. These are also great for home school families!
You may not modify and resell in any form. Please let us know if you have any questions.