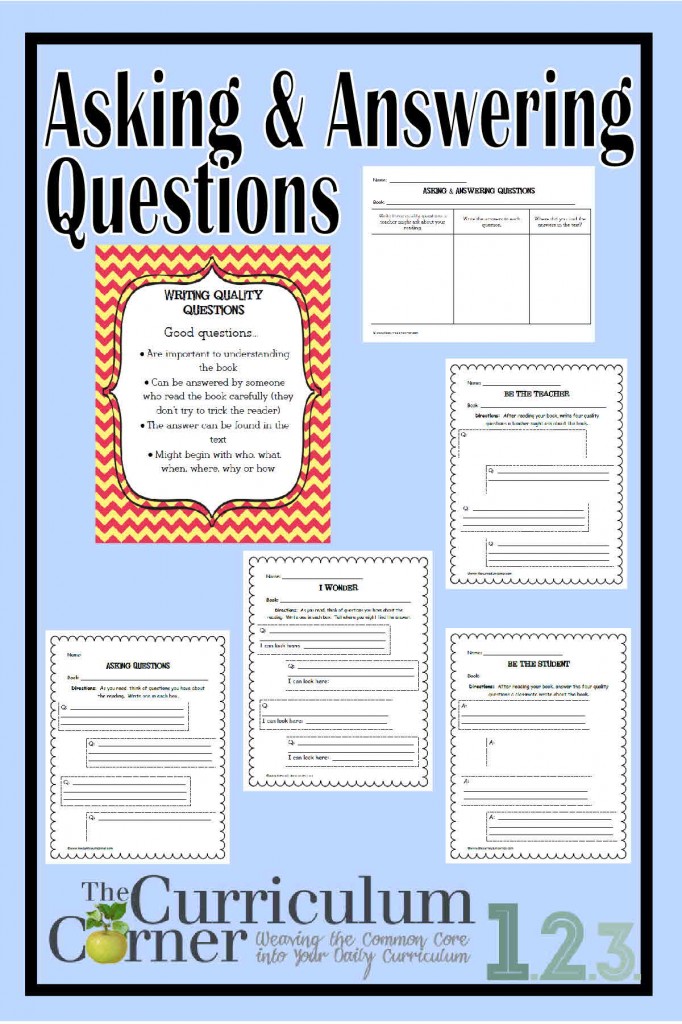 Use these materials to help address CCSS addressing informational text.  These items are designed to be used with any book.  We suggest introducing the graphic organizers you choose to use during a mini-lesson and then giving students extra practice with the organizers during independent reading.
Anchor Chart  As you begin discussing asking questions, we suggest using this anchor chart to give students guidelines for your expectations.  We would also take time to model good, quality questions and give examples of questions that are not quality questions.
Asking Questions  For this graphic organizer, students record questions they have as they read.
I Wonder  This graphic organizer can be used for students to write their "I Wonder" questions as they read.  Students also identify where they might look to find the answer.
Be the Teacher  This graphic organizer is designed for students to use to create questions that might be asked of the reader.  They are to think of themselves as the teacher.  The questions they ask should be answered by looking in the text.
Be the Student  This graphic organizer is to be used along with the Be the Teacher graphic organizer.
Ask, Answer & Cite  This graphic organizer takes asking and answering questions a step farther.  Students ask and answer questions along with citing where in the text the answer was found.
These graphic organizers were written to address the following CCSS 2nd and 3rd grade standards:
CCSS.ELA-LITERACY.RI.2.1 Ask and answer such questions as who, what, where, when, why, and how to demonstrate understanding of key details in a text.
CCSS.ELA-LITERACY.RI.3.1 Ask and answer questions to demonstrate understanding of a text, referring explicitly to the text as the basis for the answers.
{ 1 comment }