Use this author study of Julia Donaldson to focus on language skills in your classroom.

This is another free resource for teachers from The Curriculum Corner.
Julia Donaldson is a great focus for an author study that will help you address language skills. Our focus is on providing language resources but we have also included some reading items as well.
Resources for Julia Donaldson
***As this is an older collection, each resource is provided as an individual download. You will need to click on the bold title to download each file.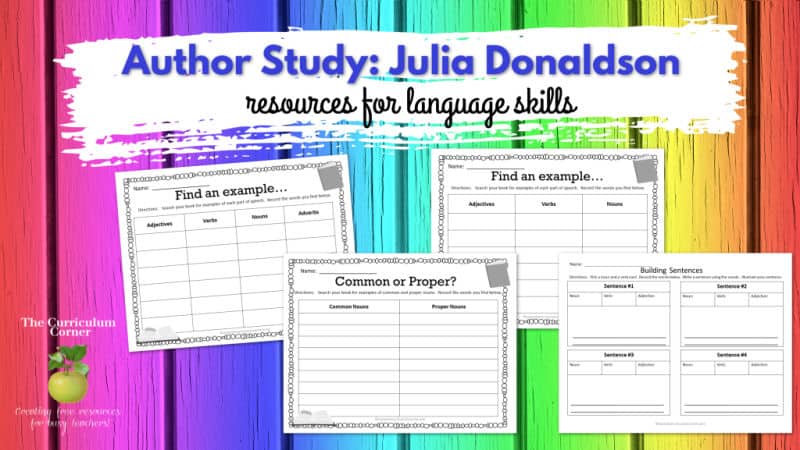 Graphic Organizers for all Books This collection has a language focus. You will find full page graphic organizers along with exit tickets.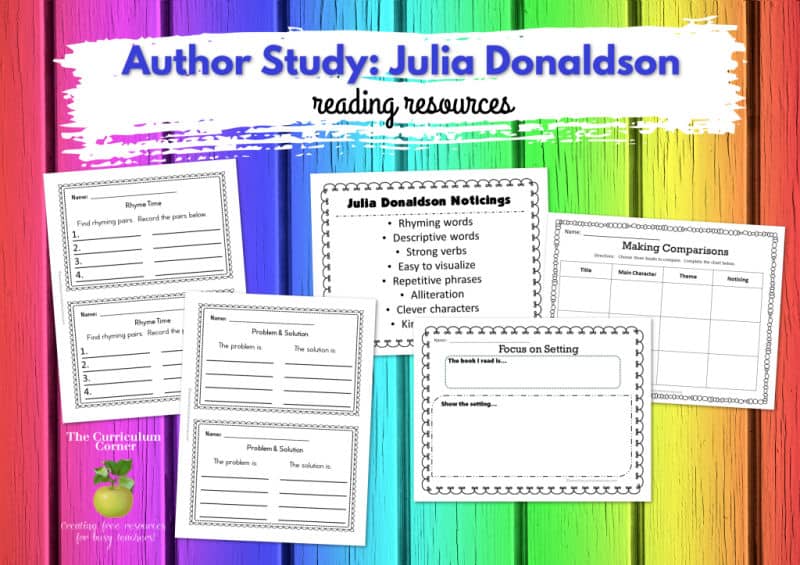 Reading File This collection includes a noticings sample chart, reading graphic organizers that can be used for all the books (including comparing different JD books) and a rhyming words organizer for recording rhyming pairs.
Resources for Specific Books
Proper and common noun sort (red circle cards)

– Students sort the cards and record the types of nouns in the correct category.

Verb tense activity (red star cards)

– Students choose a verb card and then record the present and past tense of each one.
The Snail and the Whale Use the verb cards to play a charades game as a whole class activity or in a small group. There is also a recording page students can use at a center. Have children pick a card, record the word and then draw a picture to show the verb.
Spinderella – Students pick noun, verb and adjective cards (found in the story), write sentences using the words and then draw pictures to go with the sentence they have written.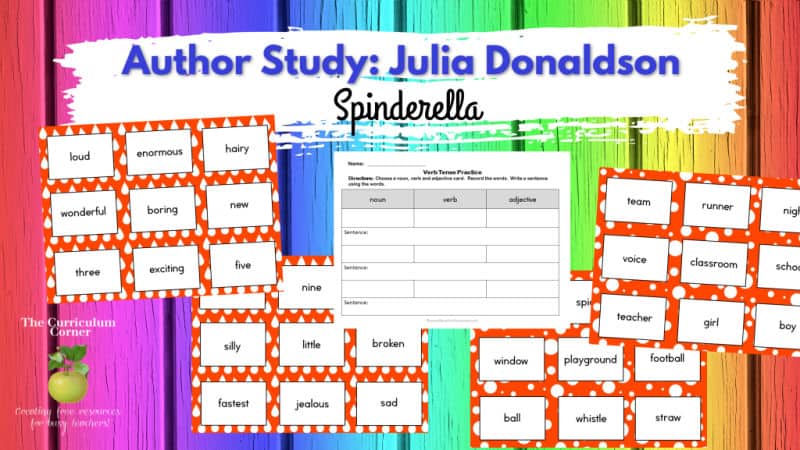 Gruffalo – The activity with this book includes sentence cards (from the book). Students choose a sentence and then identify the rhyming words within the sentences.
The Spiffiest Giant in Town Students choose a sentence card (from the book) and identify the adverb in the sentence.
Room on a Broom – Place the story words around your classroom. Students walk around the room to find a word and record it next to its rhyming pair.
NOTE: For some of these resources we have coded the cards with colors and patterns. Each book's resources are a different color, while each part of speech is a different pattern. (Nouns – circles; verbs – stars; adjectives – teardrops). In this way, if you want to pull the cards for other activities or centers, you will be able to quickly sort them back into their respective collections easily.
Your students can learn more about Julia Donaldson on her web site: Julia Donaldson
Need to add Julia Donaldson's books to your library? You will find links to some here (contains affiliate links):