Add color poems to your poetry study to fill your room with engaged authors and colorful writing.
These pages can be used to help you when creating color poems with your students.
Young authors love exploring poetry – writing with a focus on color words can be a great starting point.
This is another free resource for teachers and homeschool families from The Curriculum Corner.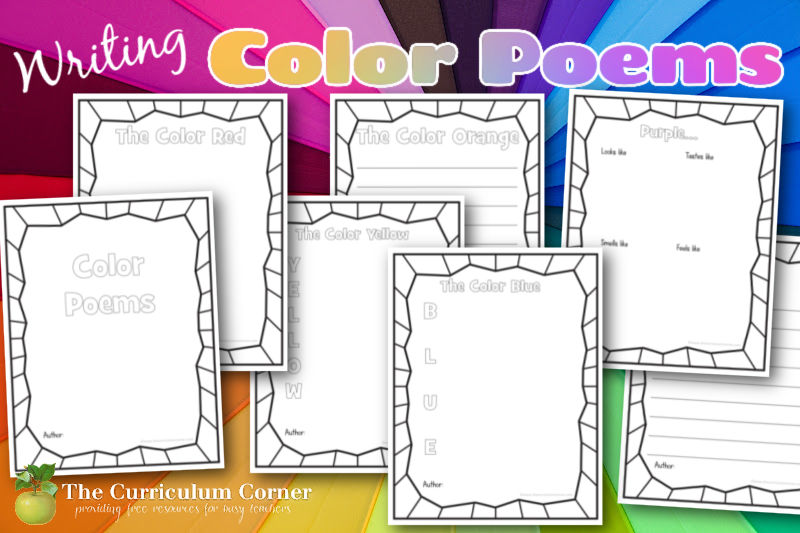 Poetry in the Classroom
As a student, I always hated when we focused on poetry in the classroom. It never felt fun or engaging. When reading poetry, I never felt like I saw the same thing others saw in the poems.
So often these experiences are what prevent us as teachers from loving the teaching of a subject. I know this happens with me so I'm beginning to work on this.
I'm looking for new books to add to my library that I know students will love. Do you have any favorites I should take a look at?
I'm also looking at new ways to engage students in the writing of poetry in the classroom. I love teaching writing to children and poetry should be a part of this.
Working on Color Poems
I've been dragging my feet a little on this post because I wasn't quite sure where to start.
I knew I wanted to provide teachers with some templates and ideas for helping students write color poems. I also knew that I wanted to make sure children would be given options so that they love the poems they create.
One tool that might be useful for students is a list of color words and color synonyms. You will find lists of synonyms here: Color Words. You can provide students with individual pages or create booklets to add to your writing center.
Within this poetry download I have created, you will have many options for your students.
Many of the pages are left open-ended so you can use them to fit the needs of your classroom.
I'll share how I envision the pages being used but you might have other ideas.
You will find the same pages for each color that include:
A brainstorming page – students share what the color looks like, tastes like, smells like and feels like
Acrostic poem template – have students share a word or phrase that begins with each letter of the color word
Blank red is… page (with and without lines) – students can use their brainstorming page or just share their thoughts
The Color Red – another open-ended page where students can use the brainstorming page or write without it
You will also find a cover page in case you want students to make books along with pages for the rainbow.
I like the idea of teachers modeling their own color poems for students so they have inspiration.
You can download these pages for poetry writing here:
As with all of our resources, The Curriculum Corner creates these for free classroom use. Our products may not be sold. You may print and copy for your personal classroom use. These are also great for home school families!
You may not modify and resell in any form. Please let us know if you have any questions.