Add this set of free Digital February Bell Ringers to your morning entry collection for the month of February.
You can use this set of Digital February Bell Ringers to help plan for an engaging morning for your students.
Your students will enjoy the variety of slides provided.
This is another free resource for teachers and homeschool families from The Curriculum Corner.
Preparing for morning entry time
Morning entry is one of my favorite times in the classroom. I love getting to say hello to my students and hearing them share stories with classmates.
I think it's super important to make sure this time gives students a little freedom and allows them to ease into their day. After all, when teachers enter the school building, they often say hello to colleagues or complete other simple tasks to prepare for their day.
I've found that a favorite is puzzle time. I like to have a puzzle in a spot in the room. Students can spend a few minutes adding a piece or two as they prepare for their day.
You might share some coloring pages or allow for a little observational drawing.
Bell ringers are another popular idea. These can encourage students to converse with each other and share their thoughts.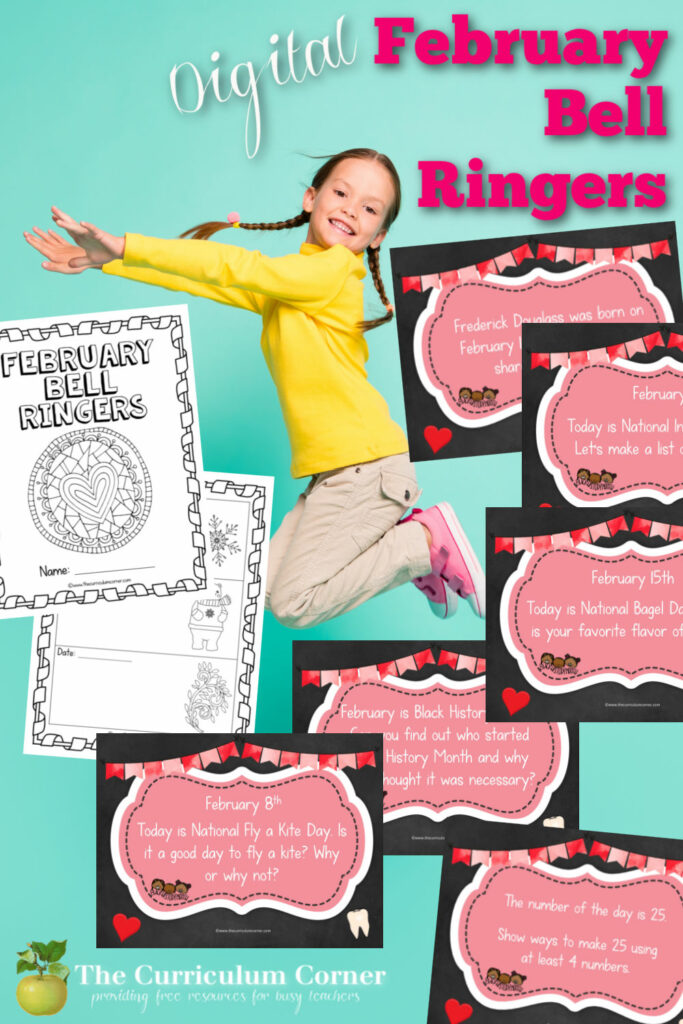 Digital February Bell Ringers
If your students enjoy bell ringers but you want a way to share them without printing, laminating and cutting, take a look at this digital option.
(If you are in need of a printable version, download this set: Printable February Bell Ringers.)
This download includes 36 slides preprogrammed with messages. There is also one blank slide so you can insert your own text.
The slides include special holidays, birthdays and other choices you can share with your students.
Along with the slides, you will find a journal. If you have students who prefer to doodle and write their thoughts, this could be a good option for them.
You can download this free set here:
As with all of our resources, The Curriculum Corner creates these for free classroom use. Our products may not be sold. You may print and copy for your personal classroom use. These are also great for home school families!
You may not modify and resell in any form. Please let us know if you have any questions.