These free digital stickers for distance learning have been created to help you as you head back to school virtually.
This is another free resource for teachers and homeschool families from The Curriculum Corner.
Our new digital stickers for distance learning are a simple freebie for you as we head back to school.
We've heard from so many that learning and teaching became tedious in the spring. It is very hard to keep children of all ages engaged via a computer screen.
While we in no way believe these digital stickers will solve all of the challenges teachers are facing, we are hoping that they will be a little something fun. Some children will be motivated by the fun designs and simple messages.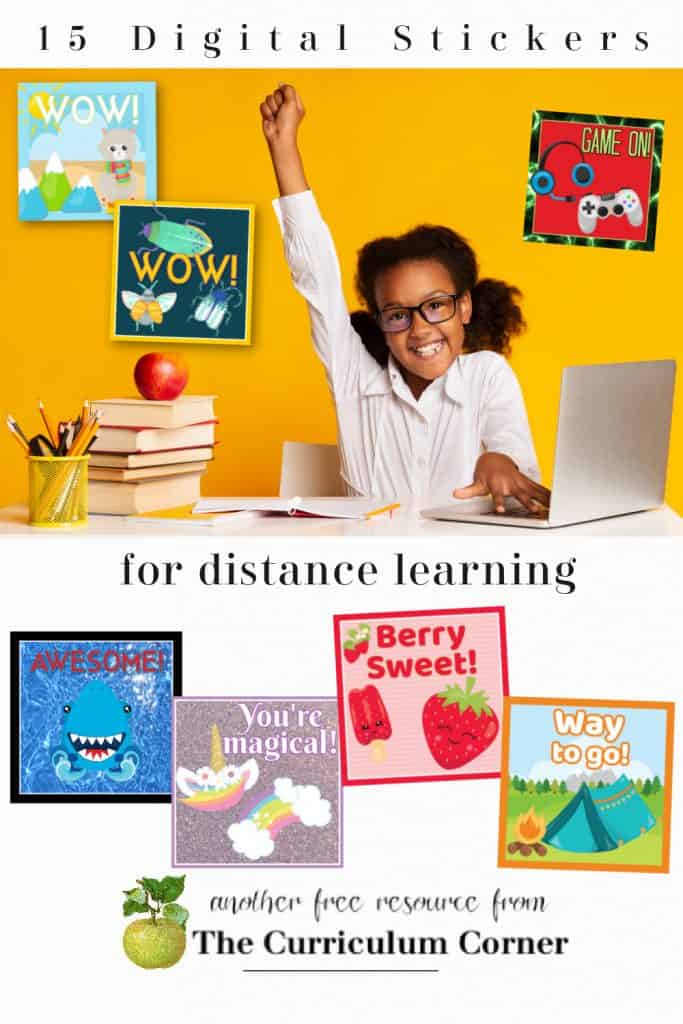 About these Digital Stickers for Distance Learning
This collection contains 15 different stickers. We are providing each sticker design as a jpeg and a png file.
All of the stickers are in one zip file.
After download the file, you will need to unzip the file to reveal the 15 designs.
Some of the themes include: rocks, alpacas, unicorns, artist, strawberries, space, bugs, camping, dinosaurs, gamer, tie-dye, music, candy and sharks.
After grading student work virtually, you will be able to choose a sticker to place on the work.
You can make these images smaller or larger by grabbing the corner and dragging in or out.
If you are using these on Google Slides, you will simply click to insert an image.
The goal is that these will save you a little time when grading and students will enjoy the fun designs. Digitally grading assignments can be time consuming – hopefully having these stickers to add in place of some comments will help you grade a little faster.
You can download this free collection of digital stickers for distance learning here:
Looking for other distance learning resources? Try these:
As with all of our resources, The Curriculum Corner creates these for free classroom use. Our products may not be sold. You may print and copy for your personal classroom use. These are also great for home school families!
You may not modify and resell in any form. Please let us know if you have any questions.