Simple addition games that are great for center practice or extra review at home.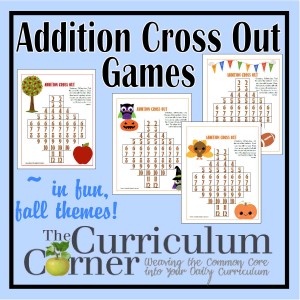 Students need two dice and a pencil or two colored markers.
On their turn, they roll the dice and find the sum. They then place a marker on the sum.
If no number is left, the player skips their turn. The player to cross out the last number on the board is the winner.
We printed the color version and laminated.
We have also included black and white versions of each board so that you may easily send home extras for home work practice.
Football Cross Out Black & White
Halloween Cross Out Black & White