Use these free Fry Word checklists to help track student progress over the year.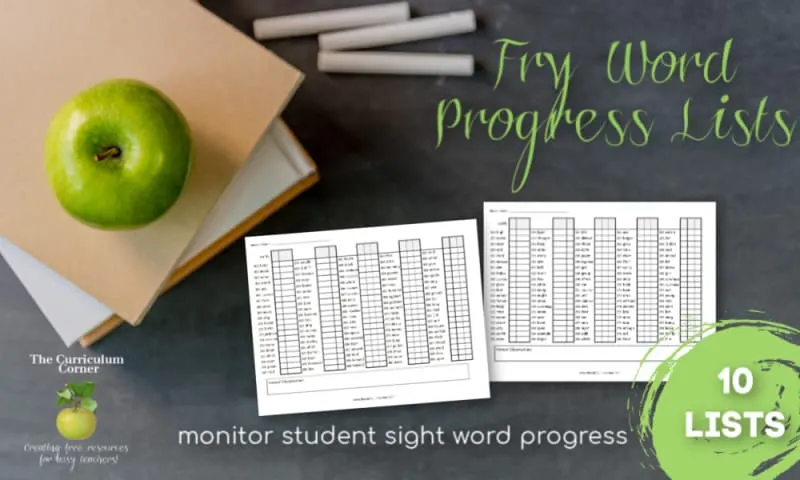 These Fry word lists are another free resource for teachers from The Curriculum Corner.
These Fry Word checklists are great to add to data binders to help document growth.
Use these forms to track student Fry word growth – a good tool for progress monitoring.

How to Use the Fry Word Checklists
We have included three columns on our Fry word lists. This will help you track your students more effectively.
Simply date the top of the column when you give assessments. With these forms, students can each work at their own level! As students progress through word lists, move on to the next level.
I always like to begin the year by completing these checklists with students.
Tip: Teachers should not complete the whole packet with students. Instead, start on the 1st 100 words. If students are struggling, you might only do a check on the first 20 words.
You do not want to create frustration by having them work through the entire list of words when we can tell they do not have them mastered.
If students are easily reading the words, we might skip to the second and then third list.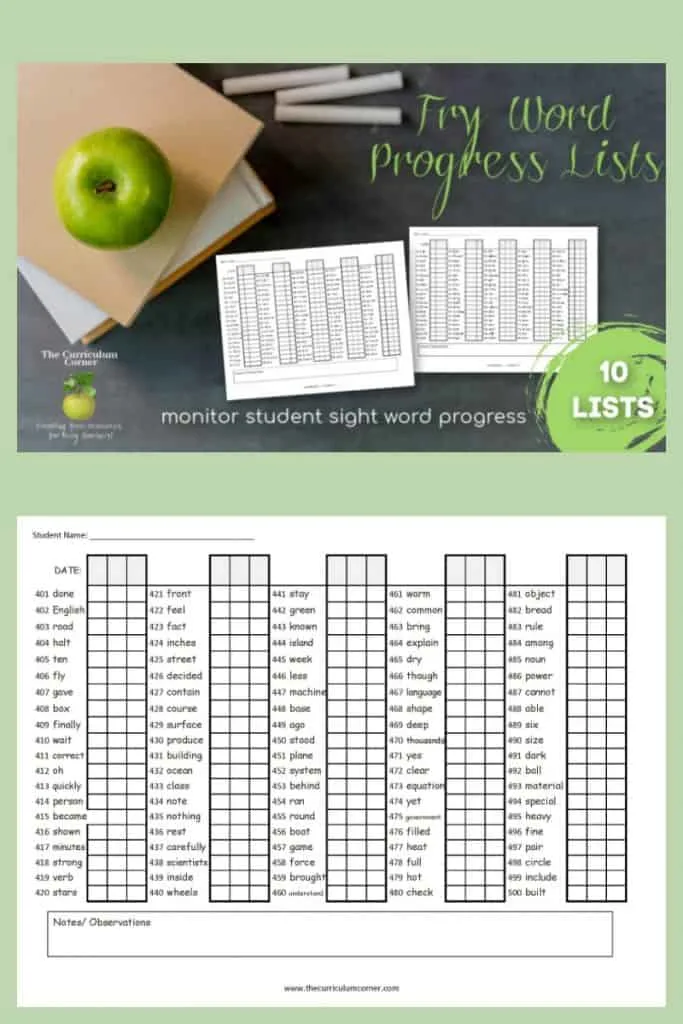 Why we like these Fry Word checklists…
I created these Fry Word progress lists years ago when we were focusing on sight words in my classroom.
Within my class I had a large group of non-readers in my second grade class. I was working with our interventionists to find new strategies that would work with my students.
After many attempts, I found that a large group of my students benefited from targeted sight word practice.
Because of this, I was in search of a way to track their progress. Tracking progress was not only for data purposes but I also found that it was very motivational.
My students loved that these charts gave them an easy to see a visual of their progress.
These tracking sheets became motivational for my students. This wasn't my original intent in their creation but a benefit that was so important to me!
Download the Fry Word Lists Below:
Fry Progress Master List
This form can be used to keep track of which Fry list each student is currently working on mastering. Available as a PDF or word document. Print the PDF and hand write your student names or use the word document so you can electronically add your student names.
Download the progress tracking pages below:
Identifying Fry Word Lists by Grade Level
Often teachers and parents are curious to know which Fry word list is appropriate for which grade level.
In many districts, this is predetermined. If your district does not have a set goal, this is the common breakdown:
Kindergarten sight words: first 50 words
1st grade sight words: first 100 Fry words
2nd grade sight words: second 100 Fry words
3rd grade sight words: third 100 Fry words
4th & 5th grade sight words: fourth 100 Fry words through tenth 100 Fry words
Other Fry Word Mastery Ideas
Once we have completed a section of the checklist with students, we make Fry Word Stacks to help students practice. If you are looking for an effective way to help students master their Fry Words, take a look at Fry Word Stacks.
You might also be interested in our complete Fry Word Collection. You will find an assortment of resources including games within this post.