These free informational text graphic organizers have been created to meet nonfiction reading standards for 1st, 2nd and 3rd grades.
Download this PDF of 45 free informational text graphic organizers for your primary reading workshop.
These worksheets are made to address key ideas & details, craft & structure and integration of knowledge & ideas.
These will be a perfect addition to your reading workshop!
This is another free resource for teachers and homeschool families from The Curriculum Corner.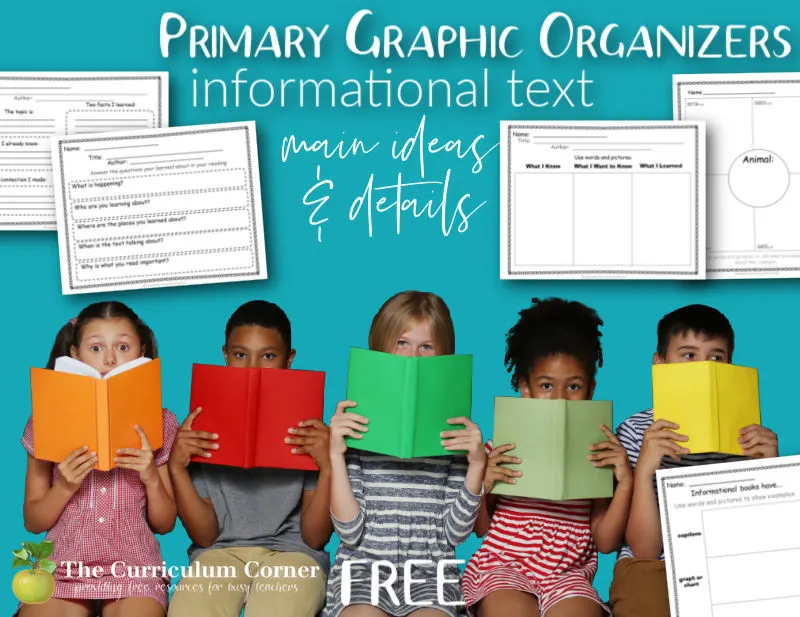 This complete collection of 45 informational text graphic organizers is being provided as a single PDF download.
This printable set will fit into your 1st, 2nd or 3rd grade reading workshop.
Because this collection contains resources for first through third grade students, it will also make differentiating easier if you are looking to find similar organizers at different levels.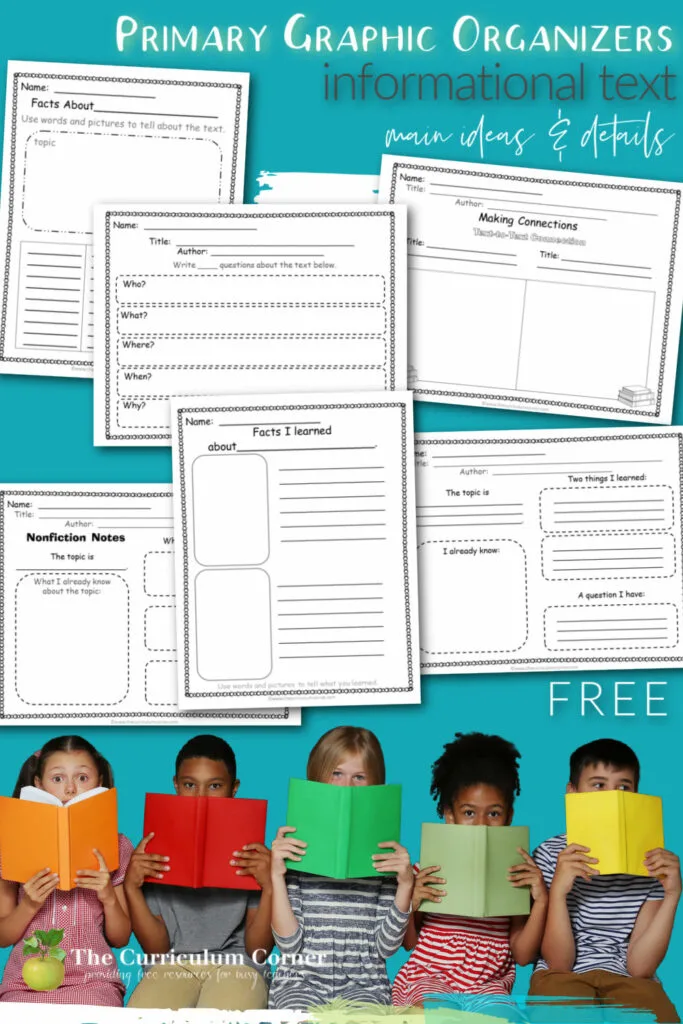 Skills addressed include:
Writing and answering questions while reading
Sharing the steps of a how-to book
Creating a time-line
Sharing facts
Showing what you have learned
Taking notes when reading nonfiction
Sharing your opinion
Identifying the problem and solution
Identifying the main idea and details
Animal graphic organizer
The big picture
Draw and label a picture from the text
Compare texts
Text features of informational text
Making connections
How to Use These Nonfiction Graphic Organizers
We always like to introduce a new graphic organizer by modeling.
Have students help you complete an organizer during a reading mini-lesson is a good way to help students understand the expectations.
After completing an organizer as a class, be sure to display the sample so students can use it as a resource when needed.
An option for independent reading time is to create a spot for organizers students have been taught to use.
Once during the week, students can choose an organizer that fits their current independent reading. Their task during reading will be to complete the organizer.
This option gives students choice during independent reading. It also encourages some independence and self-direction.
You can download this free set of graphic organizers here:
As with all of our resources, The Curriculum Corner creates these for free classroom use. Our products may not be sold. You may print and copy for your personal classroom use. These are also great for home school families!
You may not modify and resell in any form. Please let us know if you have any questions.