Download these free inference pictures to help your students work on building their inferencing skills during reading workshop.
These free inference pictures will be a great tool for you to use during your unit on how to infer.
You will find a diverse range of photos in this download.
This is another free resource for teachers and homeschool families from The Curriculum Corner.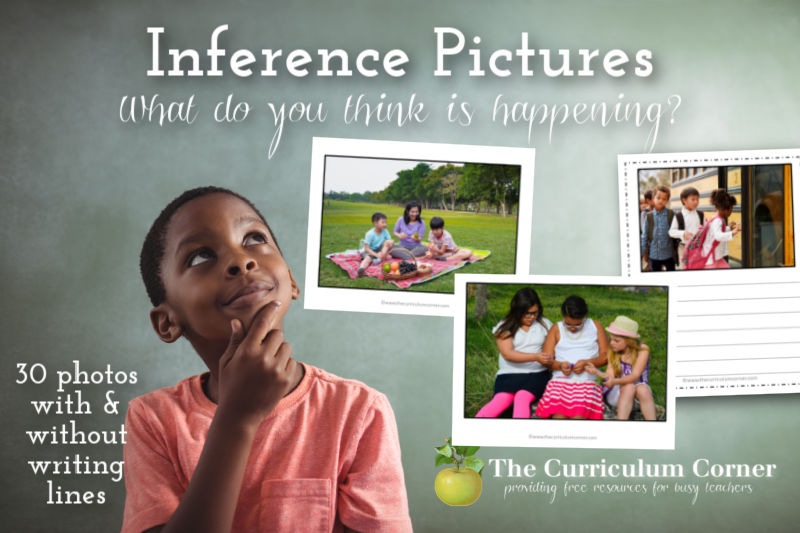 Looking to help students learn how to infer?
Helping students learn to infer is an important skill. As children work on this, it will help them become better readers.
This set will give you a good starting point for your reading workshop.
Before you begin working on inferring as children read, they can work on the skill in isolation by looking at photos.
We have pulled together these photos for inferencing.
These pictures can be used as prompts to help your students practice their inferencing skills.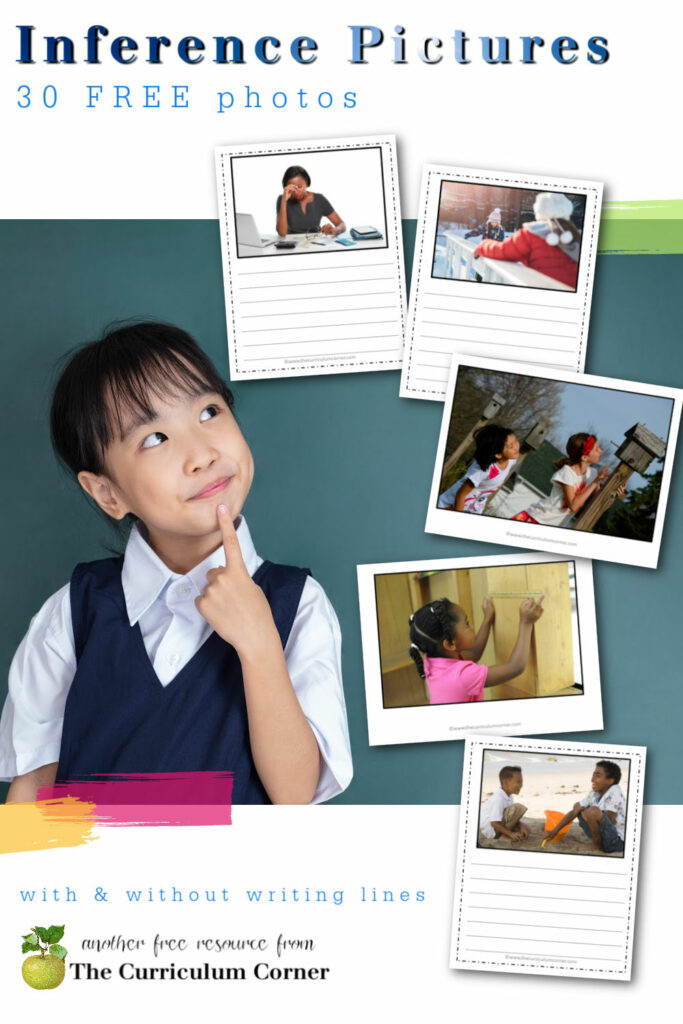 About this set of inference pictures
The collection we have pulled together includes photos chosen because they can be used for students to practice inferencing.
There are 30 photos included in each set. These can be a fun way to get your students to practice making inferences before applying it to reading.
This first set includes lines. These can be used for students to record what they think is happening.
You might copy and provide students with their own page or print on cardstock and laminate for repeated use. These could be great for repeated practice during small group instruction.
The second set includes only the photos. You might have groups of students talk about different photos.
Or, you could talk about photos as a group as you introduce the skill of inferring.
Be sure to have students share the why when they are making an inference.
We hope your students enjoy using these inference pictures to build their reading skills!
You can download this free set of photos here:
As with all of our resources, The Curriculum Corner creates these for free classroom use. Our products may not be sold. You may print and copy for your personal classroom use. These are also great for home school families!
You may not modify and resell in any form. Please let us know if you have any questions.