Focus on main ideas & details in informational text with this collection of free, printable activities perfect for centers or small group work.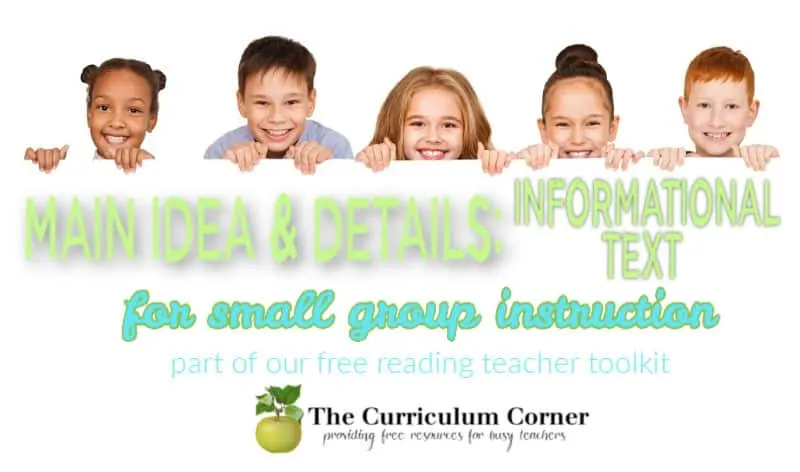 This is another free resource for teachers from The Curriculum Corner.
These informational text comprehension practice activities are a part of The Curriculum Corner's Small Group Reading Instruction Toolkit.
You will find your reading informational text practice activities at the bottom of this post. This collection is available as multiple downloads only.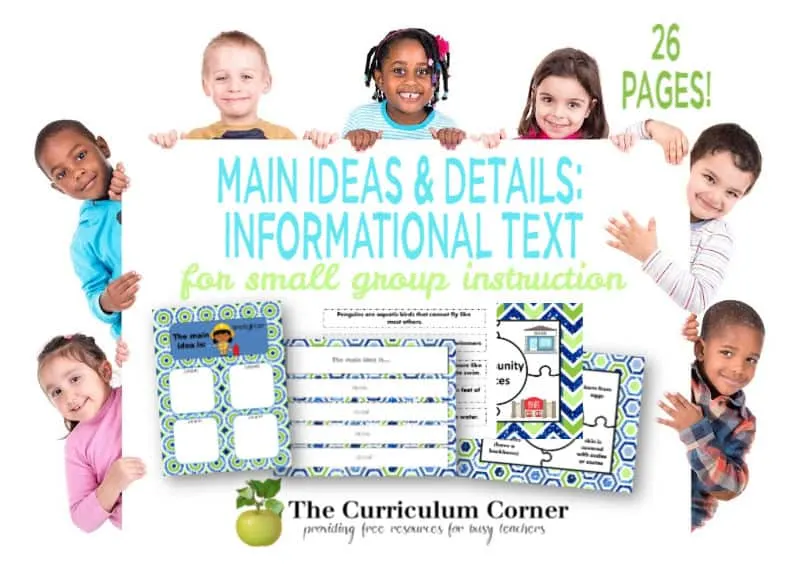 How will these main ideas & details resources help?
We have had some requests for specific skill activities that are more hands-on in nature to be used during small guided reading groups.
This set of resources focuses on helping students to understand the concept of a main idea & details in writing.
The activities vary in difficulty – some involving pictures or objects and others requiring more reading of your students.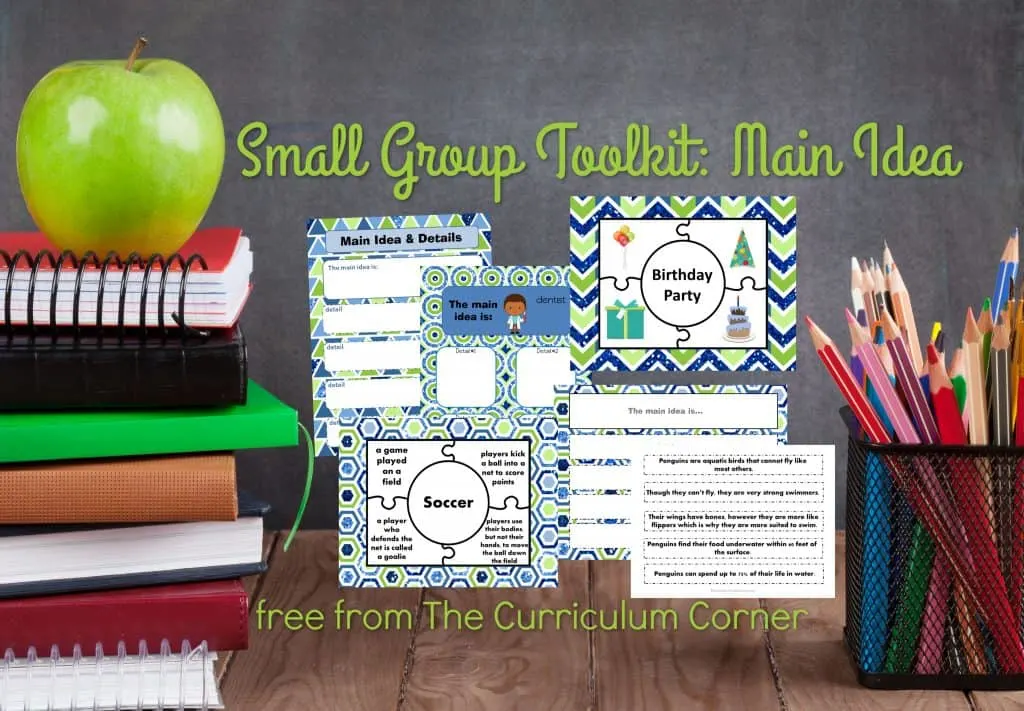 Resources within this Main Ideas & Details Collection:
Main Idea & Details Baggies
This idea will help students who don't yet understand the concept of main idea and details.
It is very concrete in nature and will help students to begin to understand how details support a main idea.
You might choose to use it as an initial whole group mini-lesson to familiarize your students with main idea and details.
We also suggest using it in your small guided reading groups of students who still need more support.
For this activity, you will place 3 or 4 actual objects in a bag.
Students will pull the objects out of the bag one by one and try to determine what "main idea" they support.
For example, you might put a spoon, a bowl, a small box of cereal, and a small carton of milk in a bag. Students can then be guided to understand that the main idea would be breakfast.
Be sure to discuss how all of the items support the bigger concept of breakfast, just as details in writing all should support a bigger main idea.
Some other ideas for baggies could be:
Healthy Teeth: toothbrush, toothpaste, floss, fluoride rinse, appointment card for dentist visit
Healthy Body: fruit, vegetable, running shoes, a jump rope, bottle of water, vitamins
Patriotism/America: small American flag, a U.S. dollar, an eagle, Uncle Sam picture or hat, presidential seal
Farming: small toy tractor, packet of seeds, animal figures (cow, pig, horse), picture of (or small toy) barn
Sewing: small jar of buttons, spool of thread, picture of a sewing machine, packet of needles, sock with a hole in it
Doctor: stethoscope, picture of a lab coat, otoscope, empty prescription bottle, medicine syringe
Main Idea Puzzles
These puzzles can also be used as an introduction to main ideas.
Print, laminate and cut apart each puzzle. Then, mix all of the puzzle pieces together (or perhaps only two depending on the students).
Students will need to pull out the main idea circles and then read the details to figure out which main idea each goes with.
The first set contains a word for the main idea and pictures that support the word.
The second set contains no pictures and the reading difficulty increases with each puzzle.
Each set contains the pages in color first, with black & white versions at the end.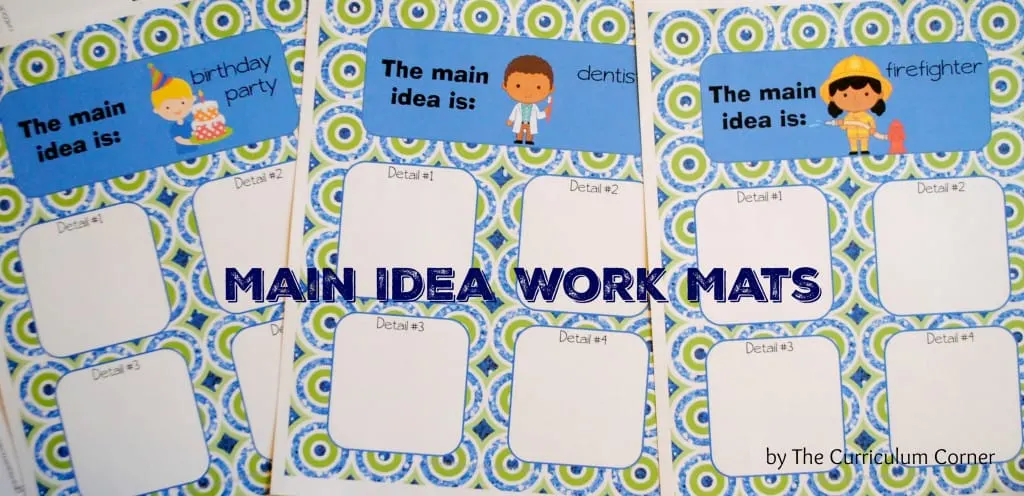 Main Idea Mats
This set of 6 mats give students a main idea at the top.
Students will then draw or write details that would support that main idea.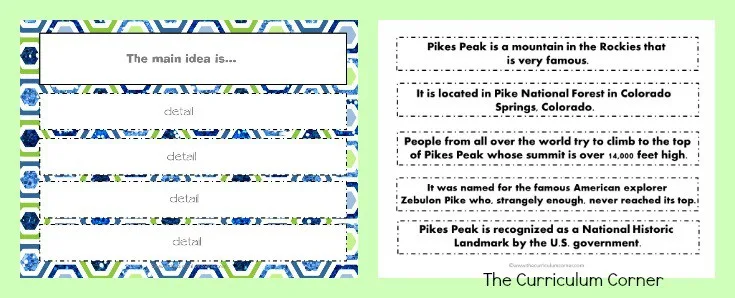 Sequencing in Paragraphs
For this activity, cut the sentences for each paragraph apart and put them in an envelope.
Students will read the sentences and determine which is the main idea. Then they place the detail sentences in a logical order underneath the main idea on the work mats provided.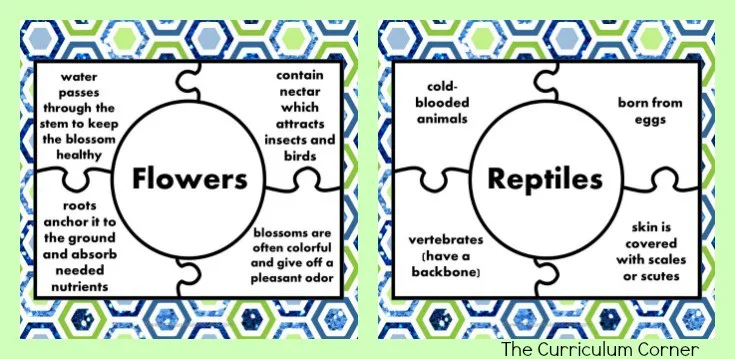 Find the Main Idea Cards
This is a set of 12 paragraph cards.
Students read the paragraph and then use a Vis-a-Vis or dry erase marker to underline the main idea sentence.
You might also have students number or star each detail sentence.

Main Idea Graphic Organizers
This set of organizers can be printed, laminated and used with any book that you are reading in your guided small group.
You will find a range of organizers to choose from.
Main Idea & Details
You can download the complete, free main ideas & details collection here:
Looking for additional small group reading resources? Start here:
Special thanks to Glitter Meets Glue for the super cute backgrounds!
---
As with all of our resources, The Curriculum Corner creates these for free classroom use. Our products may not be sold. You may print and copy for your personal classroom use. These are also great for home school families!
You may not modify and resell in any form. Please let us know if you have any questions.