Add these morning meeting Google Slides to your distance learning collection.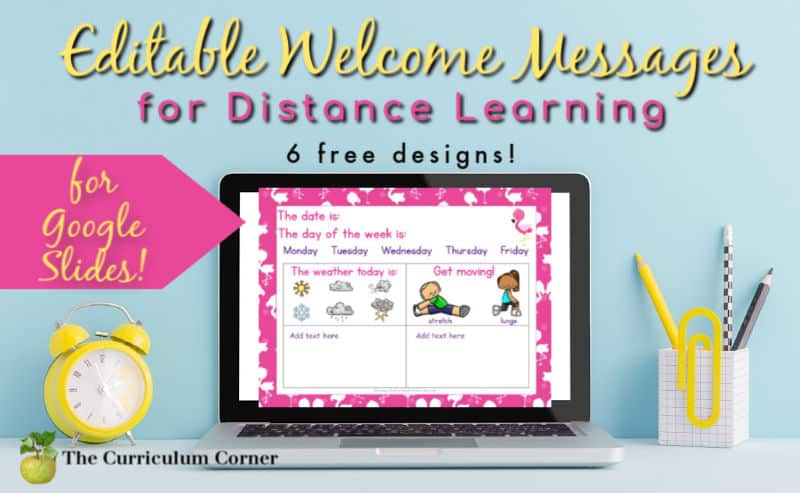 This is another free resource for teachers from The Curriculum Corner.
These Editable Morning Meeting Google Slides files will help you keep some familiarity in your mornings with your class.
As teachers are moving to distance learning across the country, we have received requests for us to transform our Daily Welcome Messages & Bell Ringers into a resource that can be adapted for home learning.
This collection is designed to be used in Google Slides. You will not be able to modify the top sections. The bottom two blank boxes you will be able to fill.
Our traditional version for classroom use has a reading and math spot at the bottom. For these, we left the boxes open so you will have a little more flexibility.
You can add a daily math problem, a favorite quote or even a joke. Maybe you will give your students a special task to complete for the day.
We have created six styles. Choose the one that your students will like best or change the theme you use each week.
Our style choices include basketball. flamingos, stripes, polka dots, glitter and space.
Each set has five slides with different exercises for each day.
The PowerPoint version can be found here: PowerPoint Slides for Morning Meetings.
Using our Editable Morning Meeting Google Slides
Choose a slide and display for your students before class starts. You can go over the date, day of the week and weather with your class just like you do in your actual classroom.
Another option is for students to use a notebook to record their answers at the top.
If you have other ideas to make these Google Slides meaningful practice for your students, please share your thoughts in the comments below to help other teachers.
You can download these editable morning meeting Google Slides here:
---
As with all of our resources, The Curriculum Corner creates these for free classroom use. Our products may not be sold. You may print and copy for your personal classroom use. These are also great for home school families!
You may not modify and resell in any form. Please let us know if you have any questions.