These phonics word hunts for independent reading will give your students practice with phonics skills.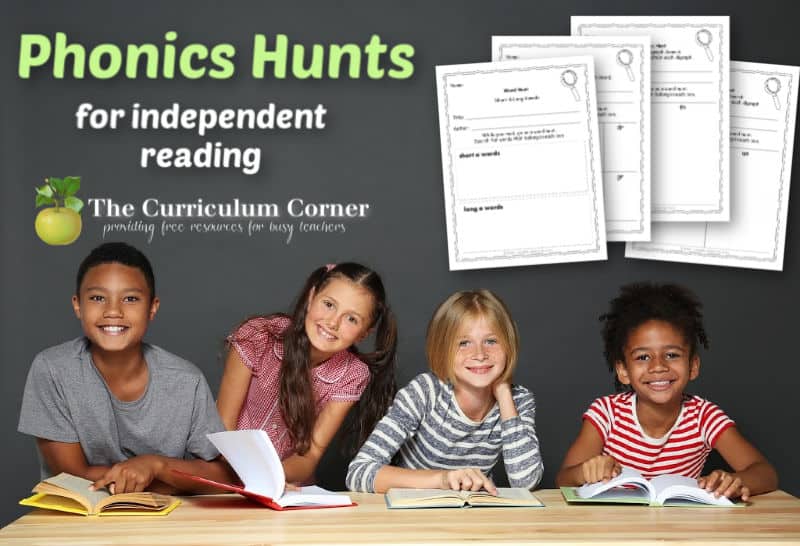 This is another free resource for teachers from The Curriculum Corner.
Add these phonics word hunts to your phonics collection.
After teaching specific phonics skills, too often students are given countless worksheets to practice the skill.
We do believe there is a place for isolated skill practice in the classroom. However, we also see a need for other forms of practice.
It can be helpful for students to see the real world application of the phonics sounds they are learning.
These word hunts were created as a way to give students that practice.
We understand that they will not work for all students and all classrooms.
We have created a total of 23 pages.
Skills Within this Collection
short & long vowels
consonant blends
consonant digraphs
vowel digraphs
4 blank pages for any skill
How to Use these Pages
We suggest beginning with a mini-lesson using these phonics word hunts. Make sure students are familiar with the phonics sounds you are focusing on.
Also, you will want to model what students will be doing during a read aloud.
Once students are comfortable with the task, they will practice on their own. During independent reading, they will complete the organizer.
Be sure to follow up with a quick check-in. Have students share what they found – this will also allow you to check for understanding once students have had the chance to practice.
*** Please note – we are big believers in students being able to enjoy their reading instead of always having to write. We like the idea of giving students five minutes to complete the page and then switching to just reading instead of reading while writing.
Download your free phonics word hunts here:
Looking for additional resources? Try these:
---
As with all of our resources, The Curriculum Corner creates these for free classroom use. Our products may not be sold. You may print and copy for your personal classroom use. These are also great for home school families!
You may not modify and resell in any form. Please let us know if you have any questions.