We have created a set of 100 summer lined papers with summer themed clip art to be used during your writing workshop.
Summer is full of great adventures and outdoor fun.
Use these summer themed papers to encourage your young writers to record their favorite memories.
You might provide individual pages or create summer journals using our pages.
This set contains pages with dotted lines and solid lines.
In addition, other pages provide a space for illustrating the writing.
Because of the variety of lined papers, you might find it best to view the document and print only those that fit into your classroom.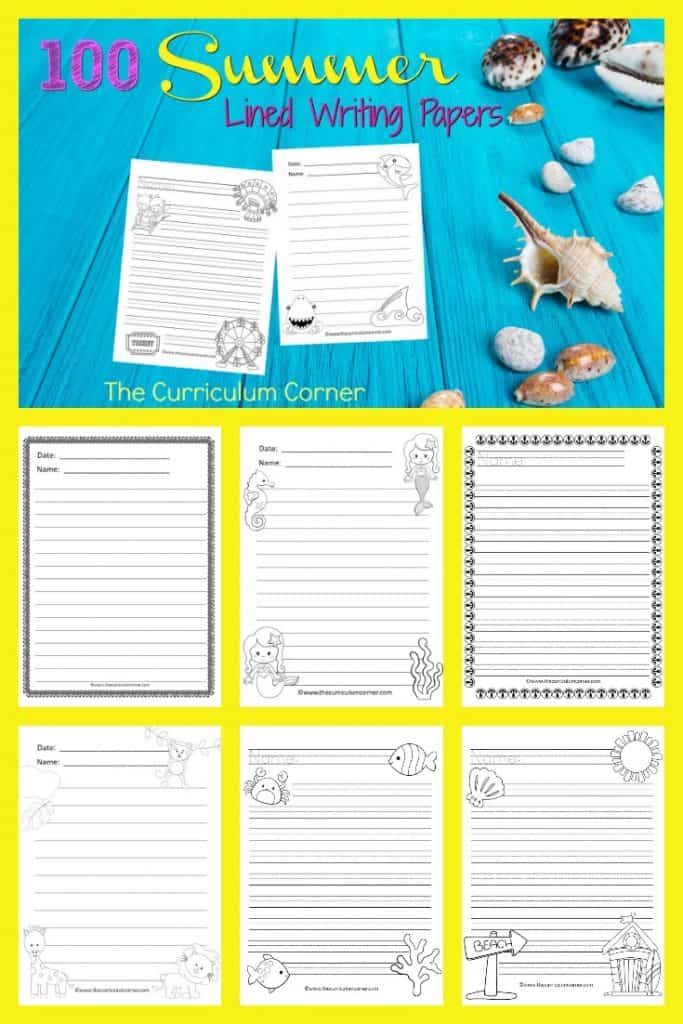 You can download the complete set of summer lined papers by clicking on the Summer Papers title at the bottom of this post.
We have created this collection to include many different themes and many different line styles.
Within this set you will find a wide variety of summer themes.
The entire collection is free for your personal use. You may copy and share in your classroom. These papers may not be sold or edited and sold. They are intended to remain completely free for teacher use!
You will find the following themed writing papers within the collection:
beach, sharks, sun, waves, sunglasses, ice cream, jungle animals, popsicles, picnic, camping and more
How will you use these free papers?
One option for using these papers is to simply lay them out for your students to use during your writing time. We like to put a stack of themed papers among our blank pages for those students who like a little bit of premade art added to their papers.
You might also use these papers for letter or journal writing. Have other ideas? We would love for you to share below.
You can download this complete set of 100 summer lined papers here:
Summer Papers