Help your students use sensory images in reading with these free ideas for teachers shared below.

Good readers use the five senses as they are reading to help them develop sensory images in their heads.
These sensory images in reading lessons are designed to help students practice creating these sensory images in their heads.
Thanks to Amanda Rush, an amazing student teacher, who worked to help create these lessons!
Lesson 1 –

Hello, Ocean
The book Hello, Ocean written by Pam Munoz Ryan contains descriptive words that encourage students to use their senses. It is a wonderful book to use for an introduction to sensory images.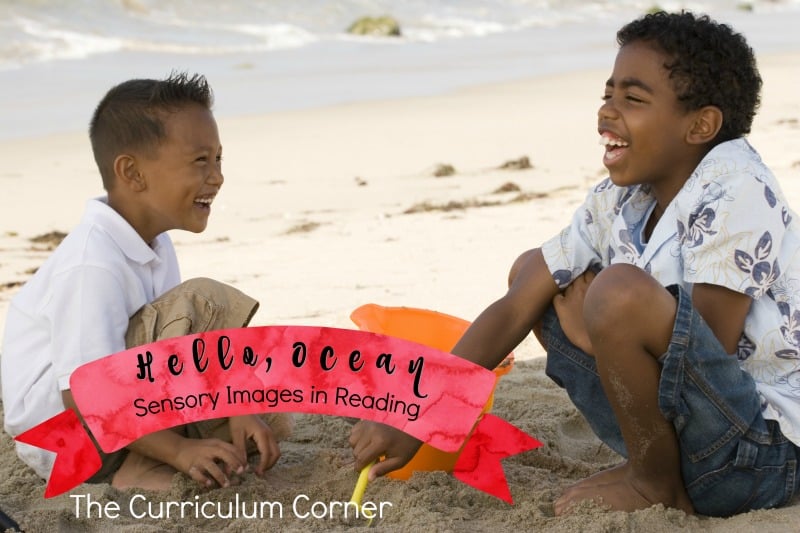 To prepare for the activity, gather items to help bring the ocean to students. Here's what we used:
Sand in a small bucket with water so students could feel the sand and ocean water
Slightly salty water in small cups so students could taste the ocean water
An ocean CD so students could hear the waves and birds at the ocean
An ocean scented candle so students could smell the ocean
A picture of an ocean scene so the students could see the ocean
As you read the book aloud, share the sensory items with students as appropriate (we chose not to show the students the pictures so that they could create their own mental image.) When you are finished reading the book, give students a piece of blank paper and have them draw what they are visualizing. After they have completed their drawings, reread the book while allowing them to see the pictures.
Lesson 2 –

The Seashore Book
The Seashore Book by Charlotte Zolotow offers a good follow up to Hello, Ocean. Like the previous book, it allows children to use their senses to visualize the text. We suggest having students get comfortable and close their eyes. Students listen and create a picture in their mind as the story is read. Afterwards, discuss what students were visualizing. After students have shared, reread the book as they look at the pictures.
Lesson 3 –

Night in the Country
Students create sensory images in their head while listening to Night in the Country by Cynthia Rylant. Students then complete our five senses chart to help them categorize the sensory images they experience during the reading. Have students compare their experiences with that of other classmates. Discuss how people create different images in their head.
You can download the recording sheet for sensory images in reading lesson here:
Lesson 4 Exploring the Senses
This lesson does not involve reading. Instead, it encourages students to explore words they might use in their own writing to help others hear, see, feel, taste and smell the words they are creating.
Begin by gathering foods for the students to explore. Some suggestions include apples (sweet and sour varieties), potato chips, lemon slices and Fruit Loops.
Place students into small groups. Give each group a food and a chart to complete. The students taste the food and write in words to describe the food. Allow each group to taste each food.
When the students are finished, meet in the back of the room to share the charts. Help students think of new, more descriptive words.
You can download the recording sheet for this lesson here:
Lesson 5 Creating an Anchor Chart
Work with students to create an anchor chart that has 5 columns – one labeled for each of the senses.
Brainstorm words the students can use in their writing to describe each sense. Hang the chart in the room and allow them to come back and add new words as they use them in their writing.
Looking for the resources we shares for sensory images in reading?
The books described above can be purchased from Amazon. Contains affiliate links:

Another way for students to explore sensory images through talking about the senses is environmental print – you will find activities involving environmental print here:
---
As with all of our resources, The Curriculum Corner creates these for free classroom use. Our products may not be sold. You may print and copy for your personal classroom use. These are also great for home school families!
You may not modify and resell in any form. Please let us know if you have any questions.