Print off this BINGO math for the home for a little around the house math practice!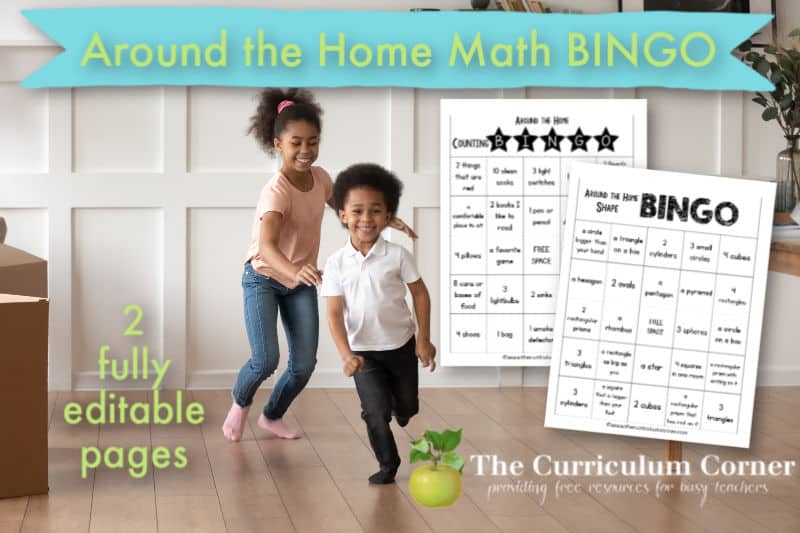 This is another free resource for teachers and families from The Curriculum Corner.
Our BINGO Math for the Home is designed to weave a little movement into your math practice.
We all know that it is a struggle to get our kids up and moving after so many days in the home. Sitting them in front of another worksheet or video game to practice math skills is not very motivating right now.
To help add some movement to the practice of math skills, we created two BINGO board games.
One board focuses on counting objects and the other on identifying 2-D and 3-D shapes.
To play, students will need access to a printer. They will print off their board and try to complete their task. You can choose four corners, a line of five, X or any other BINGO combination.
If students don't have access to a printer, you can send students one page and have them write on the form on their iPad. Not sure how to separate a page, try this tutorial: Pulling 1 Page from a PDF.
Both boards are fully editable in PowerPoint. If the boards are not quite right for your children or students, you can simply modify the boxes to fit your needs.
I'm sure many teachers are already reflecting on content as they send ideas to parents. We do have food items and other objects listed on the boards that we realize might not be the best choices for all students.
We are aware that modifications will need to be made for some schools and homes – we definitely don't want these boards to result in any children realizing what they are lacking in their home.
You can download these from BINGO Math Games here:
If you are looking for additional ideas to get your kids up and moving, try some of these free resources:
As with all of our resources, The Curriculum Corner creates these for free classroom use. Our products may not be sold. You may print and copy for your personal classroom use. These are also great for home school families!
You may not modify and resell in any form. Please let us know if you have any questions.