These free activities for community helpers are designed for your preschool, prekindergarten or kindergarten classroom.
Add these activities for community helpers to your collection of ideas for your young learners.
These resources will fit into your study of community helpers.
This is another free resource for teachers and families from The Curriculum Corner.
Activities for Community Helpers
When working on community helpers in the classroom, it is always fun to have guests visit your classroom. You might have parents who are community helpers or be able to find others through friends and relatives.
Put your books related to community helpers in a basket. Print pictures of community helpers and add them to the basket.
Share videos about different jobs with your class.
How else will you work to help them learn more about community helpers?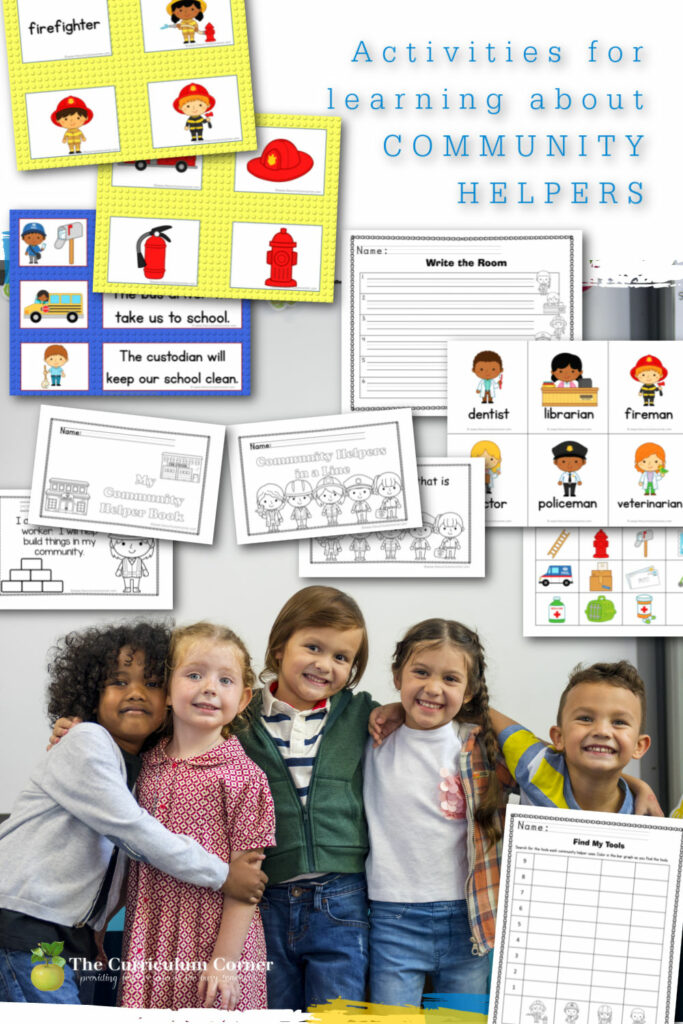 About this collection
You will find an assortment of activities in this download. The pages with a colorful background are also available at the end of the file with a white background to help you save color ink if needed.
The first page can be used as a slide for your SmartBoard during your introduction. Or, print and use as a poster.
Helpers & Tools Card Sort
This sort contains a variety of community helpers along with tools each helper uses to do their job.
These can be used in a whole group setting where students work as a team to identify the tools needed by each helper.
Or, these can be placed at a center for independent or small group work.
Community Helper Sentences
This download contains 15 sentences with pictures.
You can cut the cards straight across so that students can use the picture clues to help in reading the sentence.
Or, you can choose to cut the sentences apart from the pictures.
Students can work to match each picture with the correct sentence.
Write the Room
Hide the cards around the room and have students use the recording page to complete the activity.
You will also find a community helper tools hunt for the classroom. You will place the tools around the classroom. Students will then go on a hunt for these tools. If using at a center where students need to remain seated, you can place the tools in a basket and have the children sort them.
The Find My Tools activity can be set up by placing the tools around the room. You can put multiple of some tools if you would like any of the bars to reach nine on the bar graph.
Writing & Reading Printables
This assortment will give your children options for writing and reading during your study. It includes two little booklets that can be sent home for reading practice or added to book bags.
You can download this free collection of resources here:
As with all of our resources, The Curriculum Corner creates these for free classroom use. Our products may not be sold. You may print and copy for your personal classroom use. These are also great for home school families!
You may not modify and resell in any form. Please let us know if you have any questions.